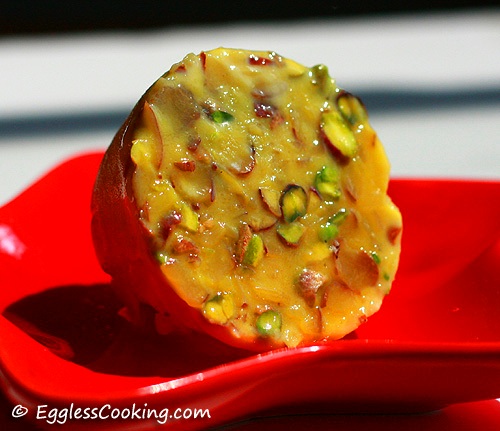 I got the idea for pumpkin kulfi last year itself while I hosted AFAM-Pumpkin. I did try it but with canned pumpkin puree and the taste was not good. So I just abandoned the idea. Sometime back I saw Jyoti's Mango-Passion Fruit Kulfi and was impressed so much by the picture of the cute kulfi that it inspired me to give my pumpkin kulfi idea another shot. I'm glad I tried it once again because it was extremely good. Thanks Jyoti.
The preparation of this kulfi is very simple. Quite similar to the pumpkin kheer I have posted before. Instead of using plain milk, for the kulfis I have used evaporated milk and condensed milk to give that extra richness and creaminess.

| Prep Time | Cook Time | Makes |
| --- | --- | --- |
| 20 Mins | 30 Mins | 12 Muffin Size Cups |
| Author | Category | Method |
| Madhuram | Sweets | Cooking |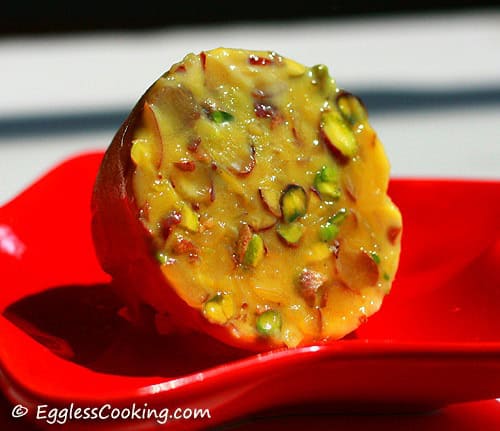 If you love kulfi, you will definitely love this pumpkin kulfi too.

Ingredients:
1 and 1/2 cups

Pumpkin Puree

1 tin (1 and 1/2 cups)

Evaporated Milk (partly skimmed)

1 tin (300 ml)

Sweetened Condensed Milk (low fat)

3 tablespoons

MTR Badam Feast

a couple strands

Saffron

1/4 teaspoon

Cardamom Powder

as needed

Slivered Almond

as needed

Chopped Pistachios

a pinch

Salt
Procedure:
Peel a piece of pumpkin (like the ones you can get in Indian grocery stores) and chop it into cubes. Cook it using a pressure cooker (add water just enough to cover the pumpkin pieces and leave it for 1 whistle or in a microwave oven. Drain the water and blend the cooked pieces into a smooth puree when it is cool enough. Measure 1 and 1/2 cups of this puree. (Check My Notes for store bought pumpkin puree).
Empty the entire tin of evaporated milk in a medium size sauce pan. Heat it on low-medium. Once the skin starts forming in the milk; add the pumpkin puree and mix it well. Heat this mixture for another 7-8 minutes. Do not be tempted to increase the heat because chances are that the milk will get burnt and will stick to the bottom of the vessel giving an unpleasant taste later.
Add a tin of condensed milk and the MTR powder to the above and let this mixture remain on stove for another 5 minutes. This should also be done on low heat. Remove the pan from heat.
In a small cup add the saffron strands and couple drops of the hot milk; leave it for a while. After 2-3 minutes, dissolve the saffron in the milk with the tip of your fingers. Add this to the pumpkin mixture.
Now add the cardamom powder, salt and nuts and mix well; let it cool completely. You can drink this as kheer/payasam or you can freeze it as kulfis. If you decide to drink it, I would suggest adding some more milk because the kheer will be very sweet.
Once it is cold, pour the mixture in the molds and freeze it. I froze it overnight but 7-8 hours should be enough I guess.
To serve it you can either dip it in hot water for just a few seconds so unmolding will be easy. (I got this idea from Jyoti). If you prefer eating straight from the cup, then remove the cup from the freezer and put it in the fridge 10-12 minutes before serving and it reaches the perfect ice cream texture.
Taste:
The taste is unbelievably good and nobody can guess that it has generous quantity of pumpkin in it. Just make sure that you leave it at room temperature or in the fridge 10 minutes before serving so that it has the right texture; neither hard nor too soft. I think I will reduce the quantity of condensed milk the next time around. 3/4th of the tin instead of the entire tin. If you have a very sweet tooth then go ahead and use it fully.
My Notes:
I tried to make the pumpkin kheer using canned pumpkin puree, but the milk curdled once I added the puree to the hot milk. So I tried this kulfi recipe without heating the milk; but somehow it did not taste good or may be I did not like it. I feel that the store bought puree has an unpleasant odor. The pumpkin puree prepared at home does not have this smell, moreover we cook it the second time in the milk to ward off any raw smell. So try your luck with the canned pumpkin and let me know how it goes.
Instead of evaporated milk you can use about 3 cups of regular milk but boil it until it reduces to about 1 and 1/2 cups.
I used the Dole fruit cups as kulfi molds. This fits inside the muffin pan perfectly, so moving it to the freezer and handling is easier. So place one cup in each muffin tin and fill it with the kheer. Close it with another baking sheet to avoid freezer burns. If you don't have a muffin tin, arrange the cups on a tray/baking sheet, fill it and close it with another tray.
MTR Badam Feast is available in Indian grocery stores. It's nothing but a mix of powdered almonds, sugar, cardamom, saffron and milk solids. It's added with warm/cold milk to make almond drink. This mix is available in other brands too. If you don't get it, that's okay. Simply add some more saffron and cardamom powder.

Try this recipe, click a pic and hashtag it #egglesscooking - Proudly showcase your creations on Instagram, Facebook & Twitter!