Find a collection of baking recipes calling for Cornmeal as one of the ingredients.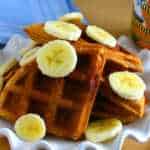 Who doesn't like the combination of peanut butter and banana! If you are a fan like us, try these vegan peanut butter banana waffles and make breakfast time more fun time for the kids.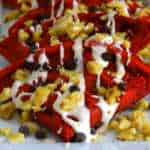 These red velvet waffles will make birthdays, Valentine's day, or any other special occasion even more special by adding pizzaz! It sure did brighten my son's face when he saw it first thing in the morning on his 10th birthday!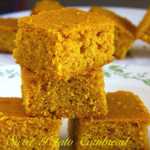 Mildly sweet, this sweet potato cornbread will be the perfect accompaniment for a hot bean chili on a cold fall or winter evening! Easy to bake and this can be made with sweet potato puree as well if you have leftovers after Thanksgiving!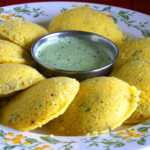 With a light yellow hue, studded with colorful vegetables, these instant cornmeal idlis will be a sure hit in your house. Serve it with hot sambar and/or coconut chutney.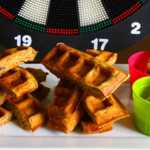 In the mood for a nice thick slice of banana bread? Make these yummy banana bread waffles in a jiffy and it's perfect for breakfast, lunch or as an after-school snack. Add chocolate chips to make it even more fun.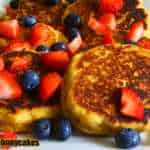 Getting bored of the usual pancakes? Try these vegan cornmeal pancakes or johnny cakes for a change and it will become a regular at your house. The taste and texture will make you feel like you are having a cornbread.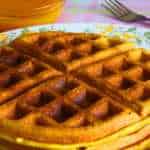 Bored with making the same old waffles over and over? Try something exotic like these vegan mango waffles. Very easy to put together yet will make your next Sunday brunch table look very special and vibrant especially when served with some fresh mangoes and mango puree.