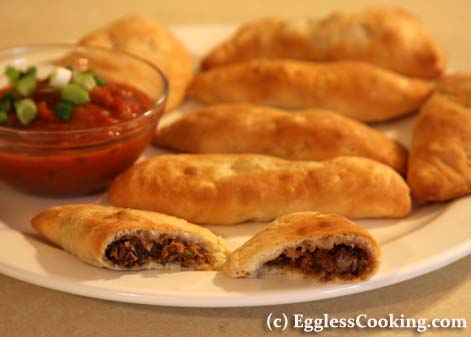 In Mexico these turnovers are also called Empanaditas.  This is a Mexican Appetizer.  I found this recipe in Better Homes and Gardens' "Off the Shelf Baking" book.  The original recipe did not have a vegetarian filling.  So I decided to use black beans instead.  Added benefit, more fiber and protein than the original version.  My husband suggested to use soy granules, but what can be more Mexican than black beans?  I think I will try his suggestion the next time.

| | | |
| --- | --- | --- |
| Vegetarian Empanadas Recipe | | |
| Prep Time | Cook Time | Makes |
| --- | --- | --- |
| 30 Mins | 12 Mins | 12 Empanadas |
| Author | Category | Method |
| Madhuram | Calzones | Baking |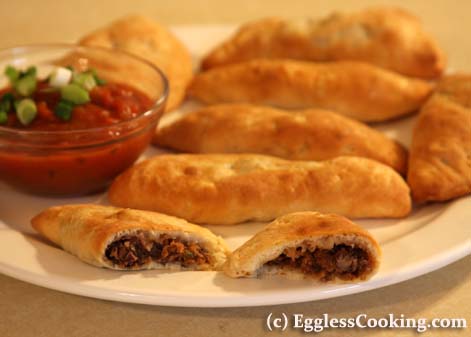 An easy and healthy recipe for baking vegetarian empanadas with black beans.

Ingredients For Dough (The Outer Cover):
1

Refrigerated Buttermilk Biscuits 16.3 Oz Package(8 Biscuits Total)
Ingredients For Filling:
1

Black Beans 15.5 Oz Can –

3 Tablespoons

Tomato Sauce/Crushed Tomatoes

1/4 Teaspoon

Chili Powder (I Would Increase A Little Bit The Next Time)

1/4 Teaspoon

Salt (Next Time I Would Use Even Less)

1/2 Teaspoon

Dried Oregano

1/2 Teaspoon

Garlic Powder

Little

Cilantro/Scallions

1 Tablespoon

Oil

As Needed

Milk For Brushing, Optional

As Needed

Salsa, Optional
Preparing for the filling:
Drain the beans from the can in a colander and wash it under running water. Mash the beans with a potato masher or a fork. My little helper was more than happy when I asked him to mash the beans for me.

In a skillet add the oil and after it heats add the mashed black beans, crushed tomatoes, chili powder, oregano and garlic powder.

Fry it for 2-3 minutes until all the ingredients combine well.

Transfer it to a bowl and let it cool. Stir in cilantro/scallions. I didn't have cilantro so I used scallions instead. The filling tasted very good by itself.
Preparing the Empanadas:
Preheat oven to 350F/180C for 15 minutes. Grease a large baking sheet.
Remove the biscuits from the pack as the per the instructions and place them either on a floured surface or in the prepared baking sheet so that it doesn't stick to the surface.
The original recipe specifies to cut each biscuit in half horizontally (so you will have 16 circles for a box of 8 biscuits) and roll each piece of biscuit on a lightly floured surface into a 4-inch circle. I did try this method but it was a bit difficult to get even shaped circles while cutting.

Instead I cut each biscuit into 2 pieces using a pair of scissors and rolled them into balls.

Then rolled it out into circles.

I did have a doubt if handling the dough too much may make the end product very hard. I tried with one turnover first to be sure and it baked very well and it had the same texture as the turnover which was cut horizontally. So I followed the same method for the rest of the biscuits. This method was so easy.
Place about 1 tablespoon filling onto half of each circle. Brush edges with very little milk. Fold opposite side of circle up and over filling and seal edges with a fork.

I also did not cut all the biscuits at once because I did not know if the filling would be sufficient. So I dealt one by one. I got 12 empanadas, for the filling, i.e., I used 6 full biscuits. The remaining 2 biscuits I just baked it as it is.
Place filled turnovers 1 inch apart on the prepared baking sheet, brush with milk.

Bake in the preheated oven for 10 to 12 minutes or until golden brown. The aroma was so appetizing. Immediately remove from baking sheet. Cool slightly on a wire rack. Serving warm is key. The turnovers tasted good later also, but it was best when warm. We had store bought salsa at home and the turnovers tasted even better when dipped in salsa.
Freezing Tips:
These turnovers can be made ahead and frozen for later use. Prepare it as per the above directions. Let it cool completely on wire racks. Place in an airtight freezer container; freeze for up to 3 months. We ate only 6, so I froze the remaining 6 in Ziploc bags. To reheat, transfer frozen turnovers to an un-greased cookie sheet. Bake, uncovered, in a 350F oven for 10-12 minutes or until heated through.
My Notes:
Watch the amount of salt because the canned beans also has sodium and so does the refrigerated biscuits. I used 1/4 teaspoon only, even then it was a bit salty. Either I should have increased the chili powder or reduced the salt.
I used reduced fat buttermilk biscuits.

Try this recipe, click a pic and hashtag it #egglesscooking - Proudly showcase your creations on Instagram, Facebook & Twitter!