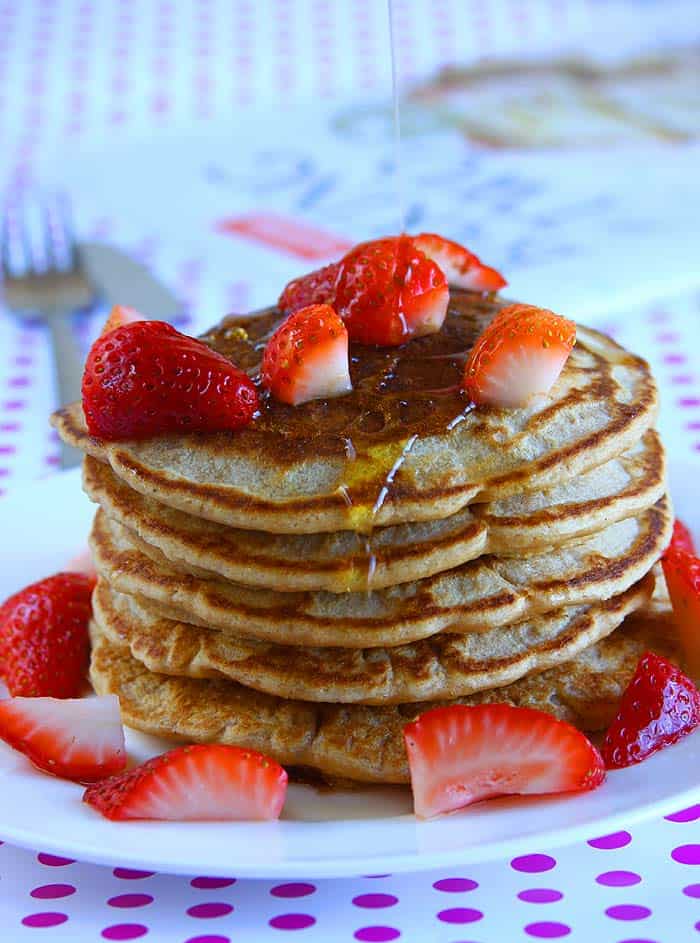 It's surprising that I didn't try making egg free pancake recipe from scratch right after I started this blog. No wonder I didn't make vegan pancakes too.
Before I tried homemade pancakes I had baked hundreds of egg-free and vegan baking recipes. But for some reason never tried to make eggless/vegan pancakes! I wonder why? Until I first tried the eggless pancake recipe, I used store-bought pancake mix to make pancakes without eggs, and at home, I mashed bananas instead of eggs.
Later found a vegan pancake mix in a store here and all I had to do was mix some (non-dairy) milk or water to make easy vegan pancakes. Once I tried making egg-free pancakes at home right from scratch, there was no going back to store-bought mixes. Ever since, I have been making eggless and vegan pancakes at home quite often.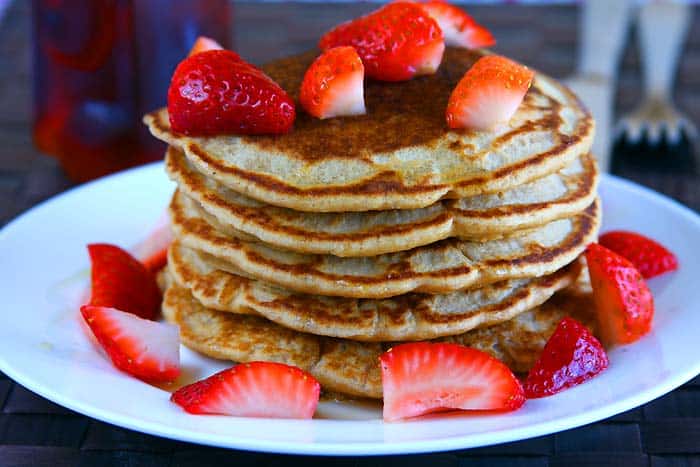 I did not look for a vegan pancake recipe because I had an excellent base recipe already in the form of "the best eggless pancakes ever" recipe. All I had to do was tweak it a little bit, and voila, "the best vegan pancake recipe" was born!
I tried a couple of variations and found this the best. I also tried using just whole wheat flour but did not quite like the taste. But whole wheat pastry flour works out very well. Even though I have mentioned a combination of all-purpose flour and whole wheat flour in this vegan pancake recipe below, I have been using whole wheat pastry flour only these days and have had no complaints. My kids keep asking for more every time.
Add some fresh blueberries to this vegan pancakes recipe, and you've got the classic blueberry pancakes.

| | | |
| --- | --- | --- |
| The Best Vegan Pancakes Recipe | | |
| Prep Time | Cook Time | Makes |
| --- | --- | --- |
| 15 Mins | 15 Mins | 10 Pancakes |
| Author | Category | Method |
| Madhuram | Breakfast | Cooking |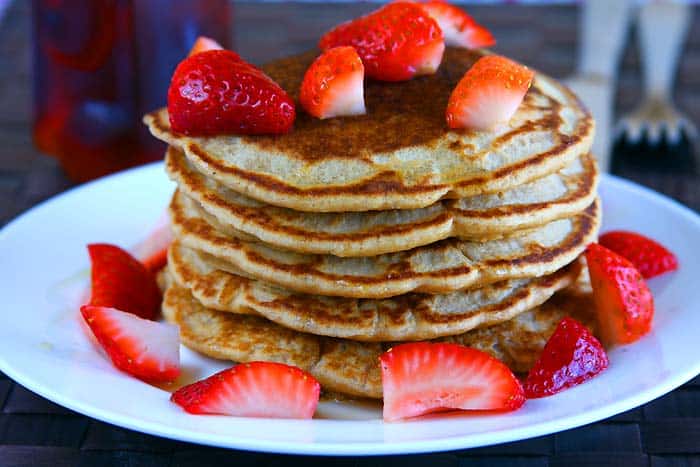 Want to know how to make vegan pancakes? Look no more because I have an amazing vegan pancake recipe! This recipe yields light and fully vegan pancakes in no time each and every time!

Dry Ingredients:
1 cup

all purpose flour

1/2 cup

whole wheat flour

1/3 cup

quick cooking oats

2 tablespoons

cocoa powder (optional)

3 teaspoons

baking powder

2 Tablespoons

white sugar

1/4 teaspoon

ground cinnamon (optional)

1/4 teaspoon

salt
Wet Ingredients:
1 and 1/2 cups

almond milk

3 Tablespoons

coconut oil

1 teaspoon

vanilla extract
Substitutions:
all purpose flour – See My Notes
almond milk – any other non-dairy milk or dairy milk for non-vegans
coconut oil – any neutral flavor oil or melted butter for non-vegans
Procedure:
In a large bowl, combine the dry ingredients and make a well in the center.
Add the wet ingredients one by one to the well and stir together with a whisk. Let the batter rest for at least 10 minutes before making the pancakes.
Meanwhile, heat a pan at medium-high for about 5 minutes. Once the pan is hot enough, pour about 1/3rd cup of batter (for each pancake). Wait for bubbles to appear all over the pancake, flip it over to the other side, and cook for another 30-45 seconds.
Repeat the same for the rest of the batter. Serve the pancakes warm with toppings of your choice.
Taste:
These vegan pancakes turned out great; the texture and taste were as good as the eggless pancakes. It was light and fluffy and I couldn't believe that it was vegan.
My Notes:
I didn't want to make it very chocolaty, so I just added a hint of cocoa powder. If you want to make chocolate pancakes, I suggest adding 1/4th cup of cocoa powder and 3/4th cup of all-purpose flour. You may also want to increase the quantity of sugar to 3 tablespoons.
If you decide to use the 2 tablespoons of cocoa powder, you might have to add another 1 or 2 tablespoons of water or milk to the batter, depending on how thick it is.
Cinnamon is optional. If you haven't tried adding cinnamon to your pancake batter, just try it for once, and I'm sure you will love the flavor of this spice in the pancakes.
I highly recommend preparing this batter at least 10-15 minutes before making the pancakes. This helps the oats to soften and give a good texture.
I did try using all whole wheat flour instead of all-purpose flour but somehow was not satisfied with the taste and texture. So try it for yourself and see if you like it. I'm guessing that whole wheat pastry flour would have been a better substitute.
Nutrition Facts
Vegan Pancakes
Amount Per Serving
% Daily Value*
Potassium 233mg5%
Total Carbohydrates
16.6g
6%
* Percent Daily Values are based on a 2000 calorie diet.

Try this recipe, click a pic and hashtag it #egglesscooking - Proudly showcase your creations on Instagram, Facebook & Twitter!