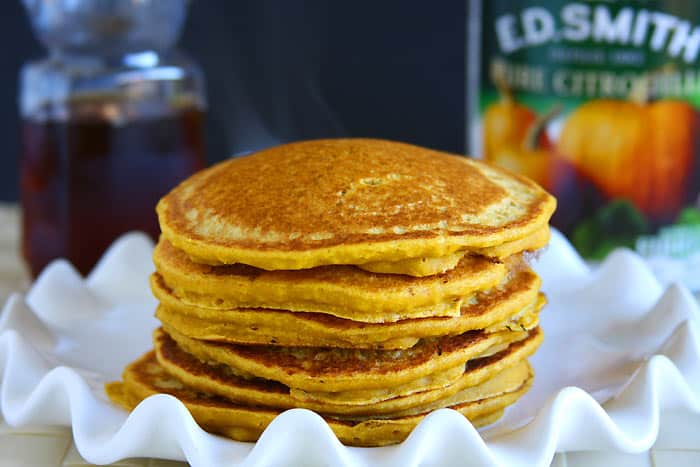 This Sunday special was vegan pumpkin pancakes for breakfast. Right since I made the best eggless pancakes for the first time, either that or these vegan waffles has been a Sunday breakfast ritual.
But for some reason it's been a while that I made pancakes or waffles for breakfast and the kids have been behind my back asking for it every Sunday and today I finally got to try a pumpkin pancake recipe for a change and also because I had this big can of pumpkin puree.
I can say that I have tried a plethora of pumpkin recipes using canned pumpkin like these pumpkin scones, vegan pumpkin cake roll, pumpkin chocolate chip cookies, pumpkin chocolate chip muffins just to mention a few and a pumpkin pancake recipe was pending.
So decided to give it a try and it was totally worth it because we ended up gobbling up the best pumpkin pancakes for breakfast today.
I took my fail proof eggless pancake recipe and incorporated some minor tweaks to make these easy pumpkin pancakes.
I didn't set out to make it as vegan pancakes.
I was simply going to make a pumpkin pancake recipe without eggs but then remembered that I had a few cartons of organic almond milk and thought that I might as well make it vegan.
These eggless pumpkin pancakes made from scratch is very easy to make and is a very healthy recipe too.
I used whole wheat pastry flour instead of all-purpose flour, so it did require more liquid than I thought.I believe that the quantity of liquid required depends upon the brand of flour you choose to use also.
So start with the minimal amount I have mentioned in the recipe and gradually increase the quantity depending upon the consistency of the pancake batter.

| | | |
| --- | --- | --- |
| Fluffy Vegan Pumpkin Pancakes Recipe | | |
| Prep Time | Cook Time | Makes |
| --- | --- | --- |
| 10 Mins | 10 Mins | 10 Pancakes |
| Author | Category | Method |
| Madhuram | Breakfast | Cooking |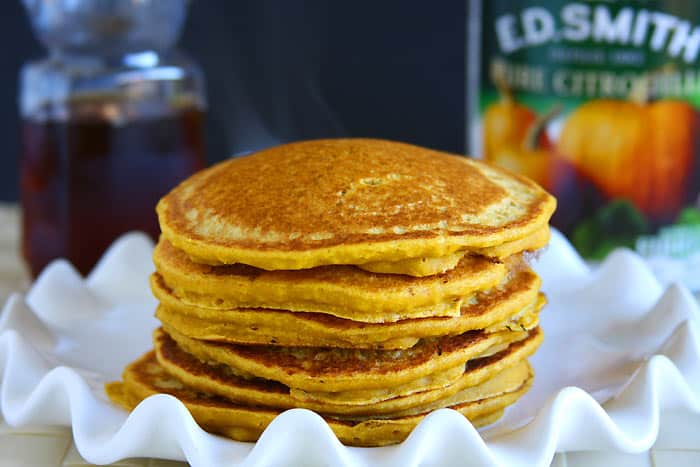 The orange hue of these pumpkin pancakes without eggs will give a bright start for any gloomy day. Go ahead and use sweet potato puree if that's all you have. Mix in some (vegan) chocolate chips or cranberries to make it even more special.

Dry Ingredients:
1 and 1/2 cups

whole wheat pastry flour

3/4 cup

all-purpose flour

1 and 1/2 teaspoons

white sugar

1/4 teaspoon

ground cinnamon

3 teaspoons

baking powder
Wet Ingredients:
1 and 1/2 to 2 cups

almond milk

1/2 cup

canned pumpkin

1/4 cup

melted coconut oil

1 and 1/2 teaspoons

vanilla extract
Optional Ingredients:
1/2 cup

chocolate chips or cranberries/any other fruit
Substitutions:
flour – whole wheat pastry flour
cinnamon – pumpkin pie spice
almond milk – any non-dairy milk or dairy milk for non-vegans
canned pumpkin – sweet potato puree, applesauce, mashed bananas
coconut oil – any other oil
Procedure:
In a large bowl combine together the dry ingredients.
In another small bowl stir together the wet ingredients except for water.
Incorporate the wet mix into the dry mix. Add some more water/milk to get the desired consistency. I used 2 tablespoons of water. Stir in the chopped cranberries if using. Leave it aside for at least 5 minutes.
Meanwhile heat a griddle/pan.
When the pan is hot enough, scoop out 1/4th cup of batter and pour it on the pan. Wait until the batter is cooked and bubbles appear on the surface and then flip it over. Cook it for another 30 seconds the other side. Repeat it for rest of the batter.
My Notes:
If you do not have whole wheat pastry flour you can use a combination of whole wheat flour and all-purpose flour.
Nutritional Information for 1 Pancake
Calories:

138


Total Fat:

8.0g


Saturated fat:

6.5g


Unsaturated fat:

1.5g


Cholesterol:

0mg


Total Carbohydrate:

14.9g

Sugars:

1.9g


Dietary Fiber:

2.7g


Protein:

2.4g


Sodium:

6mg


Potassium:

242mg

Try this recipe, click a pic and hashtag it #egglesscooking - Proudly showcase your creations on Instagram, Facebook & Twitter!