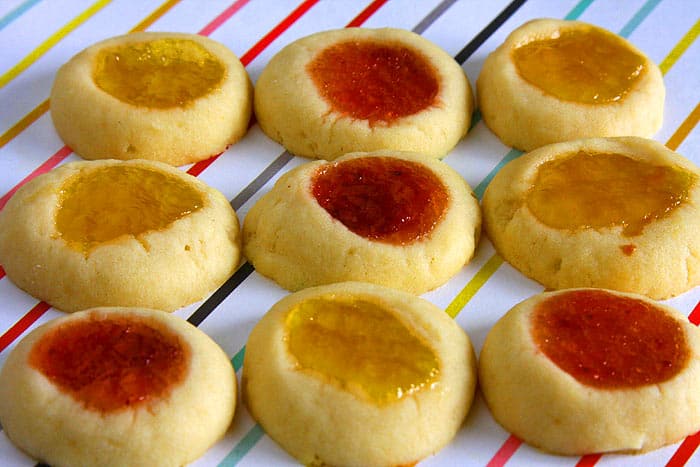 Thumbprint Cookies: Growing up in India, back in the 80s and 90s we had local bakeries which baked fresh bread, cookies (actually we called them biscuits, I heard the word "cookies" for the very first time in 2003 after moving to the US), cakes, and puff pastries.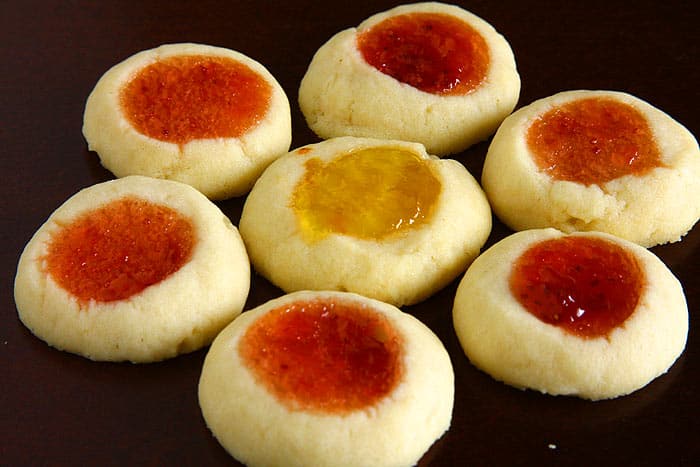 Only after moving to the US, I realized that the baked treats we used to enjoy in India had a different flavor be it sweet or savory which I miss very much. Even though baking is very well a Western method of cooking I think the Indian bakeries formulated something a bit unique and created a huge variety of treats.
Jam cookies or actually jam biscuits was one such specialty of those bakeries. It was a golden brown, crispy cookie with a soft and chewy filling in the middle with the jam baked in the center of the cookie.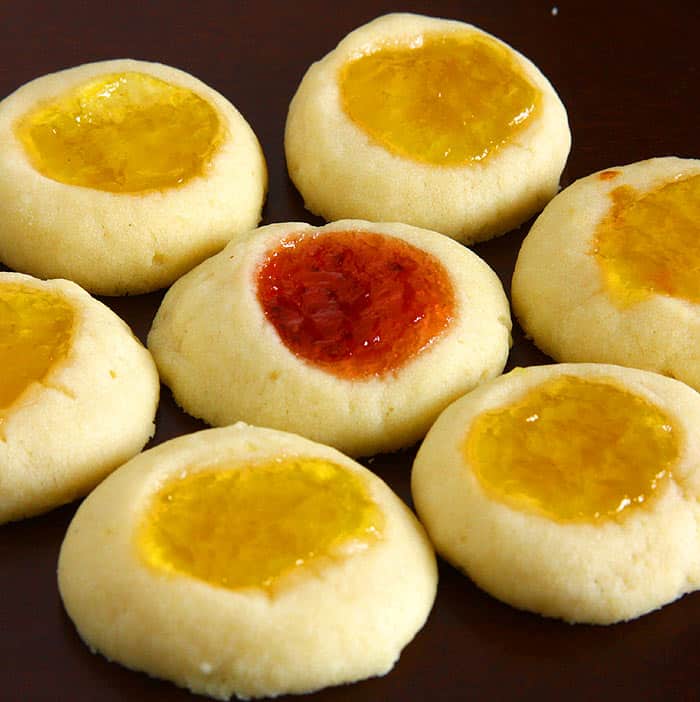 When I saw this thumbprint cookie recipe, even though it didn't look like the ones that I used to have in India it created an urge within me to bake these cookies.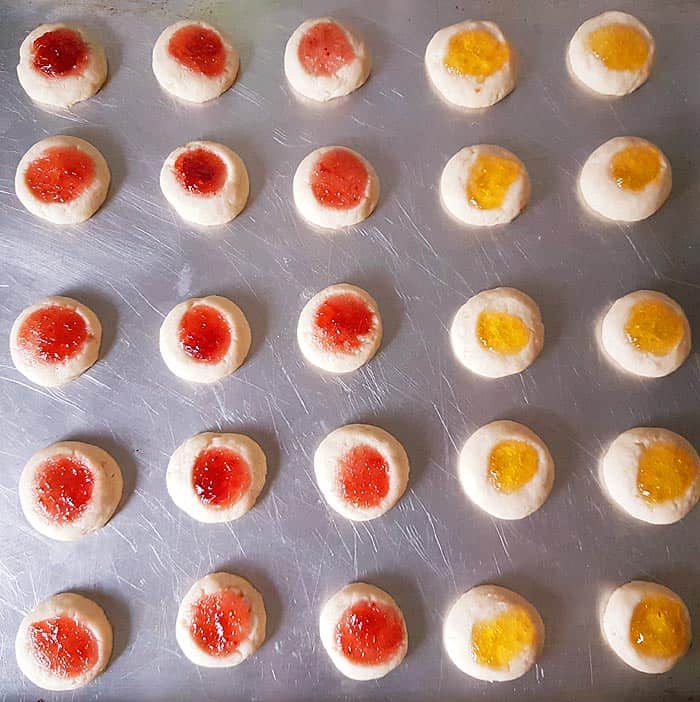 I used Ener-G egg replacer to substitute for 1 egg in the recipe. Filled the jam in the indentation of the cookie and baked it along with the cookie. These thumbprint cookies without eggs came out very well.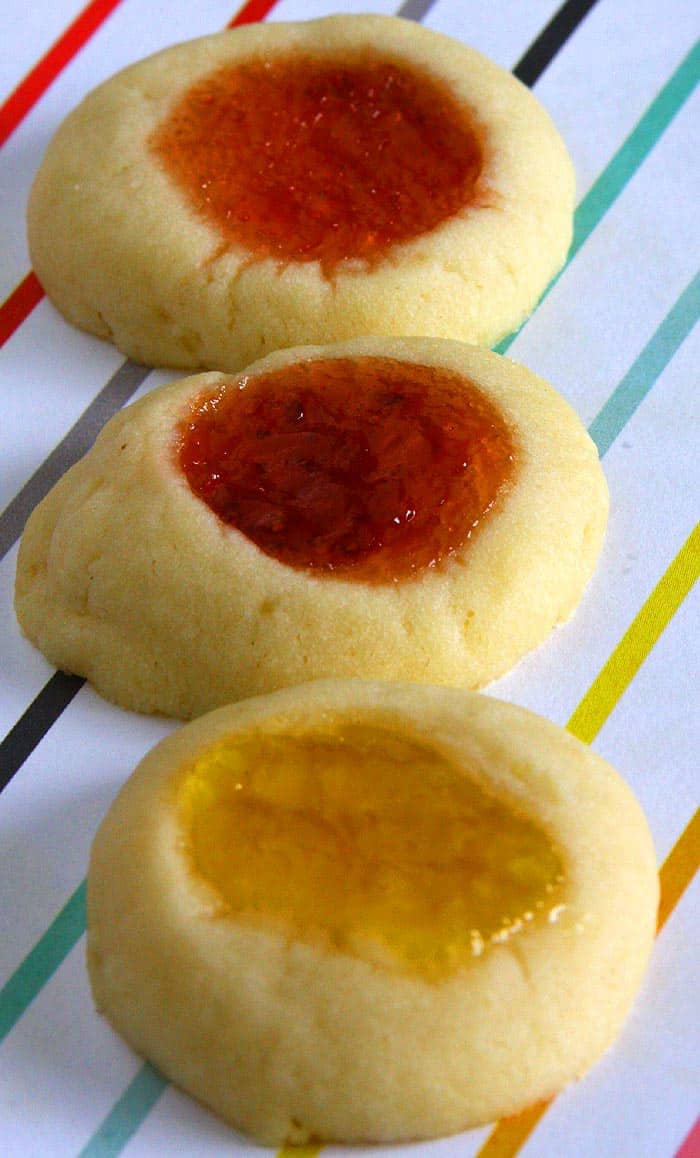 It had a soft and crumbly texture with the perfect amount of sweetness. Even though I had not replicated the Indian bakery's jam biscuits these cookies were good and the kids loved them.
How To Make Thumbprint Cookies Without Eggs?
Here are the step-by-step instructions on making delicious and simple egg-free thumbprint cookies from scratch: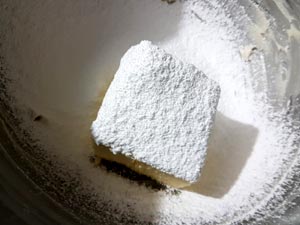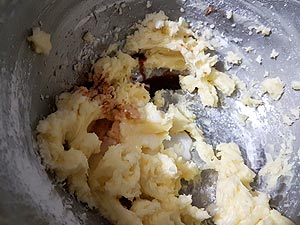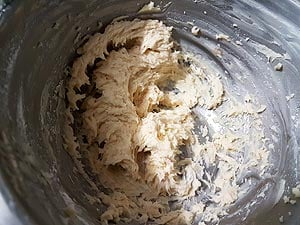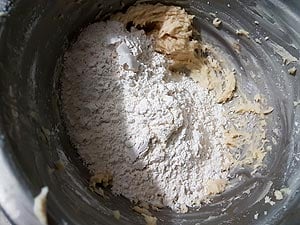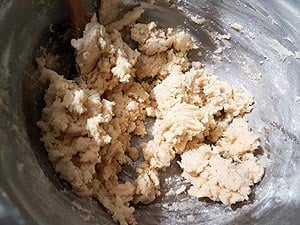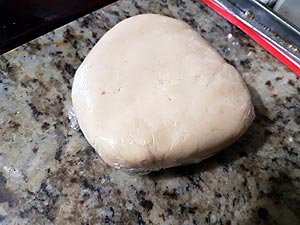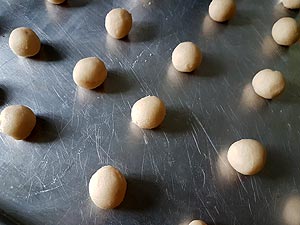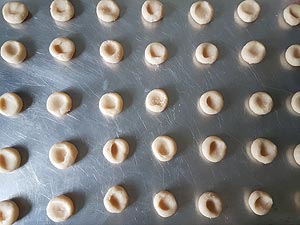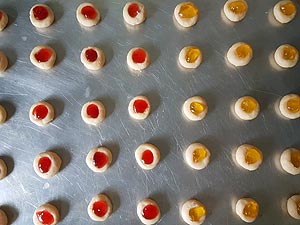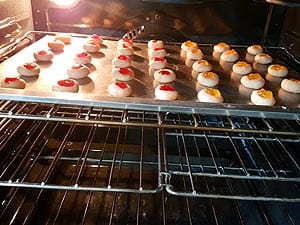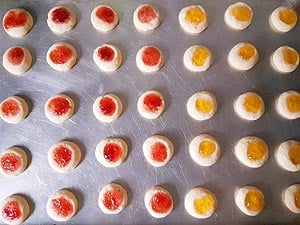 | | | |
| --- | --- | --- |
| Eggless Thumbprint Cookies Recipe | | |
| Prep Time | Cook Time | Makes |
| --- | --- | --- |
| 20 mins + 2 hours chilling time | 13-15 mins | 42 Cookies |
| Author | Category | Method |
| Madhuram | Cookies | Baking |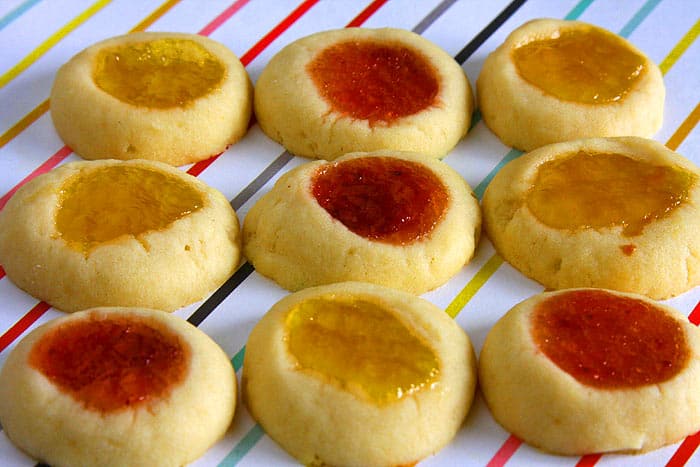 Bake these tender and crumbly eggless thumbprint cookies and fill them with preserves of your choice to make a colorful plate of cookies for any special occasion.

Ingredients:
3/4 cup

unsalted butter, softened

3/4 cup

confectioners' sugar

1 and 1/2 teaspoons

Ener-G egg replacer

1 tablespoon

water

1/2 teaspoon

vanilla/almond extract

1-3/4 cups

all-purpose flour

1/2 teaspoon

salt

1/2 cup

strawberry or raspberry or apricot preserves
Procedure:
In a small bowl whisk together the Ener-G egg replacer and water; set aside.
In a large bowl, beat butter and confectioners' sugar until blended.
Beat in the Ener-g egg replacer mix.
Gradually beat in flour and salt. Mix well to form a ball of dough.
Cover the dough completely with plastic wrap and refrigerate for at least 2 hours or until firm.
Preheat oven to 325F/160C. Grease the baking sheet/s lightly with butter and set aside.
Scoop out a tablespoon of dough, shape it into balls, slightly flatten it and press a deep indentation in the center with your thumb or using the back of a wooden spoon. Fill it with a little jam of your choice. Repeat the same for at least another 3-4 cookies. We are going to test bake.
Bake 13-15 minutes or until edges are light brown. Remove from pans to wire racks. See how the cookies turn out. Check if it spreads too much, in that case, it requires more chilling. Check if the cookies are done and you may have to adjust the baking time accordingly for the rest of the dough. I always recommend test baking with just a few cookies so that we don't end up messing up the whole batch.
Once this is all figured out repeat the same for the rest of the dough and you've baked yourself beautiful eggless thumbprint cookies.
Taste:
These thumbprint cookies have an excellent delicate texture. It melts in your mouth. Baking the jam with the cookies gives it a nice chewy feeling which reminded me of the jam cookies that I enjoyed during my childhood days.
My Notes:
The original recipe mentions baking the cookies with the indentation and then filling it with jam once the cookies are out of the oven, which seems perfectly fine and some of you might like it that way. In that case, it's mentioned to bake the cookies at 350F for 12-15 minutes.
But I wanted to make the jam cookies that I enjoyed in India while I was a little girl. It had the jam baked in the cookies. So I chose to follow one of the reader's reviews in that recipe and I'm very glad that I did it. Biting into this thumbprint cookie sent me back to those days when we used to buy it from the nearby bakery.
I have used mango jam and strawberry jam for the filling.
Nutrition Facts
Eggless Thumbprint Cookies
Amount Per Serving
% Daily Value*
Potassium 4mg0%
Total Carbohydrates
8.8g
3%
* Percent Daily Values are based on a 2000 calorie diet.


Try this recipe, click a pic and hashtag it #egglesscooking - Proudly showcase your creations on Instagram, Facebook & Twitter!