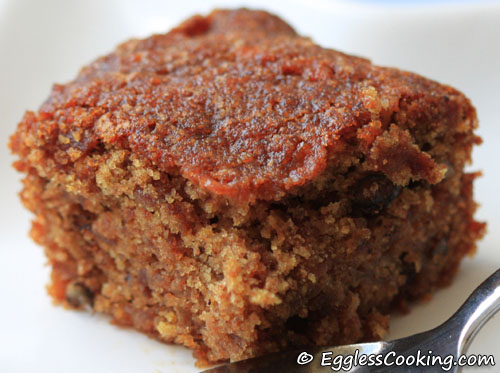 This is yet another recipe from the Taste of Home Baking Book.
I had half a dozen apples in the fridge. I browsed the index for recipes with apples and found this vegan apple cake recipe. The recipe was very simple, used only one egg, so easy to substitute the egg. The cake came out very well. It was very moist and fluffy, but over the top sweet. The original recipe used 1 cup sugar and the apples I used were sweet too, so the cake became very sweet. So I have changed the recipe to 3/4 cup of sugar. I was wondering what to do with the cake, then got this (wonderful) idea. I was not sure whether it would work, but I was totally surprised and happy with the result. Check the My Notes section to see what I did. But this vegan apple cake recipe is definitely a keeper for its easy prep and unbelievably moist and fluffy texture for a vegan cake.

| Prep Time | Cook Time | Makes |
| --- | --- | --- |
| 15 Mins | 45 Mins | 9 Servings |
| Author | Category | Method |
| Madhuram | Cakes | Baking |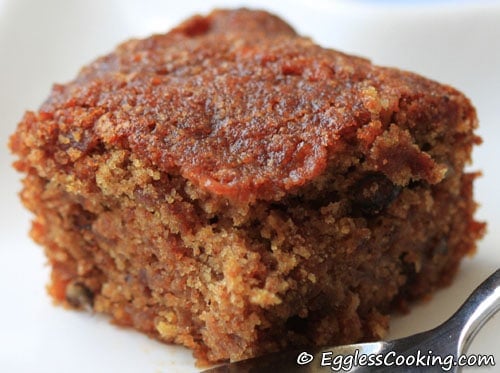 This apple cake recipe bakes such a moist and fluffy cake that it's hard to believe that its a vegan cake.

Ingredients:
3 tablespoons

Softened Butter (I used Earth Balance – 4 teaspoons)

3/4 cup

Sugar

1 and 1/2 teaspoons

Ener-G (in place of 1 Egg)

2 tablespoons

Water

3 tablespoons

Soy Milk (if using Ener-G)

1 teaspoon

Vanilla Extract

1 cup

All Purpose Flour (I used Whole Wheat Pastry Flour)

1 teaspoon

Baking Soda

1/4 teaspoon

Salt

1/2 teaspoon

Ground Cinnamon (I used 1/4 teaspoon)

1/2 teaspoon

Ground Nutmeg (I did not use)

3 cups

Peeled And Diced Apples (I grated it)

1/4 cup

Chopped Nuts (I used 1/2 cup Walnuts)

As Needed

Whipped cream/Ice cream (Optional)
Procedure:
Preheat oven at 350F for 15 minutes. Grease an 8-inch square baking dish.
In a large mixing bowl, cream butter and sugar until light and fluffy. Since the quantity of butter is very less, the creamed mixture was dry and resembled coarse crumbs.
In a blender/food processor blend together Ener-G, water, soy milk and vanilla extract until nice and foamy.
Add the Ener-G mixture to the creamed butter/sugar and beat everything together with the hand mixer until thoroughly combined. This mixture looks creamy like a white sauce.
In another bowl combine the flour, baking soda, salt, cinnamon and nutmeg (if using). Add this to the wet ingredients. The batter will be thick.
Stir in apples and nuts. Mix it thoroughly.
Spread the batter in the prepared pan and bake for 35-45 minutes or until a toothpick inserted near the center comes out with just a few crumbs. Mine was done around 38 minutes. You can also see that the cake starts pulling from the edges.
This cake can be sliced directly from the pan while its still warm, so no need to wait for the pan to cool to invert it and then slice it.
My Notes:
The original recipe mentioned only 3 tablespoons butter. Since I had only 4 tablespoons (1/2 a stick) remaining from a stick, I used it entirely. Did not want to keep the balance 1 tablespoon in the fridge. I think that extra tablespoon of butter helped to get the amazing texture for the cake.
The apples were required to be diced, but I grated it because I was not sure if my son would eat the cake if it had chunks of apples in it. He usually eats all fruits and especially apples and pears are his favorite. But I can never guess him. The apples were really invisible, so if you have a picky eater sneak the apples by grating.
I was wondering what to do about the sweetness. If it's not sweet enough you can always sprinkle some powdered sugar, have it with vanilla ice cream etc. But how to reduce the sweetness. Then I got this idea of coating the cake with unsweetened chocolate so that the bitterness would offset the sweetness. I wanted to try it immediately but did not have it at home. Sent my husband immediately to the grocery store and he got the Baker's unsweetened baking chocolate. It's a pack of 8 individually wrapped squares of plain chocolate. I wanted to test very little first. So melted 3 squares in the microwave oven. Cooled it a little bit. I decided to shaped the cake into small balls and dip it in the melted chocolate so that it would resemble truffles. Since the cake was slightly warm and moist I was able to proceed with the idea and shaped them into small balls. Dipped the cake quickly into the melted chocolate and placed it in a baking sheet lined with parchment paper. I had a perfect slice of cake as well. My husband dipped 3 sides of the cake in the chocolate. I placed the baking sheet in the fridge for the chocolate to set. I couldn't contain my excitement to taste it. Managed to wait until the next day morning. The chocolate had set perfectly and I took a bite of the apple cake truffle and was literally doing the happy dance. It tasted so good! The bitterness of the unsweetened chocolate took care of the sweetness perfectly. The taste was phenomenal. I'm very glad that I tried this vegan apple cake.

Try this recipe, click a pic and hashtag it #egglesscooking - Proudly showcase your creations on Instagram, Facebook & Twitter!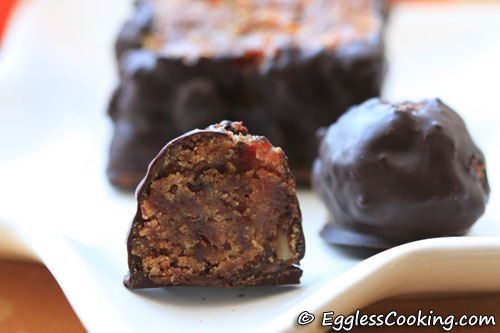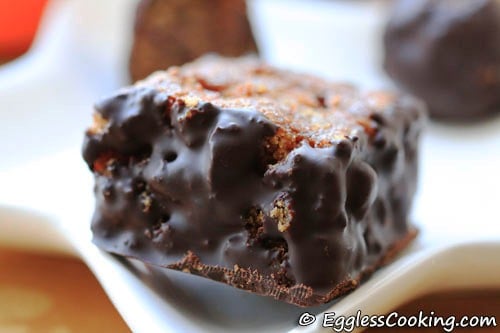 This is my 4th entry for Egg Replacement Event – Egg Replacer Powder hosted by me.