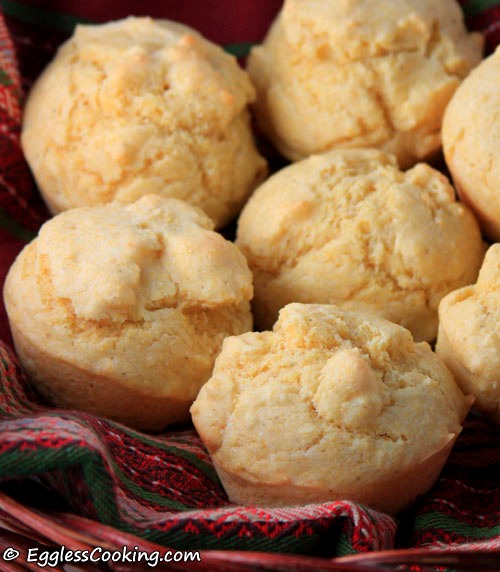 Boston Market's corn bread is my favorite and I've always wanted to bake something similar at home. I found a corn muffin recipe in The Taste of Home Baking Book. Later traced the recipe on the website too.
As I have mentioned in the blog a couple of times before, I love that website because all the recipes work like a charm. Nothing can go wrong.
I've seen a couple of recipes for corn muffin, but this one was very simple to follow and easy to veganize also. These muffins can be prepared in no time. I have used Ener-G egg replacer in place of the 1 egg in the original recipe.
Also I used non-dairy milk to make vegan corn muffins. I would rather prefer using rice milk or almond milk instead. You can also use buttermilk instead of milk to make very moist corn muffins.
Corn muffins are a good accompaniment for vegetarian chili or some hot lentils and vegetable soup. Everyone at home loved these muffins!

| | | |
| --- | --- | --- |
| Vegan Corn Muffins Recipe | | |
| Prep Time | Cook Time | Makes |
| --- | --- | --- |
| 15 Mins | 18 Mins + 5 Mins Cooling | 8 Muffins |
| Author | Category | Method |
| Madhuram | Muffins | Baking |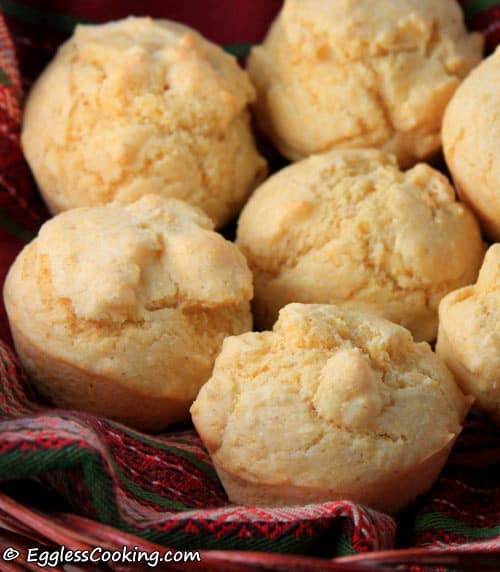 Wondering how to make easy egg-free/vegan corn muffins from scratch? You are in the right place. Check out this recipe for the best corn muffin recipe ever.

Ingredients:
1 cup

All purpose flour

3/4 up

Yellow Cornmeal

3 tablespoons

Sugar

2 teaspoons

Baking Powder

1/2 teaspoon

Salt

1.5 teaspoon

Ener-G Egg Replacer (in place of 1 egg)

2 tablespoons

Water

1 cup

Milk (I used Unsweetened Soy Milk)

1/4 cup

Vegetable Oil (I used Canola Oil)
Procedure:
Preheat oven at 400F/200C for 15 minutes. Grease muffin cups with shortening.
In a large bowl combine the flour, cornmeal, sugar, baking powder and salt.
In a blender/food processor add Ener-G, water, milk and oil. Blend it thoroughly, for about 3 minutes.
Stir into the dry ingredients just until moistened.
Fill the muffin cups 2/3rds full.
Bake for 16-18 minutes or until a toothpick comes out clean.
Cool for 5 minutes before removing from pan to a wire rack.
My Notes:
I don't have any complaints with this recipe. The only thing I wish I had done was spreading the batter in the 8 muffin cups evenly in the first go itself. I had some batter remaining after filling the cups initially, so distributed it again among the 8 cups. So what happened was after baking there was this extra top on the muffins. Not a big deal, but the corn muffins would have looked perfect and smooth on the top (just like the picture in the magazine) if I had done it the other way.
Adding some fresh/frozen corn kernels to the batter would be nice too.
This is a general baking tip. I have found that greasing baking sheets/pans with shortening works better than using a non stick spray. Non stick spray leaves burn marks on the sheets while shortening does a clean job.

Try this recipe, click a pic and hashtag it #egglesscooking - Proudly showcase your creations on Instagram, Facebook & Twitter!

This recipe has been updated and republished from the 2009 archives.