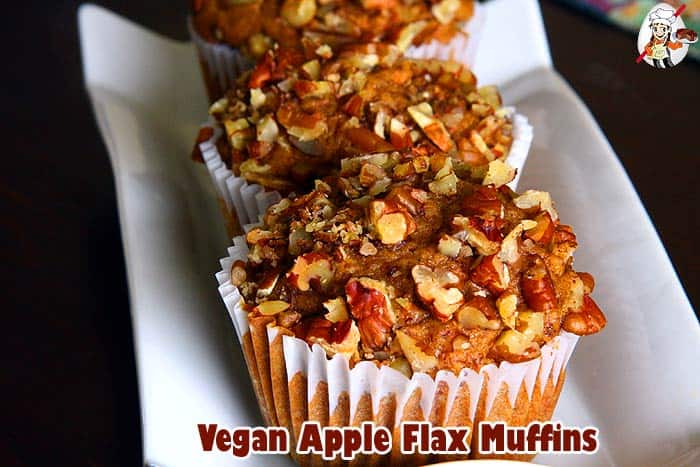 I came across a vegan, Omega 3 rich muffin recipe using apples in one of the free magazines that we get in a natural health/pharmacy store nearby. The recipe used some Omega 3 powdered supplement that the store was selling.
The recipe looked very simple and I had all the ingredients except for that supplement and I wanted to bake those muffins.
All I could think was using flaxseed meal in place of that product and that's how these healthy, easy to bake, vegan apple flax muffin recipe was created.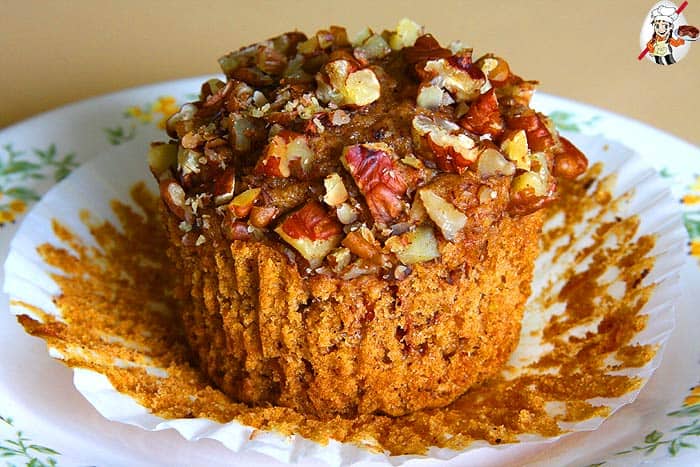 The original recipe was fat-free except for the Omega 3 supplement. When I mean fat-free no added fat in the form of oil or butter. It didn't have nuts too.
I wanted to make these flax muffins tastier and crunchier, so I included a generous quantity of chopped pecans.
These vegan apple flax muffins were as good as these whole-grain oatmeal apple muffins which used a considerable quantity of avocado oil.
You can omit that if you want to reduce the fat content and looking to make a low-calorie version.
How To Make Vegan Apple Flax Muffins?
Here are the step-by-step pictures on baking these delicious flax muffins.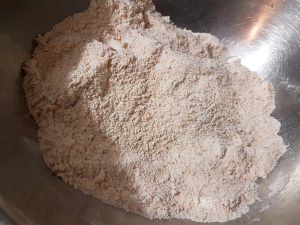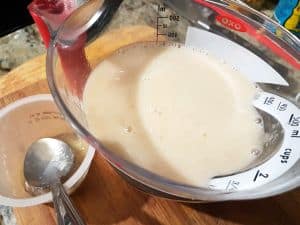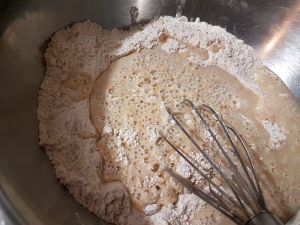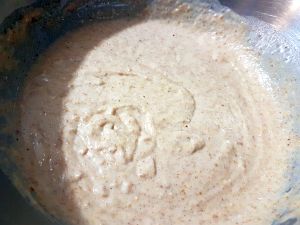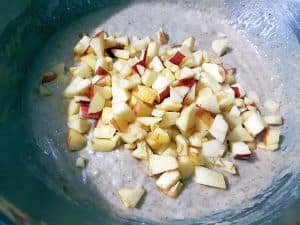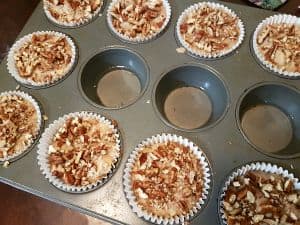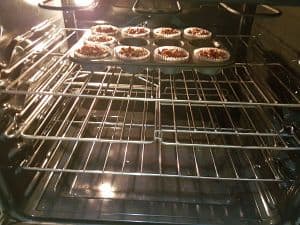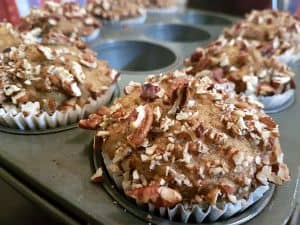 | | | |
| --- | --- | --- |
| Vegan Apple Flax Muffins Recipe | | |
| Prep Time | Cook Time | Makes |
| --- | --- | --- |
| 20 Mins | 25 Mins | 9 Muffins |
| Author | Category | Method |
| Madhuram | Muffins | Baking |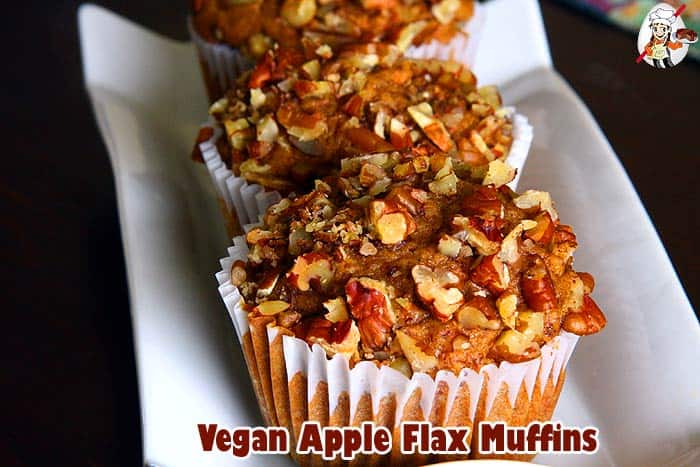 Looking to make a healthy flax muffins recipe without compromising on taste and texture? Then try these tasty apple flax muffins, to get a decent dose of healthy fats and fiber.

Ingredients:
Dry Ingredients:
1 cup

all-purpose flour

1/2 cup

whole wheat pastry flour

1 cup

brown sugar

1/3 cup

flaxseed meal

2 teaspoons

ground cinnamon

1 and 1/2 teaspoons

baking soda

1/4 teaspoon

salt
Wet Ingredients:
1 cup

almond milk

1/2 cup

unsweetened applesauce

1 tablespoon

apple cider vinegar

1 teaspoon

vanilla extract

2 cups

grated apple

1 cup

chopped pecans
Procedure:
Preheat oven to 350F/180C for 15 minutes and line a muffin tin with paper liner and grease it lightly with non-stick spray.
In a large bowl stir together the dry ingredients.
In a medium-size bowl mix together wet ingredients.
Incorporate the wet ingredients into the dry mix. Do not overmix.
Stir in grated apples and nuts, if using.
Using a ladle spoon in the batter into the prepared pan. I usually use 1/3rd of a cup of batter for muffins.
Bake for 20 to 25 minutes or until a toothpick inserted in the center of a muffin comes out clean. Mine was done in 25 minutes.
Taste:
The first batch I made, I used 3/4th of a cup of sugar as mentioned in the original recipe and felt that the sweetness was pretty mild, especially for my mom who has a very sweet tooth. Interestingly my kids didn't mind it at all. Me too. My eldest son loved these flax muffins so much that he wanted to bake me another batch and I made one the next week itself and increased the quantity of sugar to 1 cup which is what I have mentioned in the recipe now. Even with that increase, the muffins were not too sweet. I wouldn't increase it, even more, the next time. This was perfect for our taste.
My Notes:
The original recipe mentioned using chopped apples and that's what I did with the first batch of muffins but for the second batch, I decided to use grated apples because it spreads evenly throughout the batter giving a uniform taste and texture in every bite.
You can choose to use carrots, zucchini, beets or any other vegetable of your choice instead of apple and dried fruits, chocolate chips instead of pecans in these flax muffins recipe.
Nutrition Facts
Vegan Apple Flax Muffins
Amount Per Serving
% Daily Value*
Potassium 139mg3%
Total Carbohydrates
43.1g
16%
* Percent Daily Values are based on a 2000 calorie diet.


Try this recipe, click a pic and hashtag it #egglesscooking - Proudly showcase your creations on Instagram, Facebook & Twitter!