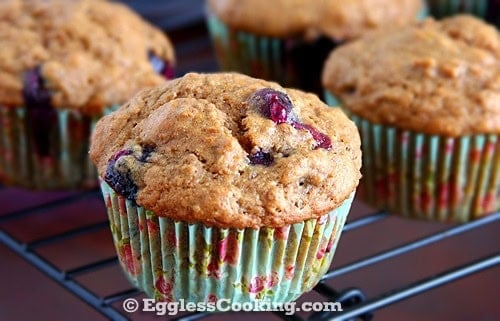 At our home we get the All Bran Buds and Flakes quite regularly. Each and every time there is this powdery cereal at the end that nobody wants to eat. So I started putting those last crumbs from every pack in a box. Just after 3 packs of cereal I had about 2 cups of cereal. I usually add it with my smoothies like this Fiber One Banana Smoothie. This time around I wanted to try a different recipe and was looking for some ideas and found this. I already have a super duper vegan blueberry muffin recipe and a whole wheat blueberry muffin recipe in this blog. I was deliberating whether to try another blueberry muffin recipe. Because I have so much success baking with bluberries I decided to give it a shot and the result was wholesome and hearty blueberry bran muffins that everybody gave two thumbs up.

| | | |
| --- | --- | --- |
| Vegan Blueberry Bran Muffins Recipe | | |
| Prep Time | Cook Time | Makes |
| --- | --- | --- |
| 20 Mins | 23 Mins | 12 Muffins |
| Author | Category | Method |
| Madhuram | Muffins | Baking |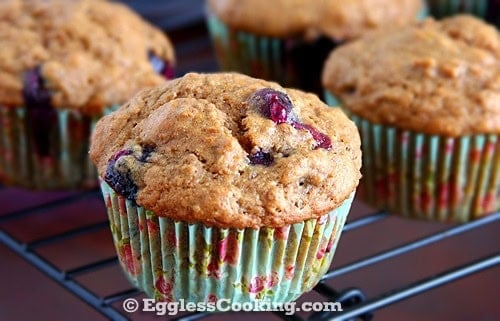 Bran cereal not a favorite in your house? This blueberry bran muffin recipe is the perfect solution to empty the box.

Part 1 Ingredients:
1 and 1/2 cups

all-purpose flour

2 and 1/2 teaspoons

baking powder

1/2 teaspoon

baking soda

1/4 teaspoon

ground cinnamon

1/4 teaspoon

salt

zest

of 1 orange
Part 2 Ingredients:
1 and 1/2 cups

bran flakes cereal

1 and 1/4 cups

almond milk, divided

1/2 cup

freshly squeezed orange juice or unsweetened applesauce

1/4 cup

melted coconut oil

3/4 cup

coconut palm sugar

1/2 teaspoon

apple cider vinegar

1 cup

blueberries
Substitution:
all-purpose flour = whole wheat pastry flour
bran flakes = corn flakes or any other similar cereal
coconut palm sugar = brown sugar
almond milk = any milk of your choice
coconut oil = any oil you would normally use
apple cider vinegar = white vinegar
blueberries = any other berries or dried fruit
Procedure:
Preheat oven to 350F/180C for 15 minutes. In a small bowl stir together 1/2 cup of milk and vinegar; set aside to curdle. Line a 12 muffin tin with paper liners.
In a medium bowl, sift together the dry ingredients listed in Part 1.
In a large bowl, stir together the cereal, 3/4 cup of milk and orange juice. Add the curdled milk, brown sugar and melted coconut oil too.
Incorporate the dry flour mix into the wet ingredients, stirring until just combined. Add in the blueberries too. As always remember to toss the fruit with some flour before adding it to the batter. If the batter is too thick add a tablespoon or two of water/milk.
Spoon in the batter in the prepared muffin tin and bake for about 22-25 minutes or until a toothpick inserted in the middle of the muffin comes out clean.
Mine was done in 23 minutes. Cool the pan on a wire rack for 5 minutes before removing the muffins out of the tin. Serve it warm or once cooled.
My Notes:
If you prefer serving these muffins warm, lightly grease the paper liners with cooking spray to remove the muffins off the wrapper easily.
Do not thaw if using frozen berries.
I have tried this recipe using orange juice and unsweetened applesauce and it turns out great either way. The nutritional inforamtion below is for muffins using orange juice.
Nutritional Information for 1 Muffin
Calories:

179.6


Total Fat:

5.1 g


Saturated fat:

3.9 g


Unsaturated fat:

0.4 g


Cholesterol:

0.0 mg


Total Carbohydrate:

39.1 g

Sugars:

22.8 g


Dietary Fiber:

3.5 g


Protein:

2.8 g


Sodium:

244.5 mg


Potassium:

206.5 mg

Try this recipe, click a pic and hashtag it #egglesscooking - Proudly showcase your creations on Instagram, Facebook & Twitter!