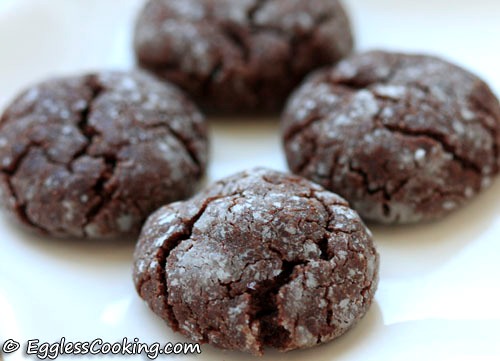 It was my son's turn again to provide snacks for his class. The last time I baked these
vegan brownies
and
vegan pumpkin cookies
.
This time I decided to bake rich cocoa crinkle cookies from Hershey's Holiday Favorites. This is a small book with recipes for decadent cakes, cookies, brownies and more. I chose this recipe because it was simple to bake and also saw that the recipe yielded 6 and 1/2 dozen cookies and I need that much.
I was not sure for one reason because it used 4 eggs and it would be the first time I will be replacing 4 eggs with an egg substitute and especially with Ener-G.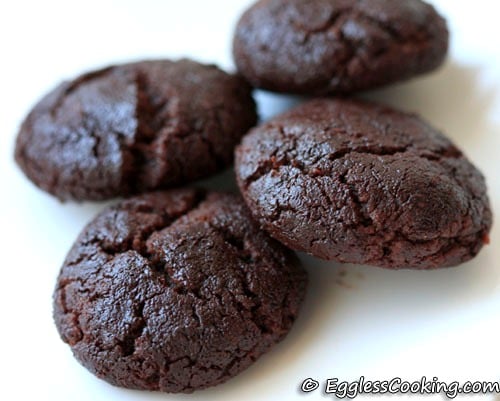 Finally I decided to go with it and baked it. The crinkle cookies were real good. I was expecting a crisp cookie, but it was chewy. I think the quantity of sugar can be reduced. Since it was for the kids I made it small (2 bites size).
I used approximately 1/2 tablespoon dough for each cookie and got exactly 100 cookies. My son liked the cookies. He usually narrates me everything that happens in class and from what he told I gathered that his friends liked it as well.

| | | |
| --- | --- | --- |
| Vegan Chocolate Crinkle Cookies Recipe | | |
| Prep Time | Cook Time | Makes |
| --- | --- | --- |
| 6 Hrs | 17 Mins | 100 Cookies |
| Author | Category | Method |
| Madhuram | Cookies | Baking |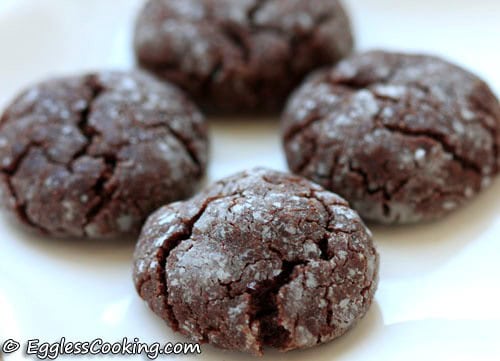 Vegan Chocolate Crinkle Cookies
4.9

from

18

reviews
Go on a chocolate high with these easy to bake crinkle cookies without eggs. Using vegetable oil instead of butter makes it vegan too. If the quantity of oil scares you away try substituting some of it with unsweetened applesauce and enjoy a much softer and chewier cookies.

Ingredients:
2 and 1/3 cups

All Purpose Flour

2 cups

Sugar

3/4 cup

Vegetable Oil (I used canola oil)

1 cup

Cocoa powder

6 teaspoons

EnerG (in place of 4 eggs)

12 tablespoons

Water

2 teaspoons

Vanilla Extract

2 teaspoons

Baking Powder

1/2 teaspoon

Salt

For Coating

Powdered Sugar
Procedure:
In a mixing bowl, stir together flour, baking powder and salt. Keep it aside.
In another large mixing bowl, beat together the oil and sugar. Then add the cocoa and beat once again until well blended.
In a blender, blend together the EnerG powder and warm water for 2-3 minutes until it's foamy.
Add the EnerG mix and vanilla extract to the wet ingredients and beat it once again.
Add the flour mixture gradually to the cocoa mixture, beating well. At this stage the cookie dough becomes very thick. My electric hand beater stopped working and I had to mix the dough with my hand. It had the consistency of stiff chapathi dough.
Cover and refrigerate the dough for at least 6 hours.
Preheat oven to 350F for 15 minutes. Prepare cookie sheets by greasing or lining with parchment paper.
Shape the dough into balls (I used around 1/2 tablespoon of dough); roll in powdered sugar to coat. Place about 2 inches apart on prepared cookie sheets.
Bake 10 to 12 minutes or until almost no indentation remains when touched lightly and tops are crackled. I baked mine for 11 minutes. Cool slightly. Remove from cookie sheet to wire rack and cool completely.
My Notes:
The instructions in the EnerG pack suggests to use warm water while blending the powder. I didn't do that in my earlier recipes but did this time and I think it foams up more while using warm water. Also the suggested ratio for the powder and water is 1 and 1/2 teaspoons and 2 tablespoons water. So it is 6 teaspoons powder and 8 tablespoons water in this recipe. I did the same first and while mixing the dough I found that it did not come together. It was crumbly. So I added 1 tablespoon water at a time to the dough and felt the texture was right after adding 4 tablespoons of water in total.
I first test baked 2 cookies. When tasted I found that it was very sweet. So for the subsequent batches I rolled the cookies with very less powdered sugar. For the final batch, I rolled the shaped cookie dough in cocoa powder to balance the sweetness. With the first bite you can taste a very light bitterness but it gets sweeter and the cookies were a little sticky.
The next time I bake it I'm going to try reducing 1/4 cup of sugar.

Nutrition Facts
Servings: 50 (2 cookies per serving)
Per Serving
% Daily Value*
Calories

72

Total Fat

3.5g

5%
Saturated Fat

0.8g

4%
Trans Fat

0g

Cholesterol

0mg

0%
Sodium

24mg

1%
Potassium 64mg
2%
Total Carb

10.6g

4%
Dietary Fiber

0.6g

2%
Sugars

8.6g

Protein

0.5g

Vitamin A 0% – Vitamin C 0%
Calcium 1% – Iron 2%

Try this recipe, click a pic and hashtag it #egglesscooking - Proudly showcase your creations on Instagram, Facebook & Twitter!

These vegan chocolate crinkle cookies goes to Egg Replacement Event – Egg Replacer Powder hosted by me.