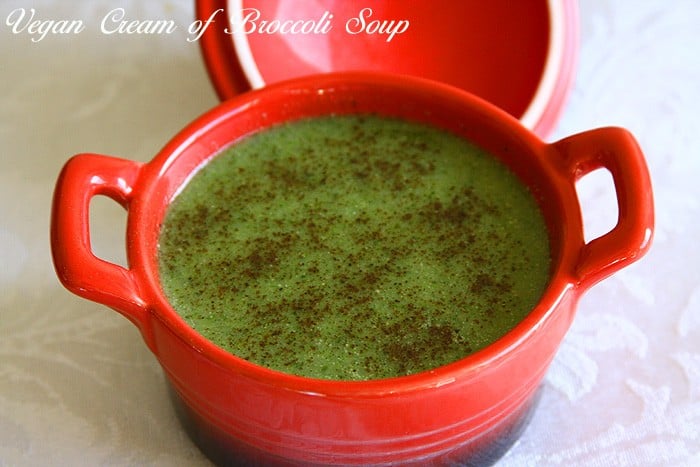 Vegan and cream sounds like an oxymoron right? But it's absolutely true. This cream of broccoli soup gets its rich creaminess not from dairy cream but from mashed potatoes and cauliflower. I tried the combination of mashed potatoes and cauliflower in my vegan shepherd's pie recipe and it worked out great in this soup recipe too. It's very simple to prepare and tastes great, especially on cold winter nights. You can use fresh or frozen broccoli for this soup.

| | | |
| --- | --- | --- |
| Vegan Cream of Broccoli Soup Recipe | | |
| Prep Time | Cook Time | Makes |
| --- | --- | --- |
| 15 Mins | 15 Mins | 4 Servings |
| Author | Category | Method |
| Madhuram | Soups | Cooking |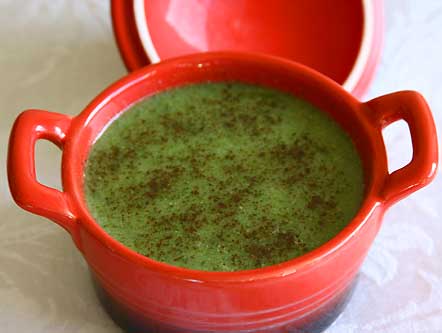 Are you pressed for time but want to prepare a nutritious dinner? Then try this vegan cream of broccoli soup recipe. Serve it with whole grain toast and a tossed salad.

Ingredients:
2 tablespoons

extra-virgin olive oil

2 cloves

garlic, minced

1/2 cup

chopped onion

1 cup

cube potatoes

1 cup

cauliflower florets

2 cups

broccoli florets

3 cups

water or vegetable broth

To taste,

salt and pepper
Procedure:
In a soup pot, heat the oil and fry the onion and garlic until translucent. Add a pinch of salt while frying the onion.
Add the potatoes, cauliflower and vegetable broth and boil for about 10 minutes until the potatoes are tender.
Add the broccoli florets, salt and pepper; cook for another 5 minutes. Remove the pot from the stove and using an immersion blender puree the soup to a smooth consistency. Taste for seasoning and salt/pepper accordingly.
My Notes:
I have used part cauliflower to make the soup low-carb. You could use all potatoes or all cauliflower.
If you plan to use the regular blender, you have to wait for the cooked vegetables to cool completely before you can puree it to avoid splashing all over the kitchen.
Nutritional Information for 1 Serving
Calories:

128.5


Total Fat:

7.3 g


Saturated fat:

1.0 g


Unsaturated fat:

6.1 g


Cholesterol:

0.0 mg


Total Carbohydrate:

14.6 g

Sugars:

1.8 g


Dietary Fiber:

3.2 g


Protein:

2.9 g


Sodium:

727.5 mg


Potassium:

414.0 mg

Try this recipe, click a pic and hashtag it #egglesscooking - Proudly showcase your creations on Instagram, Facebook & Twitter!