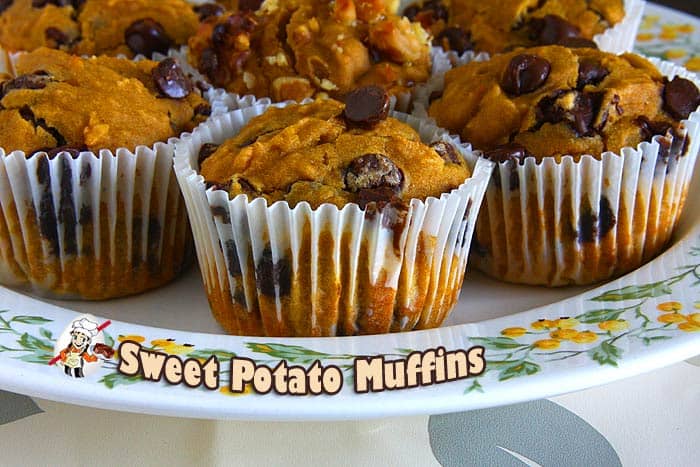 Sweet potatoes are the most consumed vegetable at our home these days, especially by my husband and me. Earlier I was pressure cooking it and depending upon the variety of sweet potato sometimes it got too mushy.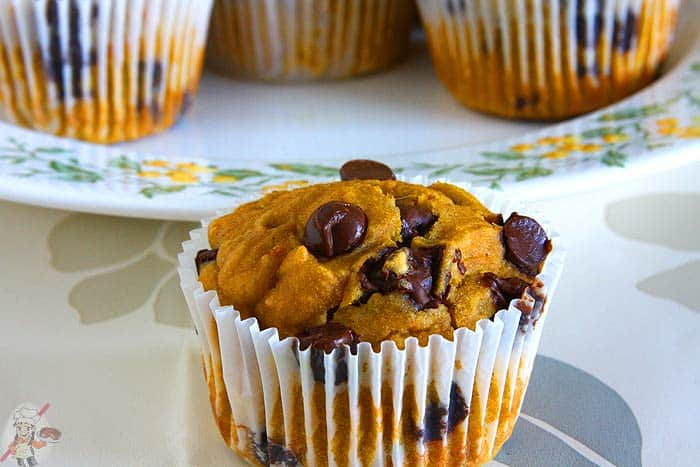 Only recently I found out an easier method of cooking it in the microwave oven which gives the perfect texture each and every time. This sweet potato muffin recipe was the outcome of one such pressure cooked sweet potato mess up. Not regretting though because I got to make these simple and tasty muffins.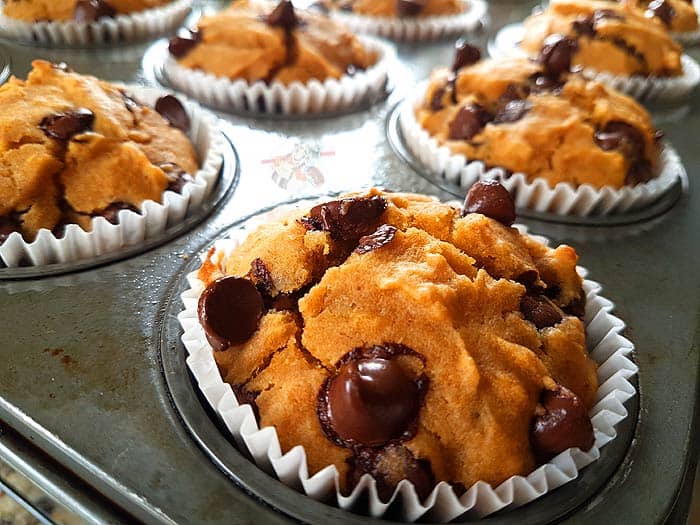 When I ended up having a big batch of mashed sweet potato, I wanted to bake the sweet potato bread replicating the Starbucks Banana Bread which I had baked few months back because it was AMAZING!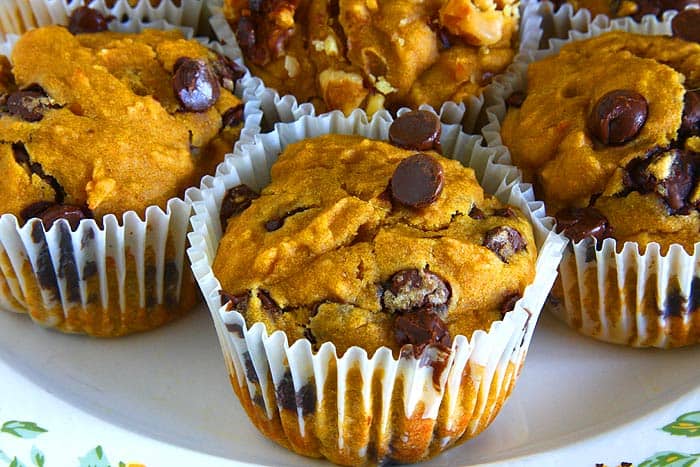 Then I realized that I didn't have a sweet potato muffins recipe in the blog and remembered blogging about whole wheat pumpkin chocolate chip muffins a few years back and why not use the same recipe and substitute the store-bought pumpkin puree with this mashed sweet potato.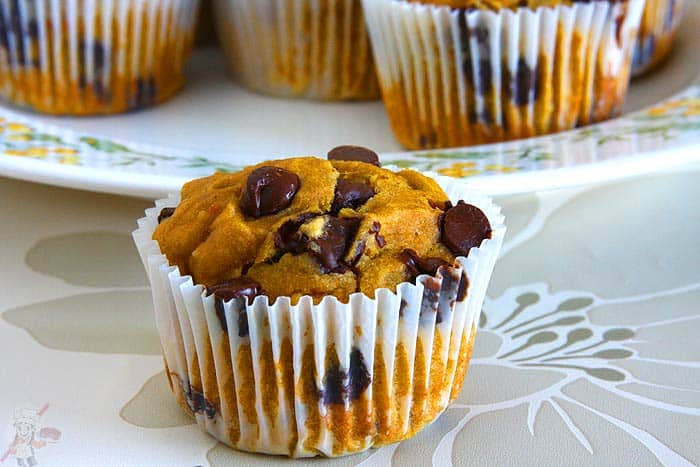 That's what I did and the muffins turned out perfect!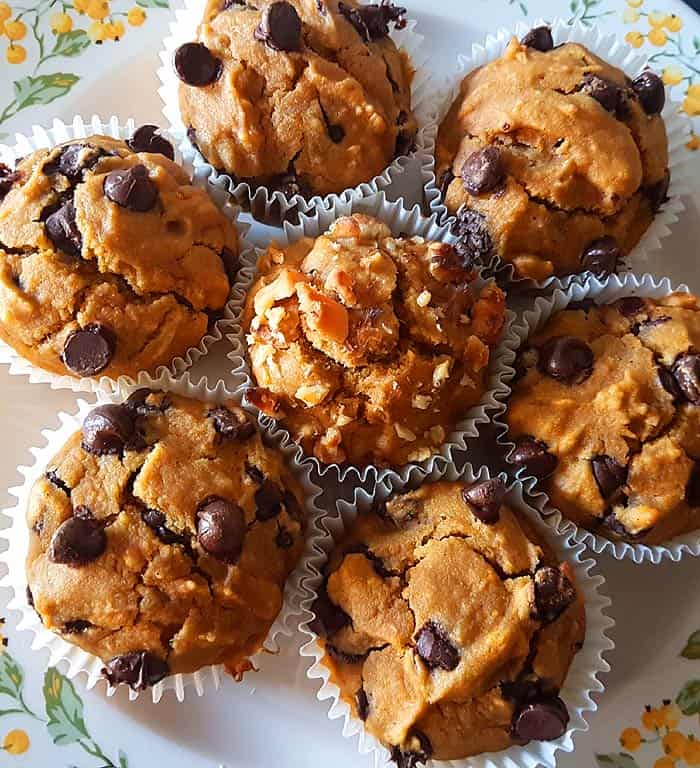 How To Make Sweet Potato Chocolate Chip Muffins?
Here are the step-by-step instructions on making healthy sweet potato muffins from scratch.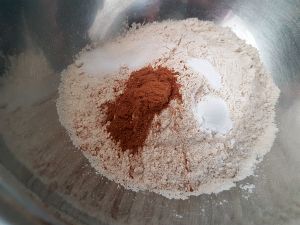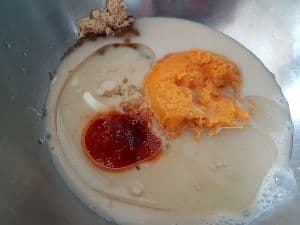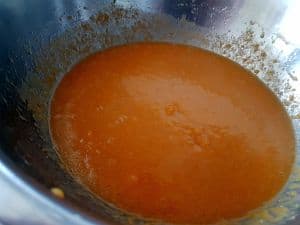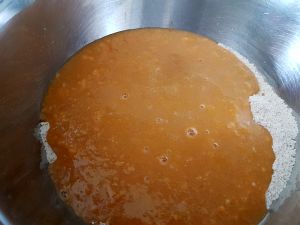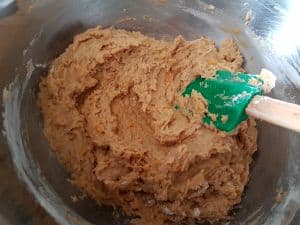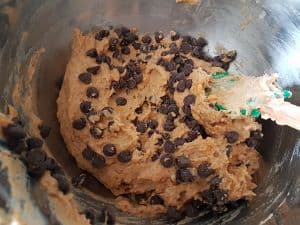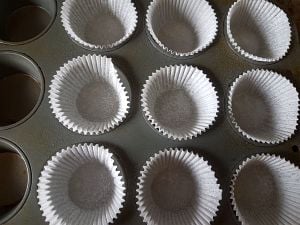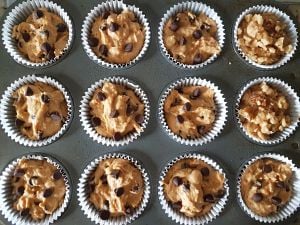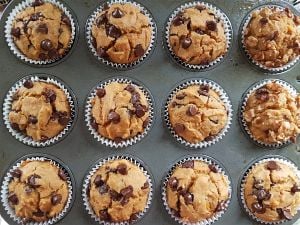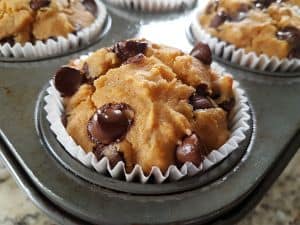 | | | |
| --- | --- | --- |
| Sweet Potato Muffins Recipe | | |
| Prep Time | Cook Time | Makes |
| --- | --- | --- |
| 20 Mins | 22 Mins | 12 Muffins |
| Author | Category | Method |
| Madhuram | Muffins | Baking |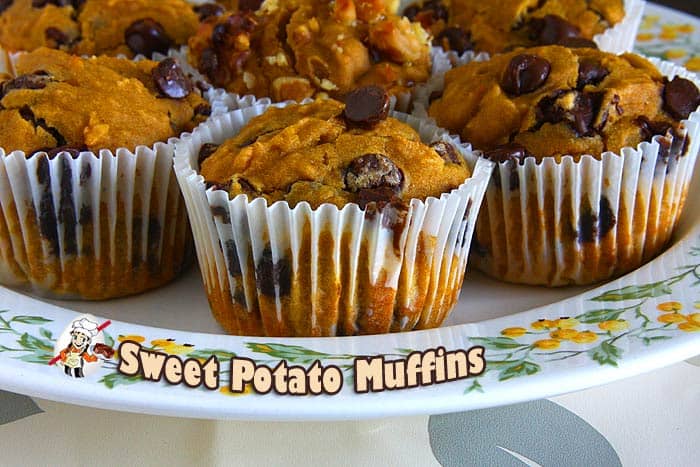 Thanksgiving is around the corner and we are sure to have a lot of mashed sweet potato leftovers and if you are bored of making pancakes and waffles, try these sweet potato muffins baked using whole wheat pastry flour which is tasty, filling, and wholesome.

Ingredients:
PART 1:
2 cups

whole wheat pastry flour

1 and 1/2

teaspoon baking soda

1 teaspoon

ground cinnamon

1/2 teaspoon

salt
PART 2:
1 cup

mashed sweet potato

3/4 cup

brown sugar

1 cup

almond milk

1/3 cup

sunflower oil

1/2 tablespoon

apple cider vinegar

1 teaspoon

vanilla extract
PART 3:
1 cup

chocolate chips

1/2 – 3/4 cup

chopped nuts (optional)
Substitutions:
whole wheat pastry flour – 1 cup each whole wheat flour and all-purpose flour
mashed sweet potato – pumpkin puree
almond milk – any milk of your choice
sunflower oil – any neutral flavor oil of your choice
apple cider vinegar – white vinegar
chocolate chips – any dried fruit like raisins, cranberries, etc
Procedure:
Preheat oven at 425F for 15 minutes. Line a 12-cup muffin liner with paper liners or grease it with non-stick cooking spray.
In a large bowl, stir together the Part 1 ingredients.
In a medium-sized bowl stir together the ingredients listed in Part 2 and set aside.
Stir in the wet mix into the flour mix and combine until just moistened.
Mix in the chocolate chips.
Scoop out about 1/3rd of a cup of batter for each muffin and fill the tin.
Bake for about 10 minutes at 425F and reduce the temperature to 375F and bake for another 10-12 minutes or until a toothpick inserted in the middle of the muffin comes out clean.
Remove the pan from the oven and place it on a wire rack to cool for at least 5 minutes. Then take the muffins out of the pan and let it cool completely on the wire rack before storing it.
Taste:
Baking the muffins initially at a high temperature and then baking at a reduced temperature sure does makes the muffin look very good with a beautiful dome shape.
The texture of these sweet potato muffins was also perfect, airy, and not dense because of the apple cider vinegar. The sweetness was just right for us. Others might need to increase the quantity of sugar.
My Notes:
Increase the quantity of sugar to 1 cup if you prefer slightly sweeter muffins. For us, 3/4th of a cup was perfect because we have also added chocolate chips. I did one portion of the muffins with walnuts instead of chocolate chips and that was a little less sweet, which again we don't mind.
Nutrition Facts
Sweet Potato Muffins
Amount Per Serving
% Daily Value*
Potassium 74mg2
Total Carbohydrates
29.7g
11%
* Percent Daily Values are based on a 2000 calorie diet.


Try this recipe, click a pic and hashtag it #egglesscooking - Proudly showcase your creations on Instagram, Facebook & Twitter!