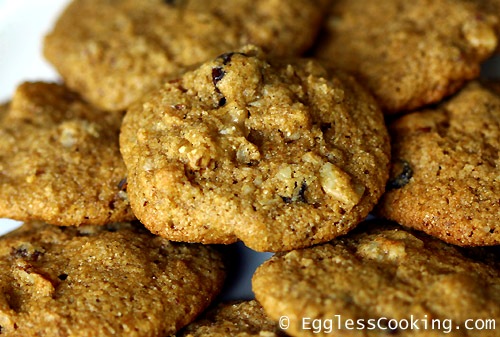 Hermit cookies became my favorite as soon as I tasted them for the first time back in 2008. For those who are wondering what it is, it's a spiced cookie studded with raisins, dates and nuts.
I made a copy of this vegan hermit cookies recipe from a book that I borrowed from the library back then and finally got a chance to bake it after so many years!
I guess it was a vegan cookbook and don't remember the name now. It had a couple of interesting vegan baking recipes.
We all loved these eggless hermit cookies. I baked it for a gathering and it was a huge hit. It turned out to be one of the best vegan cookies that I have ever baked! I actually chose this recipe because the recipe mentioned that it will yield 6 dozen cookies and I wanted that much.
But I was able to get only 52 cookies because I used a tablespoon to scoop out the dough instead of a teaspoon mentioned in the original recipe. I test baked a teaspoonful of dough and the hermit cookie was very small so I opted for a bigger measurement.
Another cookie recipe that can feed a crowd is this big batch multi-grain chocolate chip cookie recipe.
I have used flax egg instead of Ener-G egg replacer as the egg substitute, which made the cookies soft and chewy.
Fall is the perfect season to play around with different spices and these hermit cookies without eggs is a good recipe to try this Fall especially during Halloween and Thanksgiving when you have lots of guests over. You can also try using pumpkin pie spice to make it more season appropriate.

| | | |
| --- | --- | --- |
| Vegan Hermit Cookies Recipe | | |
| Prep Time | Cook Time | Makes |
| --- | --- | --- |
| 30 Mins | 14 Mins | 52 Cookies |
| Author | Category | Method |
| Madhuram | Cookies | Baking |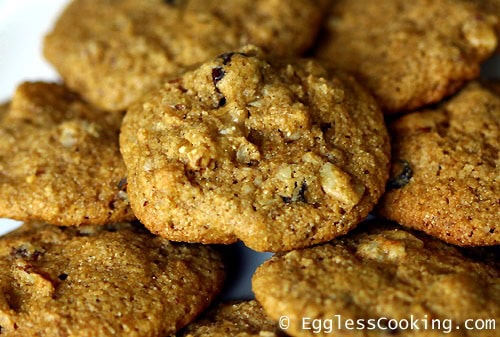 Vegan Hermit Cookies
5.0

from

4

reviews
These vegan hermit cookies are soft and chewy, spiced with cinnamon and allspice, loaded with raisins and nuts is sure to please both children and adults alike.

Ingredients:
1/2 Cup

Soft Margarine (I Used Becel Vegan Spread)

2 Cups

Brown Sugar

1 Tablespoon

Flax Seed Meal

3 And 1/2 Cups

Whole Wheat Pastry Flour

1 And 1/4 Teaspoon

Baking Powder

1 Teaspoon

Baking Soda

1 Teaspoon

Cinnamon

1 Teaspoon

Allspice Powder

1/4 Teaspoon

Salt

1/2 Cup

Almond Milk

2 Tablespoons

Lemon Juice

2-4 Tablespoons

Water

1 Cup

Chopped Nuts (I Used Walnuts)

1/2 Cup

Raisins

1/2 Cup

Diced Dates
Procedure:
Preheat oven to 375F/190C for 15 minutes. Lightly grease the cookie sheet. Stir together the almond milk and lemon juice; let sit 5 minutes so it curdles.
Cream margarine and sugar for about 5-6 minutes.
In a large bowl mix together the flax seed meal, flour, baking powder, baking soda, spices and salt; set aside.
To the creamed sugar mixture; add the flour mix and curdled milk alternately mixing together with a spatula.
I added about 2 tablespoons water to the dough to get the desired consistency.
Add the nuts and dried fruits. Mix well.
Drop by tablespoon on the prepared cookie sheet. Bake for about 12-15 minutes. I took out mine in 14 minutes.
Taste:
The hermit cookies came out crispy out of the oven but became softer as it sat in room temperature. The spice I had used was just right for us. I think that reducing the sugar by about 3-4 tablespoons shouldn't hurt because we are using raisins and dates too.
My Notes:
If you are not able to find whole wheat pastry flour, use a mix of all purpose flour and whole wheat flour.
The original recipe had used 1 tablespoon of Ener-G egg replacer powder and a teaspoon of baking powder, which I have substituted with a tablespoon of flax seed meal and increased the quantity of baking powder by 1/4 teaspoon.
Any non dairy milk can be used to prepare the sour milk. The original recipe had mentioned soy but I used almond milk instead.
You can also use vinegar instead of lemon juice to curdle the milk. In that case a tablespoon of vinegar (any type) should be enough.
Die-hard spice fans can increase the quantity of spice by another 1/2-1 teaspoon as mentioned in the original recipe.
Nutritional Information for 1 Cookie
Calories:

82


Total Fat:

2.1g


Saturated fat:

0.7g


Unsaturated fat:

1.4g


Cholesterol:

0mg


Total Carbohydrate:

14.7g

Sugars:

7.5g


Dietary Fiber:

1.4g


Protein:

1.4g


Sodium:

56mg


Potassium:

65mg

Try this recipe, click a pic and hashtag it #egglesscooking - Proudly showcase your creations on Instagram, Facebook & Twitter!