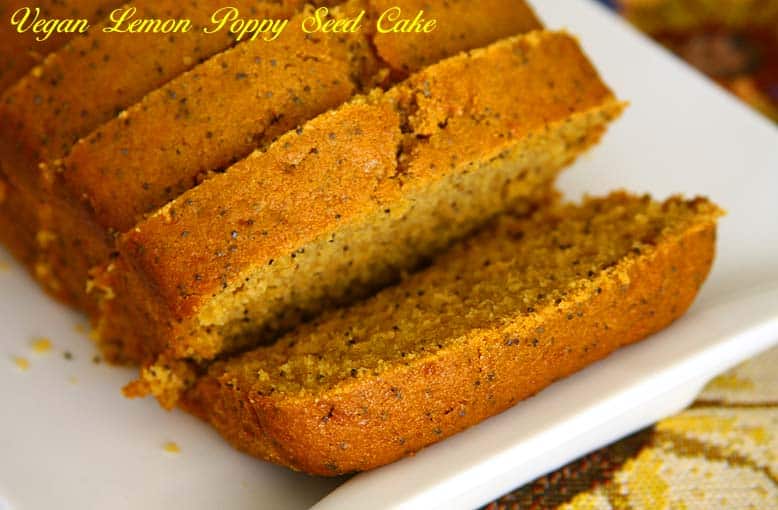 When or how did lemon poppy seed combination became my favorite I don't recall. Few months back I baked these
vegan lemon poppy seed muffins
and they turned out super good.
A few weeks back I got the cravings again and tried a small batch of lemon poppy seed pound cake which tasted good but did not rise well enough and ever since this has been in my mind.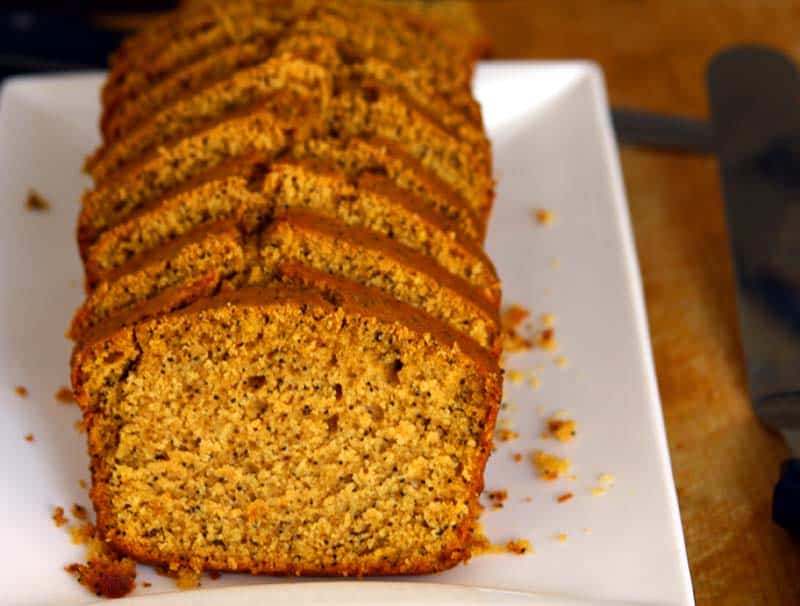 Last week my husband got a huge bag of lemons! I mean really huge! Like the time he bought 10lbs of carrots just for the 3 of us because it was on sale! When life gives you carrots make vegan carrot cake was what I thought after my initial shock.
Those few weeks was a whole lot of carrot recipes at my home! Guess who got bored the first and regretted!?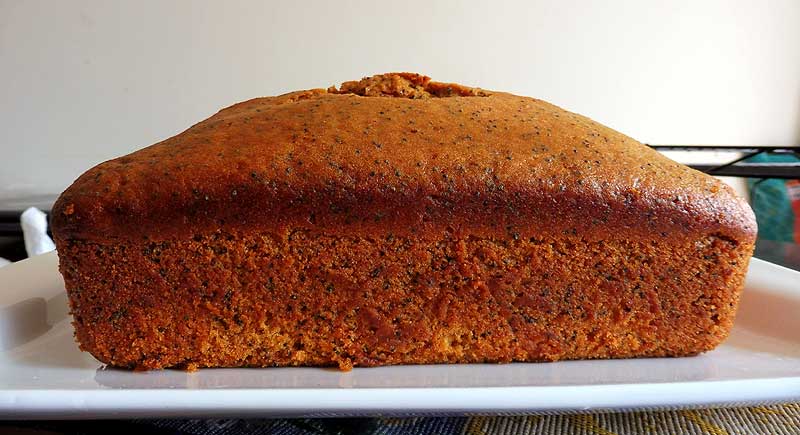 Now with lemons, it's not something you can use it quite a lot as the main ingredient. One might get bored with the same sour taste in one dish after the another. We started the habit of drinking warm water with some lemon juice upon getting up in the morning, hoping it really has some detoxifying effect in the body. Even if it doesn't anything to worry because we are halfway through the bag!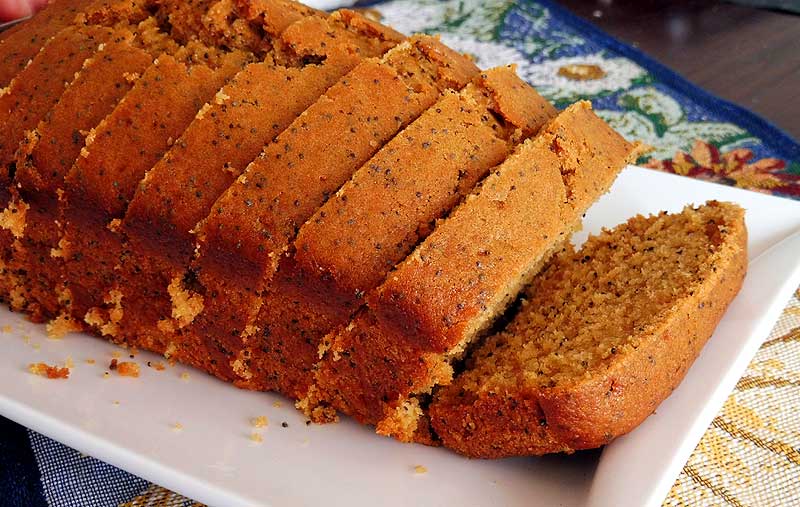 My cravings for lemon poppy seed something came back and spotted this recipe. It looked like a pretty straightforward recipe and used simple ingredients which I had in hand. The cake turned out really good but I only wish I had got a white color lemon poppy seed cake, so check my notes for few changes.

| | | |
| --- | --- | --- |
| Vegan Lemon Poppy Seed Cake Recipe | | |
| Prep Time | Cook Time | Makes |
| --- | --- | --- |
| 20 Mins | 1 Hr 00 Mins | One 8×4″ loaf cake |
| Author | Category | Method |
| Madhuram | Cakes | Baking |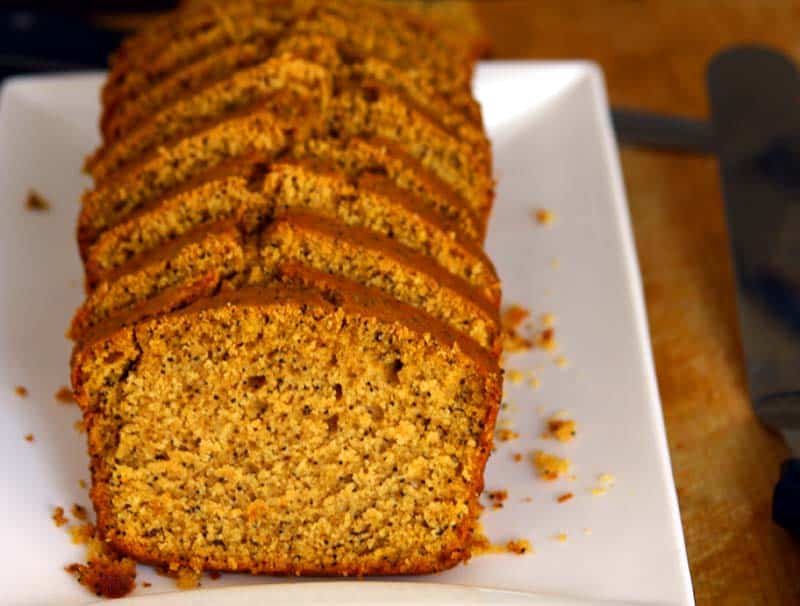 Very mildly sweet, with refreshing citrus flavor from the fresh lemon juice and delicately flavored almond extract, this vegan lemon poppy seed cake is the perfect dessert or snack this Spring!

Ingredients:
2 cups

all purpose flour

3/4 cup

coconut palm sugar

1/2 cup

granulated sugar

2 teaspoons

baking powder

1/4

teaspoon sea salt

1 cup

water

1/2 cup

avocado oil

1 teaspoon

almond extract

2 tablespoons

fresh lemon juice

3 tablespoons

poppy seeds

zest

of one lemon
Procedure:
Preheat the oven to 350F/180C.
Line the bottom of a loaf pan with parchment paper and lightly grease the plan including the sides.
In a large bowl stir together the flour, sugars, baking powder, salt and lemon zest. Make a well in the center.
Add the water, coconut oil, almond extract, lemon juice and mix well.
Fold in the poppy seeds.
Pour batter in the prepared loaf pan. Tap the pan to remove air bubbles if any.
Bake at 350° for 1 hour. Insert a toothpick in the middle of the bread to test for doneness.
My Notes:
The original recipe used coconut sugar in the recipe and I too used coconut palm sugar because I usually have it in stock. These days I use coconut palm sugar instead of brown sugar in all my recipes. Only after dumping the sugar and mixing the batter I realized that I'm not going to get a white color lemon poppy seed cake instead of a brown one. I should have gone with all white sugar instead of part coconut palm sugar and part white sugar. Because the photos in the original recipe showed a white vegan lemon poppy seed cake I didn't think through. Now I'm wondering if coconut sugar and coconut palm sugar is different. But the link to the product in the original recipe does show coconut palm sugar. Whatever it is use all white sugar if you want to have a white color cake.
Also I have this habit of reducing the quantity of sugar from the recipes I follow. I feel that most of the recipes use way too much sugar than what is really needed. So cut back 1/4 cup of white sugar in this recipe. The original recipe used 3/4th of a cup of coconut palm sugar and white sugar each. But this vegan lemon poppy seed cake was very mildly sweet after I cut back the sugar, which was fine by us. I think most of the population would prefer a bit more sweetness so use all 1.5 cups of white sugar or whatever sweetener you are using.

Try this recipe, click a pic and hashtag it #egglesscooking - Proudly showcase your creations on Instagram, Facebook & Twitter!