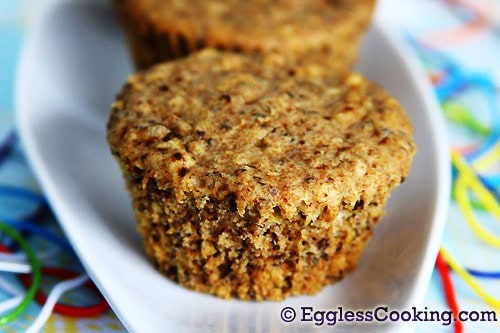 About a month and a half back I had borrowed the book Canada's 150 Best Diabetes Desserts from the library. At that time I was contemplating going on a sugar free diet, so this book really intrigued me. The reason I chose to borrow this book was that artificial sweeteners were not used in the recipes. I already had cut way back on baking and it was just once or twice a month. So I thought it would be a good idea to cut back on the sugar even during those few occasions.
This oatmeal raisin muffin is the first recipe I tried from that book. The original recipe did have eggs and honey, which I have replaced with vinegar and maple syrup to make it vegan and the muffins came out very tasty. The sweetness was perfect for us. This made me thinking that I should be able to cut back at least 25%-35% of sugar in any recipe for that matter without affecting the taste of the baked goodies. I have bookmarked a couple of other interesting recipes to try from that book. So do take a look at that book when you are at the library the next time.

| | | |
| --- | --- | --- |
| Vegan Oatmeal Raisin Muffins Recipe | | |
| Prep Time | Cook Time | Makes |
| --- | --- | --- |
| 20 Mins | 16 Mins | 10 Muffins. |
| Author | Category | Method |
| Madhuram | Muffins | Baking |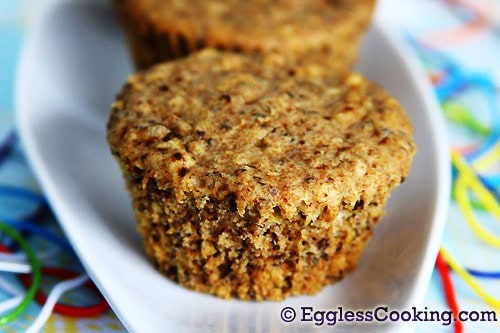 This vegan oatmeal raisin muffin recipe is a humble recipe without too many ingredients but plenty on taste and texture. These 'not-so-sweet' vegan muffins are perfect to pack with your kids' lunch or a great after-school snack. Of course, adding some mini chocolate chips would make it even more kid friendly.

Dry Ingredients:
1 and 1/2 cups

Whole Wheat Pastry Flour

1/2 cup

Oats (Quick Cooking)

1/4 cup

Ground Flax seed

1/4 cup

White Sugar

1 teaspoon

Baking Powder

1 teaspoon

Baking Soda

1/2 teaspoon

Cinnamon, ground

1/2 teaspoon

Salt
Wet Ingredients:
1 and 1/4 cups

Almond Milk

1 tablespoon

Vinegar (I used apple cider vinegar)

1/4 cup

Oil ( I used organic, refined melted Coconut Oil)

1/4 cup

Maple Syrup
Optional Ingredients:
1/2 cup

Raisins

1/2 cup

Walnuts, chopped
Substitutions:
Procedure:
Preheat oven to 350F/180C for 15 minutes. Lightly grease or line a 12 cup muffin tin with paper liners. Mix the almond milk and vinegar together and set aside for 5 minutes, for the mixture to curdle. Mix about a tablespoon of flour with the raisins, so that the raisins will not sink to the bottom of the muffins.
In a large bowl, combine all the dry ingredients.
In a small bowl, whisk together the curdled almond milk, maple syrup and coconut oil. Stir into flour mixture until just combined. Fold in the raisins and nuts.
Fill each muffin cup about 3/4ths full. The batter was just enough for 10 muffins and not for 12 muffins mentioned in the original recipe. So I filled the remaining empty 2 muffin cups with some water, to ensure even baking of all the muffins.
Bake for 15-20 minutes or until a toothpick inserted in the center comes out clean. Mine were ready in 16 minutes. Remove the pan from the oven and cool it on a wire rack for 5-10 minutes. If you use paper liners, remove the muffins out of the pan just after 5 minutes to prevent condensation.
Taste:
I liked these vegan oatmeal raisin muffins, the very first time I baked it. They were light and not as dense as I had expected and the sweetness was just right. The only minor thing I noticed was the smell of baking powder. Actually none of the other tasters were able to tell it. So when my friend asked me to bake a batch of these muffins for her, I cut back 1 teaspoon of baking powder and the muffins still turned out great. So the recipe here is after the change in the quantity of baking powder. The original recipe had used 2 teaspoons. Also this recipe does not make 12 muffins. For the first batch I got 10 muffins and for the second I was able to manage 11 muffins.
My Notes:
The original recipe had used regular whole wheat flour, egg, vegetable oil, honey and chocolate chips. I have used whole wheat pastry flour, vinegar, coconut oil, maple syrup and raisins instead.
The muffins were to be baked at 400F/200C for 15-20 minutes as per the original recipe. The smoking point of the organic, expeller pressed, refined coconut oil I was using is 360F, so I chose to bake it at 350F. I was assuming that at such a lower temperature the muffins would take about 22-25 minutes to bake but it was done in 16 minutes itself.

Nutrition Facts
Servings: 10
Per Serving
% Daily Value*
Calories

139

Total Fat

7.1g

11%
Saturated Fat

4.9g

24%
Trans Fat

0g

Cholesterol

0mg

0%
Sodium

267mg

11%
Potassium 130mg
4%
Total Carb

17.8g

6%
Dietary Fiber

1.8g

7%
Sugars

9.9g

Protein

1.6g

Vitamin A 1% – Vitamin C 0%
Calcium 4% – Iron 7%

Try this recipe, click a pic and hashtag it #egglesscooking - Proudly showcase your creations on Instagram, Facebook & Twitter!