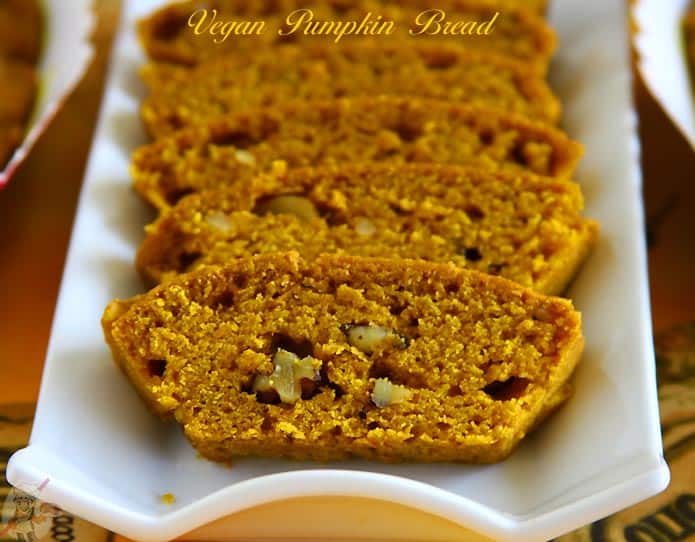 Wanted to bake something pumpkin-y for Thanksgiving. Have already a decent list of pumpkin recipes in the blog. One thing that was missing was pumpkin quick bread and pie. For some reason I have been postponing baking pies and cheesecakes. Have to do that too. Has been in the "to-do" list for years now. Hope I will get to it pretty soon. Quick bread as I know is pretty simple to bake especially that I was on a time crunch.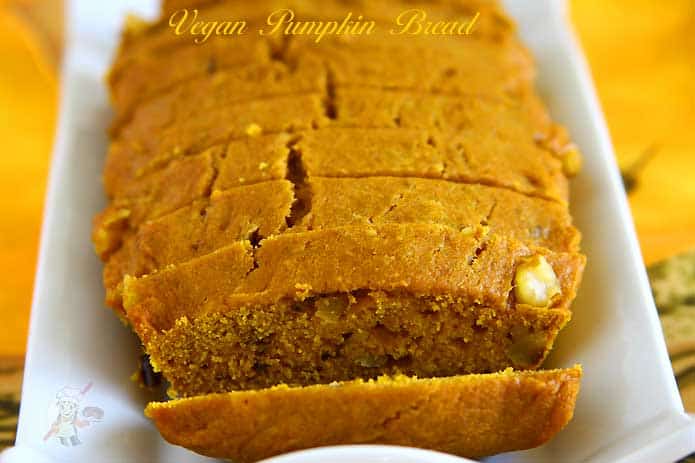 Saw a couple of recipes but decided to tinker my vegan banana bread recipe a bit and concocted a recipe for vegan pumpkin bread. Not bad really! 😉 The sweetness might be a bit on the lower side but we like it like that generally. And I wish I had used just 4 pans instead of 6 so that I could have got beautiful, well risen breads! Other than that nothing to tweak in this pumpkin bread recipe. It's good to go.

| | | |
| --- | --- | --- |
| Vegan Pumpkin Bread Recipe | | |
| Prep Time | Cook Time | Makes |
| --- | --- | --- |
| 15 Mins | 30 Mins | Two 8×4″ Breads |
| Author | Category | Method |
| Madhuram | Breads | Baking |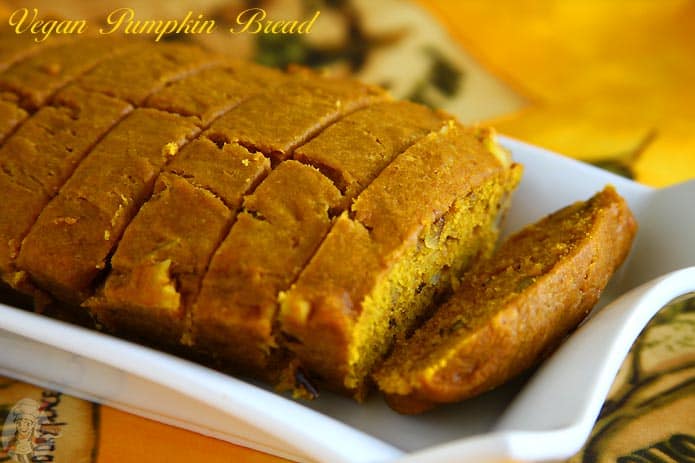 Moist, not too sweet, a very good tea time snack or lunch box treat for the kids, this vegan pumpkin bread is sure to become a hit with your family and friends.

Part 1:
1/2 cup

almond milk

2 teaspoons

apple cider vinegar
Part 2:
3/4th cup

avocado oil

3/4th cup

white sugar

3/4th cup

coconut palm sugar

2 cups

pumpkin puree
Part 3:
3 and 1/2 cups

all-purpose flour

1 and 1/4 teaspoons

baking soda

1 teaspoon

salt

1 teaspoon

ground allspice

1 teaspoon

ground cinnamon
Optional:
1/2 cup

walnuts

1/2 cup

semisweet chocolate chips (vegan)
Substitutions:
almond milk – any other milk
avocado oil – any other oil of your choice
coconut palm sugar – brown sugar
pumpkin puree – sweet potato puree
all-purpose flour – whole wheat pastry flour
allspice – pumpkin pie spice
Procedure:
In a small bowl mix together the almond milk and vinegar and set aside for a few minutes to curdle.
Meanwhile preheat oven at 350F/180C for 15 minutes. Grease two 8×4 inches pans or 4 smaller pans. (More about it in My Notes)
In a medium size bowl mix together the ingredients listed in Part 2. Mix in the curdled almond milk mix too.
In a large bowl stir together the Part 3 ingredients and set aside.
Now slowly incorporate the liquid mix into the dry flour mix and combine well but take care not to over mix the batter.
Now you can either fill in the prepared pans or do like what I did and divide the batter in half and add walnuts to one portion and chocolate chips to another portion and then fill the pan and bake as usual. Depending upon the size of the pan it will take about 30-45 minutes to bake. (Check My Notes to know more about baking time)
Check out for doneness by inserting a toothpick in the middle of the bread and once it comes out clean remove the pans from the oven and leave it on a wire rack to cool completely before taking the bread out of the pan. For quick breads like these it's preferable to leave it to cool overnight and then slice in the morning to get neat even slices.
My Notes:
The batter is enough for two 8×4 inches pan. I had these cute, colorful disposable paper bread pans from Dollar store. Wanted to try baking in it and split each portion of batter among three pans. 3 walnut pumpkin bread and 3 chocolate chip pumpkin bread. I guess I should have just made it into 2 portions each so that the bread would have risen beautifully. Because I did 3 breads, the batter was not sufficient I guess and it didn't rise that much but no issues taste-wise. So plan accordingly. These cute paper pans are perfect for this Christmas season's gift giving.
The baking times will also differ accordingly to the size of the pan you use. I used smaller size pans and the bread was done in 25 minutes because had used lesser batter too. For an 8×4 inch pan I think it would take around 35-40 minutes.
The original recipe used up to 2 cups of sugar which I got it down to 1 and 1/2 cups and it was sweet enough for us, especially the chocolate chips ones. If you have a sweet tooth you may increase the quantity of sugar accordingly.
Nutritional Information for 1 Bread Slice
Calories:

195


Total Fat:

8g


Total Carbohydrate:

28g

Sugars:

10g


Protein:

2g


Sodium:

169mg
* Nutrition information is based on two 8×4″ breads (24 slices) using the above recipe.

Try this recipe, click a pic and hashtag it #egglesscooking - Proudly showcase your creations on Instagram, Facebook & Twitter!