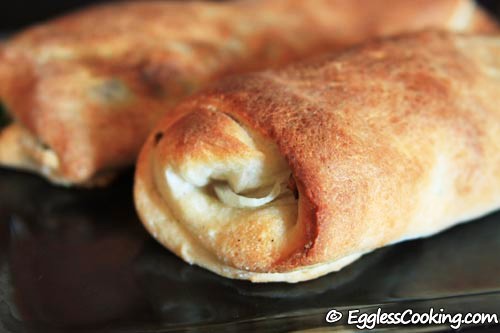 Have you tasted a pizza without cheese before? Not me! So when I saw this recipe in the Vegan Italiano book, I had to give it a try. This book is by Donna Klien and I would definitely recommend it to everybody especially vegans. The recipes are very simple, easy to prepare and they do not call for items which you can get only in specialty stores. So look for it in the library during your next visit.
The original recipe was for preparing a calzone. I was not able to fold the dough properly to make a calzone. Instead I just rolled the dough to form pizza pockets. Whatever the shape may be the final product tasted very good. So much different from the regular pizzas yet satisfying and no guilt whatsoever for indulging in more than one piece.

| | | |
| --- | --- | --- |
| Vegan Pizza Pocket Recipe | | |
| Prep Time | Cook Time | Makes |
| --- | --- | --- |
| 15 Mins | 12 Mins | 4 Pockets |
| Author | Category | Method |
| Madhuram | Pizzas | Baking |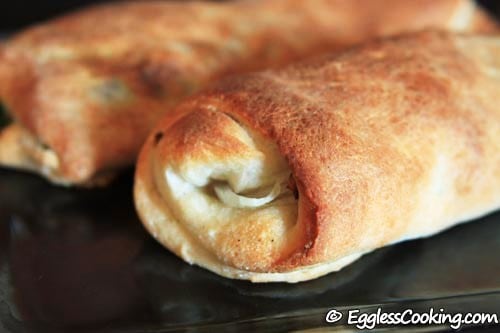 A very simple recipe to prepare a healthy and tasty pizza pocket without cheese, using spinach and mushrooms.

Ingredients: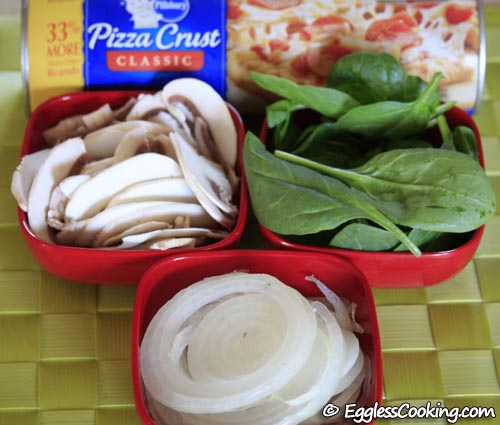 1 13.8Oz

Refrigerated Pizza Crust (I Used Pillsbury Pizza Crust Classic)

4

Finely Chopped Garlic

4 Cups

Fresh Baby Spinach Leaves

8 Slices

Onion (I Cut Them Into Thin Strips)

4Oz

Sliced White Button/Cremini Mushroom

2 Tablespoons

Extra Virgin Olive Oil

To Taste

Salt And Pepper
Procedure:
Preheat oven to 425F (220C) for 15 minutes.
Grease a baking sheet.
Unroll the dough on the prepared baking sheet and adjust it to fit the sheet.
Cut it into 4 rectangles.
Sprinkle the chopped garlic evenly over the rectangles.
Top each rectangle with 1 cup of spinach, 2 onion slices or 1/4th of the onion strips and 1/4 of the thinly sliced mushrooms.
Drizzle with 1/2 tablespoon of oil on each rectangle and sprinkle salt and pepper as per your taste.
Now roll each rectangle either horizontally or vertically whichever seems easy for you and pinch the ends to close the pockets.
Bake on the middle rack for 10-12 minutes or until it is golden brown.
My Notes:
It's actually my husband's tip and I think it's a good one. Instead of using fresh spinach, if the spinach is sauteed for a minute or 2 until it wilts down, we will be able to use a little more than the 1 cup mentioned in the recipe, which increases our intake of greens, which is never enough. Moreover rolling the dough topped with fresh spinach is a little tricky too. So the next time I make this, I'm going to sauteed all the ingredients for the filling and then proceed with making the pizza pockets.
It can be had as an appetizer or as part of a meal completed with a light soup. We had ours with homemade mushroom soup.

Try this recipe, click a pic and hashtag it #egglesscooking - Proudly showcase your creations on Instagram, Facebook & Twitter!