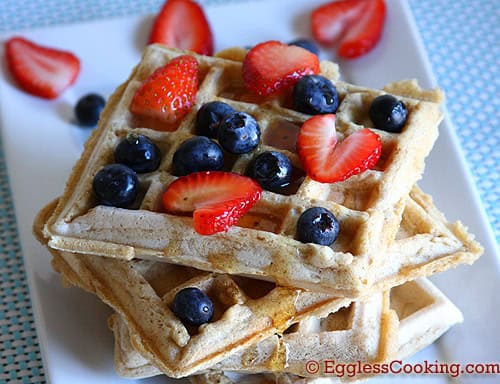 Yields:
8 Four Inch Square Waffles
Make any day a special day with these vegan waffles. Top it off with your favorite berries and maple syrup for a simple yet elegant looking breakfast.
2 Cups

Almond Milk

1 Teaspoon

Apple Cider Vinegar

3 Tablespoons

Oil (See My Notes)

2 Tablespoons

Maple Syrup
2 Cups

All Purpose Flour or Whole Wheat Pastry Flour (See My Notes)

1/2 Teaspoon

Salt

1 Tablespoon

Baking Powder

1 Tablespoon

Cornstarch
Here is the step by step recipe for
Vegan Waffles
:
In a large bowl add the wet ingredients one by one and mix it thoroughly with a whisk.
Add the dry ingredients and mix it until the batter is smooth. It should have the consistency of pancake batter; neither too thick nor too thin.
Spray the waffle iron with cooking spray and make waffles according to the instructions that comes with your waffle iron.
We all loved these vegan waffles very much. I have never tasted waffles before, so I don't have anything to compare it with but I'm sure that others too will like it. The original recipe used 1/4 cup cornmeal so that the waffles would be crispy on the outside and chewy on the inside. I used all purpose flour for that portion too because I didn't have cornmeal at home, so my waffles were not very crispy. We toasted the waffles in a bread toaster and it came out crispy around the edges.
I have switched to coconut oil for all my vegan baking needs. So I did the same with this one too. I melted the coconut oil and proceeded with the recipe. By the time I could prepare the batter the coconut oil started to solidify again once added to the almond milk and stuff and I could see small pieces of coconut oil, which wouldn't dissolve no matter what. But this did not affect the end product. Anyhow I switched to sunflower oil when I prepared it the next time.
The very first time I prepared these vegan waffles I used all purpose flour. The batter was thick like that of pancake batter and the waffles turned out beautiful. The next time I substituted whole wheat pastry flour for the all purpose flour and kept the rest of the ingredients unchanged. I could immediately guess that something was wrong because the batter was too thin, when compared to the first batch made with all purpose flour. So I tried making just 1 waffle and it did not turn out good. The shape was not right and I couldn't peel the waffle off the waffle iron. I had to add another 1/2 cup of whole wheat pastry flour to get the right consistency. Once that was fixed the waffles turned out pretty as usual. I did not add extra baking powder or any other ingredients. Just increased the quantity of flour. So keep this in mind while using whole wheat flour to prepare these waffles.
As mentioned earlier, I'm definitely going to try using 1/4 cup of cornmeal as mentioned in the original recipe to get crispy waffles. In that case reduce the quantity of all purpose flour to 1 and 3/4 cups.
Also 3 tablespoons of barley malt syrup was used in the original recipe, which I have substituted with only 2 tablespoons maple syrup because it is sweeter than barley malt syrup.