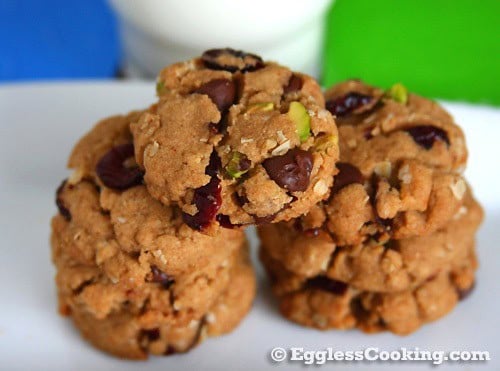 I don't know if it's the season or what, I have become a cranberry-pistachio maniac. I'm using it almost everyday, even in my salad recipes. After the grand success of baking cranberry pistachio biscotti, I wanted to use this eye candy combination in cookies too. My eldest son was having a play date at his friend's house and I was excited even more than him because now I have a reason to bake something. So I decided to bake some cookies and include my favorite combo. I had bookmarked this cookie recipe a while ago. It's pretty simple and I had most of the ingredients at home and even otherwise this is a good recipe because it has room for substitutions. As usual I did not follow the recipe verbatim. You know that it's not me! I have to keep trying new things, substituting one for the other.
I expected that these cookies would turn out crispy but instead it was sort of chewy. But not as chewy as these cranberry chocolate chip cookies. When we tasted it after a few hours of baking, it was crisp around the edges and soft in the middle but as time passed it became chewy throughout. I was able to feel the flavor of whole wheat flour but neither my son or my friend's family had a problem with it. They said that they loved the cookies.

| | | |
| --- | --- | --- |
| Vegan Whole Wheat, Oatmeal, Chocolate Chip Cookies Recipe | | |
| Prep Time | Cook Time | Makes |
| --- | --- | --- |
| 30 Mins | 12 Mins | 30 to 35 Cookies |
| Author | Category | Method |
| Madhuram | Cookies | Baking |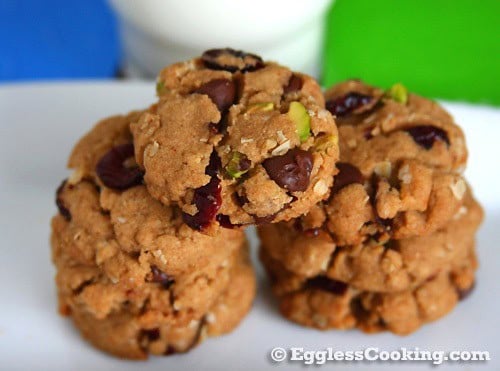 Vegan Whole Wheat Oatmeal Chocolate Chip Cookies
5.0

from

4

reviews
Loaded with chocolate chips, cranberries and pistachios, this cookie will be a definite hit with your family and friends.

Dry Ingredients:
1 and 1/2 cups

whole wheat flour

1/2 cup

quick cooking oats

1/2 teaspoon

baking soda

1/2 teaspoon

salt
Wet Ingredients:
1 cup

brown sugar

1/4 cup

vegan butter substitute, softened

1/4 cup

melted coconut oil

1/4 cup

almond butter

1 tablespoon

ener-g egg replacer (What is ener-g?)

5 tablespoons

water

1 teaspoon

vanilla extract
Add Ins:
1/2 cup

vegan chocolate chips

1/4 cup

dried cranberries

1/4 cup

chopped pistachios
Substitutions:
whole wheat flour – all purpose flour
brown sugar – white sugar
vegan butter – dairy butter or solidified coconut oil
coconut oil – any other neutral flavor oil
almond butter – peanut butter
add ins – any dried fruit, nuts, chocolate chips of your choice
Procedure:
Preheat oven to 350F/180C for 15 minutes. Beat together the egg replacer powder and water; set aside.
In a medium bowl stir together the dry ingredients.
In a large bowl beat together the brown sugar, vegan butter substitute and oil. Once it is smooth add the almond butter, ener-g mix and vanilla extract and beat well.
Fold in the flour mix and combine well. Stir in the chocolate chips, cranberries and pistachios.
Scoop out 1 tablespoonful of dough for each cookie and place it on a baking sheet 2 inches apart. Flatten the dough lightly with fingers.
Bake for 12-14 minutes, or until cookies are golden brown and dry on top. Remove the cookie sheet out of the oven and leave the cookies on it for another 5 minutes before transferring to a wire rack to cool completely. Store the cookies in an air tight container.
My Notes:
The original recipe used peanut butter which I have replaced with almond butter but it was not at all noticeable. So you could might as well skip it or try substituting the 1/4 cup of vegan butter substitute also with almond butter and add 1/2 teaspoon of almond extract to get the almond flavor.
I was able to feel the nutty flavor of whole wheat flour in this cookie recipe but my friend said that she didn't feel it. So if you are not a fan of whole wheat flour in cookies go with plain flour itself or try a 50:50 of both the flours.
1 cup of chocolate chips was used in the original recipe. I have substituted some dried cranberries and pistachios for 1/2 a cup of chocolate chips.

Try this recipe, click a pic and hashtag it #egglesscooking - Proudly showcase your creations on Instagram, Facebook & Twitter!