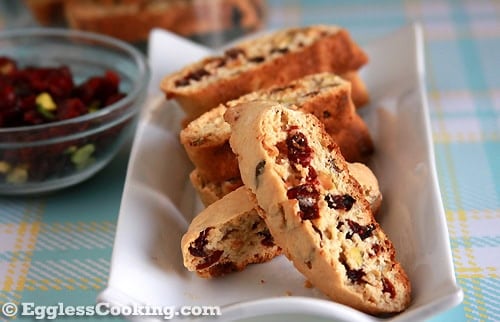 It's Christmastime and the air is filled with the sweet smell of cookies, cakes, brownies and all other yummy baked goodies. I have always liked the visual appeal of cranberries and pistachios together and now is the right time to use it again. I have tried this combination in my cranberry pistachio bread before. So I was excited when I found this biscotti recipe.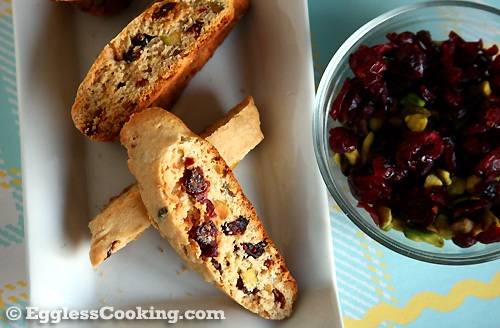 The original recipe by itself was vegan but I have made some more changes. I was tempted to use just whole wheat flour but I remembered that I did not like the nutty flavor of whole wheat flour in this eggless almond biscotti recipe. So I went with part whole wheat flour and part all-purpose flour. This one turned out good. I guess the flavor depends upon the type of whole wheat flour you use.
Lately I have been using the whole wheat flour from Indian grocery store. This one is not as robust as the whole wheat flour we get in the baking aisle of other grocery stores. It is still 100% wheat flour but made from soft wheat I guess, like whole wheat pastry flour. The biscottis turned out delicious. The sweetness was just perfect and the orange zest gave a nice flavor. Don't forget to check the Substitutions and My Notes section before trying the recipe for tips and suggestions.
The addition of orange zest and orange juice gives this vegan biscotti recipe a good flavor and if you are a fan of citrus in baked treats then don't forget to bake these orange cookies!

| | | |
| --- | --- | --- |
| Vegan Cranberry Pistachio Biscotti Recipe | | |
| Prep Time | Cook Time | Makes |
| --- | --- | --- |
| 35 Mins | 55 Mins | 45 biscottis |
| Author | Category | Method |
| Madhuram | Biscottis | Baking |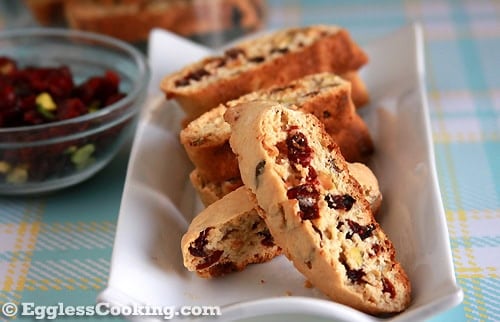 Try this vegan pistachio biscotti recipe this holiday season and make your cookie platter stand out with these red and green jeweled beauties. Cornstarch is used as an egg substitute in this vegan biscotti recipe. Dried apricot and coarsely chopped and toasted almonds with some almond extract would make a wonderful variation as well.

Ingredients Part 1:
1 and 1/2 cups

all-purpose flour

1 and 1/4 cups

whole wheat flour

2 teaspoons

baking powder

1/4 teaspoon

salt

1 teaspoon

orange zest

3-5 Tablespoons

all-purpose flour (if needed)
Ingredients Part 2:
1 cup

sugar

1/2 cup

almond milk/orange juice

5 Tablespoons

orange juice

4 Tablespoons

cornstarch

2 Tablespoons

melted coconut oil

2 teaspoons

vanilla extract
Ingredients Part 3:
1 cup

dried cranberries

1 cup

pistachios

2 tablespoons

sugar (optional)
Substitutions:
whole wheat flour – all purpose flour
almond milk – orange juice or any other milk
coconut oil – any neutral flavor oil or melted butter
dried cranberries – any dried fruit of your choice
pistachios – coarsely chopped almonds or hazelnuts
Procedure:
Preheat oven to 350F/180C for 15 minutes.
In a small bowl mix together the 5 tablespoons of orange juice and cornstarch to form a paste; set aside.
In a medium bowl sift together the ingredients listed in Part 1 except the last 3-5 Tablespoons of flour.
In a large bowl, cream together the sugar and 1/2 cup almond milk for about 3 minutes. Then add the cornstarch paste, oil and vanilla extract; beat for another 3 minutes.
Fold in the flour into the creamed mixture. Stir in the cranberries and pistachios too. I felt that the dough was sticky at this stage. I was not able to form it into a ball and divide it. So I started adding all-purpose flour a tablespoon at a time, until I found the consistency right. I had to add up to 4 Tablespoons.
Now divide the dough into equal halves. Form each ball into a log about 12 inches long and about 3 inches wide, directly on the baking sheet itself. This log does look very thin. Repeat it for the other half and now you have two logs of dough. Sprinkle a tablespoon of sugar on top of each log. (See My Notes)
Bake it for 35 minutes. Once done remove it and cool the baked logs for at least 15 minutes.
Then slice the logs in one single cut using a serrated knife. Do not using a sawing motion, it will crumble the biscottis. You will get about 21 slices from each log.
Place these slices on a baking sheet and bake for another 20 minutes. The original recipe did not mention to flip over the biscottis half way but I did it anyway to ensure even baking on either sides. So I baked each side for 10 minutes.
Once again cool the slices on a wire rack and then store it in an air-tight container.
My Notes:
I have used part all-purpose flour and part whole wheat flour for the 2 and 3/4 cups of all-purpose flour mentioned in the original recipe. I did not find much of a difference in the taste because of the whole wheat flour.
The recipe called for 5 tablespoons + 1/2 cup of orange juice. I just had a small orange. So I used the 5 tablespoons to mix with the cornstarch and almond milk for the remaining 1/2 cup of orange juice.
I used coarsely chopped pistachios in place of almonds in the original recipe. Only after tasting the biscotti I realized that I should have used whole pistachios instead because I couldn't taste/feel the nuts.
To make it even more "Christmassy" add some white chocolate chips and you have the red, green and white colors all in one.
I forgot to sprinkle the sugar on top of the dough logs before putting it into the oven. So initially I felt that the biscottis were not sweet enough but when I tasted it the next day I felt that the sweetness was just right.
If you prefer extra long biscottis like the ones you get in Costco and other stores, you would have to use the entire dough to make one log and rest of the procedure remains the same.

Nutrition Facts
Servings: 45
Per Serving
% Daily Value*
Calories

43

Total Fat

1.3g

2%
Saturated Fat

0.6g

3%
Trans Fat

0g

Cholesterol

0mg

0%
Sodium

21mg

1%
Potassium 50mg
1%
Total Carb

7.6g

3%
Dietary Fiber

0.4g

2%
Sugars

4.8g

Protein

0.6g

Vitamin A 0% – Vitamin C 3%
Calcium 2% – Iron 1%

Try this recipe, click a pic and hashtag it #egglesscooking - Proudly showcase your creations on Instagram, Facebook & Twitter!