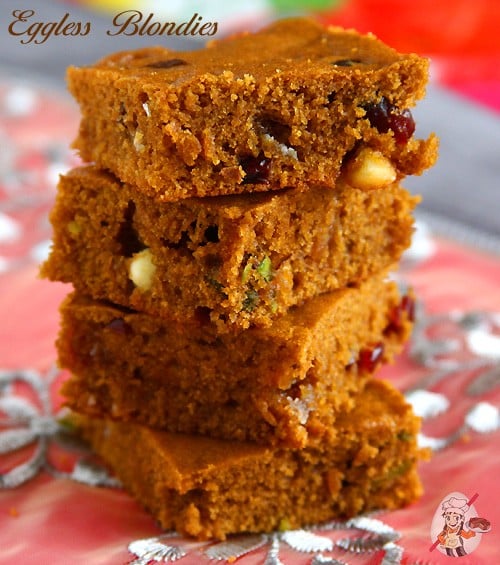 I have a plethora of brownie recipes in the blog. Vegan, gluten-free, brownies from a mix, big batch, etc. You name it, I have it. I have always wanted to try a blondie recipe. It's the brownie's white counterpart, without cocoa powder or melted chocolate. I was having some siken tofu which I wanted to use before it got waste. Silken tofu usually works very well with brownies. So I was wondering maybe it will work in blondies too.
I browsed a couple of blondie recipes and felt this one would turn out good. It didn't though. Wait..it turned out GREAT! I couldn't stop wondering how come something so simple to make can taste this good and why do we really need 2 eggs in this recipe when you can just use silken tofu! This is definitely a beginner's recipe. No fancy equipments, no fancy ingredients (silken tofu is like water for me), no special techniques, nothing and yet you will be able whip up these amazing treats. Now why wouldn't you try that!

| | | |
| --- | --- | --- |
| Eggless White Chocolate & Cranberry Blondies Recipe | | |
| Prep Time | Cook Time | Makes |
| --- | --- | --- |
| 15 Mins | 18 Mins | 24-36 servings |
| Author | Category | Method |
| Madhuram | Blondies | Baking |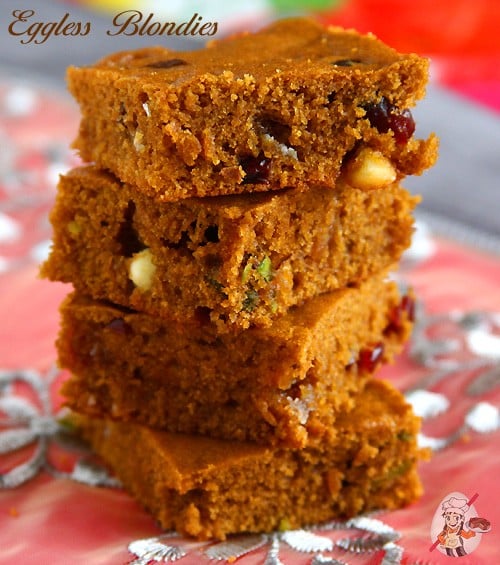 Blondies studded with white chocolate, dried cranberries, walnuts is sure to become a hit. Be prepared to bake this over and over again because your family is not going to stop asking for more!

Part 1:
1 and 1/4 cup

coconut palm sugar

1/2 cup

butter, melted

1/2 cup

silken tofu, pureed

1 teaspoon

vanilla extract
Part 2:
1 and 1/2 cups

all-purpose flour

1/2 teaspoon

baking powder

1/2 teaspoon

baking soda

1/4 teaspoon

salt
Part 3:
1/2 cup

white chocolate chips

1/2 cup

dried cranberries

1/2 cup

chopped walnuts
Substitutes:
coconut palm sugar – brown sugar
butter – oil
all-purpose flour – whole wheat pastry flour
white chocolate chips – semi-sweet or milk chocolate chips
dried cranberries – any other dried fruits of your choice
walnuts – any other nuts of your choice
Procedure:
Preheat oven to 350F/180C for 15 minutes. Line a 13×9 inch pan with aluminum foil, with some extra foil hanging around the edges so that it is easy to lift the brownie. You wouldn't believe how much time saving and mess free is this simple step of lining with foil.
In a medium size bowl stir together the ingredients listed in Part 2; set aside.
In a large bowl mix together the ingredients listed in Part 1.
Stir in the flour mix into the wet ingredients.
Add in the Part 3 ingredients too.
Spread into the prepared pan. Bake for 18-20 minutes. I checked for doneness using a toothpick around the 18th minute and it came out clean.
Remove the pan and let it cool on a wire rack for at least 5 minutes.
Now carefully lift the foil using the hanging edges as a handle and let it cool completely on a the wire rack.
You should be able to cut the blondies in as little as 10-15 minutes.
My Notes:
If you bake the brownies directly in the pan, don't forget to grease it liberally with butter or non-stick cooking spray. Also it's going to take a lot of time for you to cut the blondies in that case. You may also need to wait overnight. So the easiest and smartest thing to do while baking brownies or bars like this is to use an aluminum foil.
Depending on how you cut you can get 24-36 blondies. You can either do 3 columns and 8 rows or 4 columns and 9 rows.
Using pistachios instead of walnuts will make these blondies all "Christmasy" with the red, green and white combination.

Try this recipe, click a pic and hashtag it #egglesscooking - Proudly showcase your creations on Instagram, Facebook & Twitter!