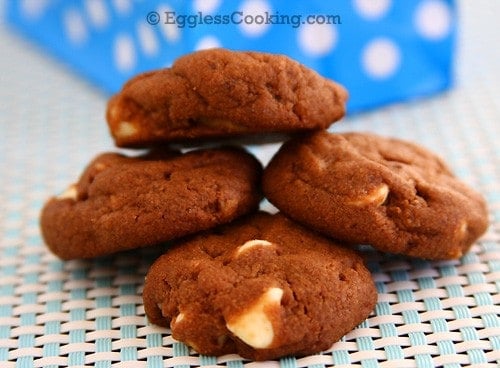 It's been a while since I baked anything because these days my hands are full with my two and a half year old son. The once very independent and "I-couldn't-care-less about-you" attitude son has become so clingy, wanting my undivided attention literally 24/7. I wish that it's just a phase. I managed to bake these double chocolate cookies in the little time that he was napping last week.
So easy to put together these cookies are very big on taste and was devoured by the kids I had baked it for. I found the recipe here and made few changes to make it egg free. I usually whip together the egg replacer powder and water together until its frothy and then add it with the rest of the wet ingredients. This time I wanted to try adding the egg replacer and water directly to the creamed butter mixture and it did work. The cookies turned out great. The original recipe had all-purpose flour in it which I replaced with whole wheat pastry flour and nobody found it different at all. For small chocolate cookies, check-out the egg-free chocolate shortbread cookies as well.

| | | |
| --- | --- | --- |
| Double Chocolate Cookies Recipe | | |
| Prep Time | Cook Time | Makes |
| --- | --- | --- |
| 20 Mins | 08 Mins | 75 Cookies |
| Author | Category | Method |
| Madhuram | Cookies | Baking |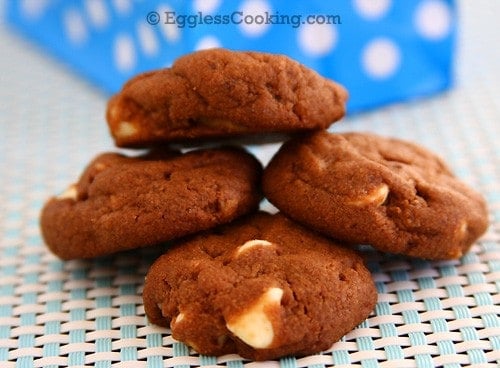 Whole Wheat Double Chocolate Cookies
4.0

from

1

reviews
Easy to put together these double chocolate cookies will easily fly off the cookie jar too!

Part 1:
1 cup

unsalted butter, softened

1 and 1/4 cups

coconut palm sugar

1 teaspoon

egg replacer powder

2 tablespoons

water

1 teaspoon

vanilla extract
Part 2:
2 cups

whole wheat pastry flour

1/4 cup

unsweetened cocoa powder

1 teaspoon

baking soda

1/2 teaspoon

salt
Part 3:
1 cup

white chocolate chips

1 cup

toasted and chopped pecans
Substitutions:
coconut palm sugar – brown sugar
egg replacer powder – flax seed meal
whole wheat pastry flour – all-purpose flour
white chocolate chips – semi sweet or milk chocolate chips
pecans – any nuts of your choice
Procedure:
Preheat oven at 375F/190C for 15 minutes.
In a medium size bowl combine together the ingredients mentioned in Part 2.
In a large bowl, cream together butter and sugar until light and fluffy. Add the egg replacer powder, water and vanilla extract; beat well.
Stir in the flour mixture, chocolate chips and pecans.
Drop the dough by half tablespoonfuls on an un-greased baking sheet and flatten the dough lightly; bake for about 7-9 minutes. Remove from the oven and leave the cookies on the cookie sheet itself for another 3-5 minutes before transferring the cookies to a wire rack to cool completely.
My Notes:
The original recipe had 3/4th cup of brown sugar and 1/2 cup of white sugar which I replaced with 1 and 1/4 cups of coconut palm sugar and felt that the cookies could
have been a little less sweeter. So if you are like me I would suggest using 1 cup of sugar or use 3/4th cup of chocolate chips instead of 1 cup.
I used half tablespoon measurement to scoop out the dough and got 75 small cookies.
I didn't flatten the dough for the first batch, so the cookies didn't spread much. It had a cute mound shape though. But if you prefer a flat cookie then press the dough lightly.
Nutritional Information for 1 Double Chocolate Cookie
Calories:

73.1


Total Fat:

4.7 g


Saturated fat:

2.3 g


Unsaturated fat:

1.8 g


Cholesterol:

6.6 mg


Total Carbohydrate:

9.5 g

Sugars:

6.5 g


Dietary Fiber:

0.9 g


Protein:

0.7 g


Sodium:

19.7 mg


Potassium:

24.5 mg

Try this recipe, click a pic and hashtag it #egglesscooking - Proudly showcase your creations on Instagram, Facebook & Twitter!