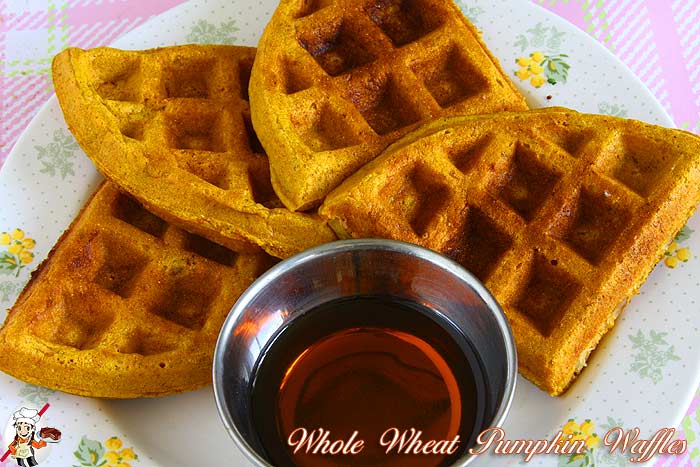 Whole Wheat Pumpkin Waffles: What to do with leftover canned pumpkin puree? I usually make these vegan pumpkin pancakes.
This time around I wanted to make pumpkin waffles with the leftover pumpkin puree after making the pumpkin zucchini muffins.
I took inspiration from my gluten-free vegan sweet potato waffles to make these pumpkin waffles but didn't make it either gluten-free or vegan.
These were regular eggless pumpkin waffles made with whole wheat pastry flour.
All these various waffle recipes with umpteen variations traces back to this vegan waffle recipe I made for the first time a couple of years back.
Ever since I have used that recipe to play around with various ingredients and each and every time it has been a great success. This pumpkin waffles recipe is no exception to it.

| | | |
| --- | --- | --- |
| Whole Wheat Pumpkin Waffles Recipe | | |
| Prep Time | Cook Time | Makes |
| --- | --- | --- |
| 15 Mins | 4 to 5 Mins | 5 round waffles |
| Author | Category | Method |
| Madhuram | Waffles | Cooking |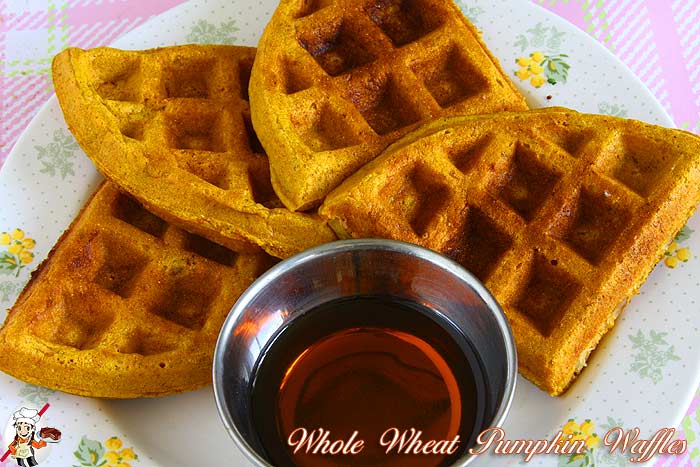 These whole wheat pumpkin waffles are loaded with healthy ingredients like pumpkin, whole wheat flour, flaxseed and walnuts. What better way to start the day with! These waffles and some fruits and glass of milk is gold for breakfast!

Ingredients:
WET INGREDIENTS:
3/4 cup

whole milk

3/4 cup

water (My Notes)

1 cup

pumpkin puree

1 teaspoon

apple cider vinegar

3 tablespoons

avocado oil

2 tablespoons

maple syrup
DRY INGREDIENTS:
1 and 3/4 cup

whole wheat pastry flour

1/4 cup

yellow cornmeal

2 tablespoons

ground flaxseed

1 tablespoon

baking powder

1 tablespoon

cornstarch

1/2 teaspoon

ground cinnamon

1/2 teaspoon

pumpkin pie spice

1/2 teaspoon

salt
OPTIONAL:
Procedure:
In a large bowl stir in the wet ingredients one by one and mix it thoroughly with a whisk.
Add the dry ingredients and mix it until the batter is smooth. It should have the consistency of pancake batter; neither too thick nor too thin. Stir in the walnuts, if using.
Spray the waffle iron with cooking spray and make waffles according to the instructions that come with your waffle iron. I had to use about 2/3rds of a cup of batter for each waffle. After pouring the batter and before closing the waffle iron I usually spray the top of the batter with non-stick cooking spray to avoid sticking to the waffle iron.
My Notes:
The amount of liquid this recipe requires will change depending on the quality of the flour and consistency of pumpkin puree and how tightly you measure it. I initially used 3/4th each of milk and water but felt that the waffle batter was too thick so ended up adding another 1/4 cup of water to get the right consistency.
Cooked waffles can be frozen. Thaw it overnight in the fridge overnight or warm it up in the microwave oven. Toasting it in the bread toasted before serving gives the right crunchy texture.
Nutrition Facts
Whole Wheat Pumpkin Waffles
Amount Per Serving
% Daily Value*
Potassium 647mg14%
Total Carbohydrates
29.8g
11%
* Percent Daily Values are based on a 2000 calorie diet.


Try this recipe, click a pic and hashtag it #egglesscooking - Proudly showcase your creations on Instagram, Facebook & Twitter!