Ever wondered how baked roti dough will taste? I have always thought about it but did not try it until last week. Now I know how it will taste and it's definitely good. My husband wanted me to make something savory but not deep fried in oil. He actually wanted me to bake "bajjis" (vegetables dunked in chickpea flour batter and deep fried in oil) but I simply shrugged it off because I was not in the experimenting mood. Anyhow I wanted to make something for him because he usually does not ask much.
I remembered seeing a lot of cracker recipes in Bob's Red Mill website. So I checked it out again to find something easy and healthy. I found this cracker recipe made with whole wheat flour and sesame seeds which was very simple to bake and I also had all the ingredients. The prep time was only 15 minutes, the time which is anyhow required to preheat the oven and the crackers were ready in no time. But wait, the interesting (or should I say ironical) thing is yet to come. He did not like it. See this is why I don't make anything for him even if he asks!
Fortunately my son liked it very much and so did I. When I tried Nippatu from RC's blog, I was not sure how it would taste if I used some whole wheat flour instead of all purpose flour. After baking these whole wheat crackers, I'm sure that it would also taste good.

| | | |
| --- | --- | --- |
| Whole Wheat Sesame Crackers Recipe | | |
| Prep Time | Cook Time | Makes |
| --- | --- | --- |
| 15 Mins | 20 Mins | 3 to 4 Dozen Cookies. |
| Author | Category | Method |
| Madhuram | Snacks/Appetizers | Baking |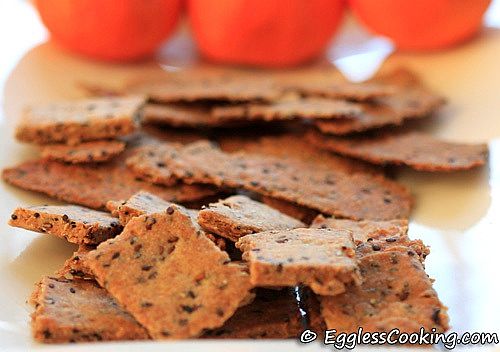 A very easy to bake whole wheat cracker recipe.

Ingredients:
1 and 1/2 cups

Whole Wheat Flour

1/4 cup

Soy Flour

1/4 cup

Sesame Seeds (White Hulled)

1/2 teaspoon

Salt

1/4 cup

Oil (Non Hydrogenated)

8 to 9 tablespoons

Water
Procedure:
Preheat oven to 350F/180C for 15 minutes.
While the oven is preheating, in a medium bowl sift the flours and salt. Add the sesame seeds.
Add the oil and blend well. Add water little by little to form the dough into a ball and easy enough to roll.
Divide the dough into 2 balls. Roll each half to 1/8 inch thick and cut into squares or sticks. Repeat the same with the other half too. I dusted some all purpose flour on the surface to roll the dough easily.
Place the squares on un-greased baking sheet and bake for about 15-20 minutes or until the crackers are crisp. The baking time depends on the thickness of the squares.
Store in a tightly covered container up to 1 week.
Taste:
The cookies were golden brown in color and very crispy. The first batch squares were thick and so I made the next batch paper thin. I preferred the thick crackers and my son liked both. You don't get the raw smell of whole wheat flour or the soy flour. Also I felt it tasted even better the next day of baking.
My Notes:
I used black sesame seeds because I didn't have the white seeds. I think the pack I had some impurities, so while eating the crackers we were able to feel it. So go with white sesame seeds or be sure to clean the black sesame seeds before using.
I used sunflower oil.
For the first batch I didn't know how thin to roll the dough, so the squares were little thick and it took around 23 minutes to turn crisp. I did not flip the crackers but gave a slight shake twice or thrice in between. For the next batch I rolled the dough paper thin and it turned golden brown within 10 minutes. If it's very thin be alert or else the crackers would burn.
The crackers were crispy even after 4 days.
Adding ground pepper or chili powder will spice it up.
Check out here for more healthy cracker recipes.

Try this recipe, click a pic and hashtag it #egglesscooking - Proudly showcase your creations on Instagram, Facebook & Twitter!