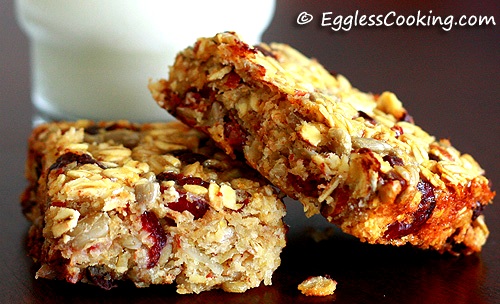 Before proceeding with the chewy granola bar recipe I would like to thank Anjali Damerla of Supreme Spice for coming forward to sponsor the prizes for the winners of Whole Wheat Baking Event.
She has gladly agreed to send Tea Masala Extract, Garlic Extract, Garam Masala Extract and Kesar Milk Extract for Sadhana and Muskaan.
I have myself used the Tea Masala extract and Kesar Milk Extract and we all love it in our family. Tea masala is my favorite because it refreshes you instantly. I have also used that extract while baking this Vegan Christmas Fruitcake.
For a long time now I have wanted to bake granola bars. It's going to be almost a year and a half since I started this blog but I don't have a single recipe here for granola bars. I have collected/bookmarked a lot of recipes but did not bake one until now.
Since I'm conducting the Whole Grain – Oats event, I felt this is my chance to give it a shot. I was browsing through Esther Brody's 250 Best Bars and Squares book and this recipe caught my immediate attention because it was simple to bake and also had room for a lot of changes, to suit our taste.
Also this recipe is a good one if you want to start involving your kids in baking and to get them to pitch more in the kitchen. My son has shown interest in baking for some time now and once I read the recipe I immediately recognized that he would love to help me. So off we set with a mixing bowl and spatula to baking these simple and chewy granola bars.
These bars are quite healthy too but for the use of condensed milk. If portion control is maintained this can very well be a grab and go breakfast or an after school snack or dessert in my son's case.

| | | |
| --- | --- | --- |
| Chewy Granola Bars Recipe | | |
| Prep Time | Cook Time | Makes |
| --- | --- | --- |
| 15 Mins | 30 Mins | 16 Squares OR 8 Bars |
| Author | Category | Method |
| Madhuram | Bars | Baking |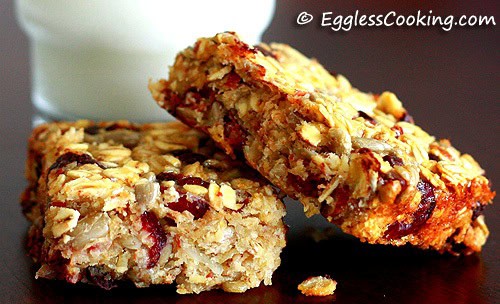 Give homemade granola bars a try with this simple and healthy recipe. These chewy granola bars is loaded with oats, dried fruits and nuts and quite low in fat too.

Ingredients:
3 cups

Quick Cooking Oats (I used Quaker's Large Flake)

1 cup

Dried Cranberries

1 cup

Sunflower Seeds (I used salted)

1 cup

Slivered Almonds

1/2 cup

Mini semi-sweet chocolate chips

1 can/300ml (See My Notes)

Condensed Milk (I used low fat)

1/4 cup

Canola Oil

1 cup

Unsweetened Applesauce
Procedure:
Preheat oven to 325F/160C for 15 minutes. Line a 13×9 inch pan with aluminum foil and grease it well with cooking spray.
In a large bowl mix together oats, cranberries, seeds, nuts and chocolate chips.
Add condensed milk and mix thoroughly. Also stir in the oil and applesauce until blended.
Spread evenly in prepared pan. Use a spatula to smoothen it. If you feel that the oats sticks to the spatula, grease it with cooking spray and smooth it out.
Bake in the preheated oven for 25-30 minutes or until top is lightly browned. I felt mine was not done after 25 minutes so gave it another 6 minutes. By then it had browned a little.
Place the pan on a rack to cool slightly, then carefully lift the foil and place it on the wire rack. When it is cool completely cut it into bars. You can either go for the usual rectangular shaped bars (like the store bought ones) or squares. I cut them into squares to cut the calorie intake. Dipping the knife in hot water will enable easy cutting.
Taste:
As per the original recipe these bars were supposed to be crispy because it used 1/2 cup melted butter/margarine. Since I had used applesauce (to sub for 1/2 the fat and little condensed milk) the bars were chewy, which we all liked very much. My son loves it very much and takes it for lunch everyday (for dessert). It has the perfect blend of sweetness from the condensed milk and chocolate chips, tanginess from the dried cranberries and little salt from the sunflower seeds.
This chewy granola bars recipe is a good basic recipe where you can play with the combination of nuts, seeds and dried fruits of your choice.
My Notes:
The original recipe used raisins, but I went with dried cranberries because I felt the sourness from it will balance the overall sweetness of the bars. You could try chopped apricots too.
The other change I made was using slivered almonds instead of chopped peanuts. Again here too you can use the nuts of your choice.
The recipe had called for 1 can condensed milk (14oz/398ml). Since I live in Canada now, I found that the Eagle Brand condensed milk I get here was only 300 ml. So I used 1/2 cup of unsweetened applesauce to make good the difference. Also, it required 1/2 cup of melted butter/margarine. I decided to use 1/4 cup of canola oil and 1/4 cup of applesauce instead. After measuring 1/4 cup applesauce I found that I had only another 1/4 cup left in the jar, so I stirred in that too. So totally 1 cup unsweetened applesauce.
I think this is the reason the bars took extra time while baking and also for the chewiness. So adjust the baking time according to the ingredients you use.
In recipes like these (bars) and few other recipes where chocolate chips are used in large quantity, I replace it with 1/2 the quantity of mini chips. So I used 1/2 cup of mini chips instead of the 1 cup of regular chips mentioned in the original recipe.

Try this recipe, click a pic and hashtag it #egglesscooking - Proudly showcase your creations on Instagram, Facebook & Twitter!