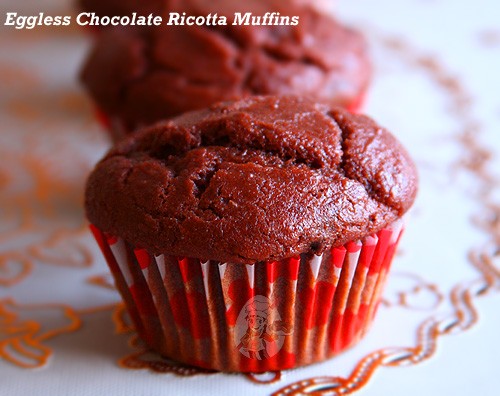 I'm one among the millions of people who love chocolate flavored baked treats but unfortunately my husband is not. So I have to keep alternating between chocolate and non-chocolate treats to please my son and husband respectively.
My son like me will just drool when he hears the word chocolate. So he gets upset if I don't bake anything chocolaty. He has been requesting me to bake chocolate cupcakes/muffins for a very long time now. I have been baking a lot of non-chocolate muffins like these vegan mango muffins, high-fiber carrot bran muffins and gluten-free banana muffins recently.
So it was time for something decadent and very chocolaty. I knew which recipe it had to be because I have this pending in my bookmarks list for almost a year now. It's chocolate ricotta muffins!. As usual I have made changes to the original recipe to make it egg free, slightly healthful and to make a smaller batch. And as usual like my other chocolate flavored recipes this one didn't fail me and was devoured by everybody other than my husband. Poor him, he doesn't know what he's missing. Just leave it at that!

| | | |
| --- | --- | --- |
| Eggless Chocolate Ricotta Muffins Recipe | | |
| Prep Time | Cook Time | Makes |
| --- | --- | --- |
| 20 Mins | 25 Mins | 12 Muffins |
| Author | Category | Method |
| Madhuram | Muffins | Baking |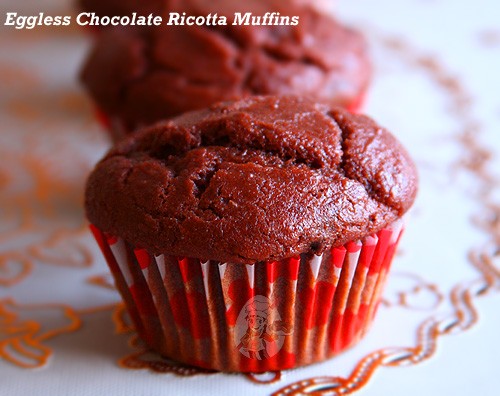 If you are a die-hard chocolate fan then this chocolate ricotta muffin recipe is for you. Adding ricotta cheese and buttermilk makes it light and moist at the same time giving these muffins an unique texture.

Part 1:
1 cup

whole wheat flour

3/4 cup

all-purpose flour

3/4 cup

white sugar

1/2 cup

semi-sweet chocolate chips

1/4 cup

unsweetened cocoa powder

2 teaspoons

baking powder

1/4 teaspoon

salt
Part 2:
3/4 cup

ricotta cheese (see My Notes for vegan version)

1/3 cup

buttermilk

1 cup

milk (I used 2%)

1 teaspoon

vanilla extract

1/4 cup

avocado oil (any oil of your choice)
Procedure:
Preheat oven to 350F/180C for 15 minutes. Line a 12-cup muffin tin with paper liners or grease it with non-stick cooking spray.
In a large bowl mix together the dry ingredients mentioned in Part 1.
In another medium sized bowl sitr together the wet ingredients listed in Part 2.
Fold in the wet mix into the flour mix and stir until just combined.
Spoon 1/3rd of a cup of batter for each muffin and bake it for 25 minutes or until a toothpick inserted in the center of the muffins comes out clean.
Transfer the muffin tin to a cooling rack and leave it for about 5 minutes if you have used paper liners. Remove the muffins from the tin and place it on the wire rack to cool completely.
My Notes:
I didn't have whole wheat pastry flour in hand so used a mix of whole wheat flour and all-purpose flour.
You can also add some white chocolate chips to make these triple chocolate muffins.
For a vegan version, pureed silken tofu can replace the ricotta cheese, 1/3rd of a cup of non-dairy milk mixed with 1/4 teaspoon of vinegar for the buttermilk and any non-dairy milk for the 2% milk should do the trick. I have not tried this but I think it will work out pretty good.
I usually prefer serving whole wheat muffins the next day allowing for the flavors to settle down. So I would suggest baking these or any other whole wheat muffins a day ahead.

Try this recipe, click a pic and hashtag it #egglesscooking - Proudly showcase your creations on Instagram, Facebook & Twitter!