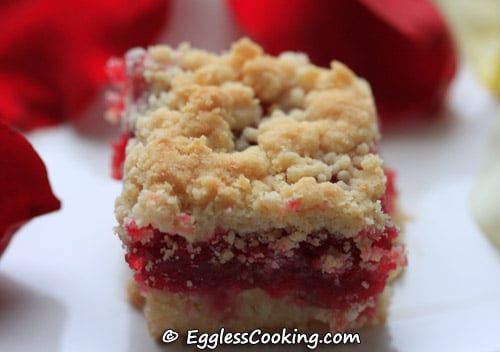 Hope the year 2009 has started off with a lot of hope and joy for all of you! I baked these cranberry bars a couple of days ago from Joy of Baking site. I think these bars are the perfect way of starting the New Year because it's both sweet and sour at the same time, just like our lives. I bought and tasted fresh cranberries last week, for the first time. It's sour and mildly bitter too. I have eaten something very similar in India, but I don't remember the name of the fruit and I'm sure that it was not red in color. Sugar has to be added to make these berries edible.
This recipe for cranberry bars has the perfect proportion of sweetness and sourness. I didn't make any changes to the recipe or procedure and the bars came out perfectly. Only one note though, the recipe mentions 2/3 cup of sugar, which is actually 10 and 2/3 tablespoons, which is not easy to measure exactly. So I used 11 tablespoons of sugar instead.
If you want a sweet bar then this is not the recipe for you. You should check these cookie bars instead. On the other hand if you are looking for something mildly sweet and sour, these cranberry bars are perfect.