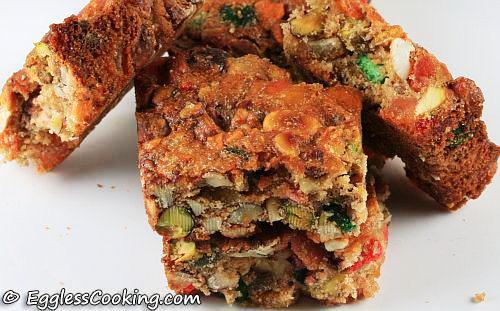 Have you gone grocery shopping when you were hungry? Have you noticed that when you do that you really fill the shopping cart with everything that you see, whether you need it or not? That's what happened (sometime back in December) and I had a tub of Old English style fruit and citrus peel mix sitting in one corner of the refrigerator until last week.
Finally, I decided to use it and the first recipe which came to my mind was the Vegan Christmas fruitcake.
Earlier I had baked that cake using applesauce. Since this month's egg substitute is yogurt and buttermilk, I decided to go with buttermilk. Moreover one of the visitors (Ramya) had mentioned that she tried the recipe with yogurt and it came out well and so did mine.
It's really amazing that a simple recipe like this and with NO added fat can yield such fabulous results. Everybody loved the bars. This time I have categorized it under bars because it can either be a cake or a bar.
However you call it, the taste is phenomenal. I also replaced the all-purpose flour with whole wheat pastry flour that did not affect the taste as well. The only con I would say is the high fructose corn syrup in the fruit mix. As I have mentioned I bought it without looking the ingredients and had to use it up.

| | | |
| --- | --- | --- |
| Eggless Fruit & Nuts Bars Recipe | | |
| Prep Time | Cook Time | Makes |
| --- | --- | --- |
| 15 Mins | 37 Mins | 28 Pieces |
| Author | Category | Method |
| Madhuram | Bars | Baking |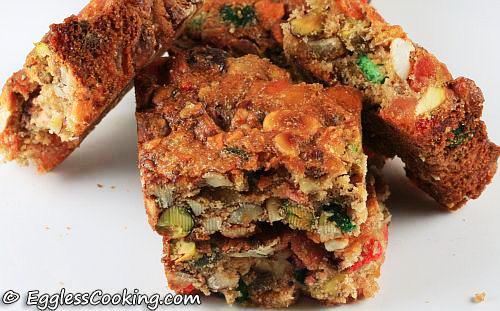 Can you believe that these gorgeous bars have no added fat and are eggless too?

Ingredients:
3/4 cup

Whole Wheat Pastry flour

1/4 teaspoon

Baking soda

1/4 teaspoon

Baking powder

1/4 teaspoon

Salt

1/2 cup

Light Brown Sugar (I used white sugar)

3 cups (any combination)

Chopped Dried Fruits (I used 1lb Fruit And Peel Mix)

3 cups

Chopped Nuts (Any Nuts)

3/4 cup

Buttermilk (Instead Of 3 Eggs)

1 teaspoon

Vanilla Extract

1/4 teaspoon

Ground Ginger (optional)
Procedure:
Preheat the oven at 350F for 15 minutes.
Grease and dust a 13×9 inch pan with little flour.
In a large bowl whisk together whole wheat pastry flour, baking soda, baking powder, salt, ground ginger (if using) and light brown sugar.
Also add the chopped dried fruits and nuts of your choice. Make sure that the dried fruits are not lumped together. Use your fingers mix it thoroughly.
In a liquid measuring mug, measure 3/4th cup of buttermilk and vanilla extract; whisk it nicely.
Add the wet ingredients to the dry ingredients and mix it well. Since it's a lot of dried fruits and nuts, chances are the flour mixture in the bottom may not be combined well.
Spread the batter into the prepared pan and use a spatula to evenly press it.
I baked for 30 minutes first and then slowly increased the time and around 37th minute took the pan from the oven. Check the center of the cake with a toothpick to see if it's done and time it accordingly because ovens may vary.
Once out of the oven, leave the pan on a wire rack and let it cool completely before cutting it. Let it cool completely; don't be in a hurry or else you will end up with broken pieces. Anyways the bars taste better the next day and gets even better later, so be patient. These bars will keep good for 2 weeks in room temperature and store for months in the refrigerator.
My Notes:
Any combination of nuts and dried fruits can be used in this fruitcake/bars. The only thing to be followed is that it should be 3 cups of nuts and 3 cups of dried fruits. This time I used one pound (16oz) box of Old English style fruit and citrus peel instead of dried fruits and a mixture of cashews, pistachios and hazelnuts.
The fruit and citrus peel mix saves the time chopping dry fruits into small pieces and also the bars taste exactly like the fruitcake we get from stores. But I have to agree that it's not as healthy as using actually dried fruits because the fruit is sweetened with high fructose corn syrup. I used it because I had bought that tub in a whim and had to use it.
The original recipe uses 3/4th cup of brown sugar, but I used only 1/2 cup because the fruit mix is also sweetened.
I used 1.5% fat buttermilk. The buttermilk which we get in the US is pretty thick, it's more liked thinned yogurt. I did not dilute it with water because I did not want it to lose its acidity since we are replacing it for 3 eggs in the recipe.
As soon as I removed the pan from the oven the cake looked pale/whitish on the top. I had done the toothpick test and it came out clean and that's why I took out the pan. When I saw the cake I was worried maybe the buttermilk had curdled or something. But as it cooled, it looked very normal with a brown color. Also, the bar was a little hard on the day I baked. I thought I had baked too long. Again by the next day it had become soft and got only even better after that.

Try this recipe, click a pic and hashtag it #egglesscooking - Proudly showcase your creations on Instagram, Facebook & Twitter!