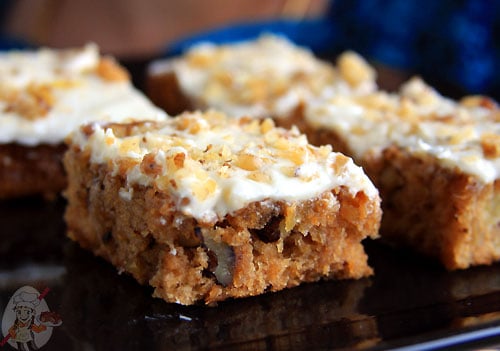 This is the 2nd cake I baked for my little one's birthday. The one bowl chocolate cupcakes was the 3rd. Reserving the first and the best for the last, which is none other than the strawberry cake recipe.
I had my eye on the pineapple sheet cake recipe for quite sometime now. Previously I have tried 2 sheet cake recipes from Taste of Home and both were super-duper hits. The Texas Chocolate Sheet cake and the White Texas Sheet cake. I have become a huge fan of sheet cakes, because it's very easy to put together, doesn't require a lot of prep and/or time and serves an army.
Being the grand daughter of my grandmother who usually made sure that there was (more than enough) food for everybody who was present and little more extra just in case, I always get tensed while baking cake for a crowd. I keep wondering what if it's not sufficient and bake at least 2 cakes and end up having a LOT of leftovers and this birthday party was no different.
I was not sure if the strawberry cake which I planned to bake in a 13×9 inch pan would be sufficient for the party guests, so wanted to bake another simple cake. Sheet cake was it. I felt that this was the perfect opportunity to try out the pineapple sheet cake.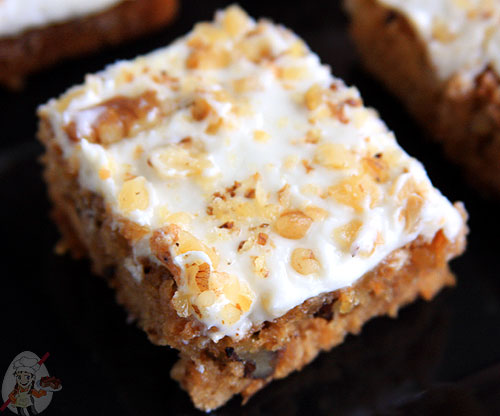 Growing up, I was never a fan of pineapple. It's only after I started baking that I started developing a taste for pineapple. I have tried a pineapple pastry cake in India which I loved so much that I wanted to replicate it and that's how this egg less pineapple pastry cake was born. That cake was "out-of-this-world" decadent, moist and tasty. Since then I have become a pineapple fan. So this was yet another reason that I wanted to bake the pineapple sheet cake.
When I first saw the recipe I was surprised that it did not use any fat (butter, oil or margarine) other than the fat from the eggs. I was wondering how this would affect the recipe, because I was not even going to use eggs. I was quite hesitant to try it and was on the fence about adding some fat to the recipe, but took a leap of faith and as usual used my winning egg substitute combination: plain yogurt and silken tofu.
Needless to say the cake turned out awesome. Everybody loved it at the party.

| | | |
| --- | --- | --- |
| Eggless Pineapple Sheet Cake Recipe | | |
| Prep Time | Cook Time | Makes |
| --- | --- | --- |
| 15 Mins | 32 Mins | 24 Slices |
| Author | Category | Method |
| Madhuram | Cakes | Baking |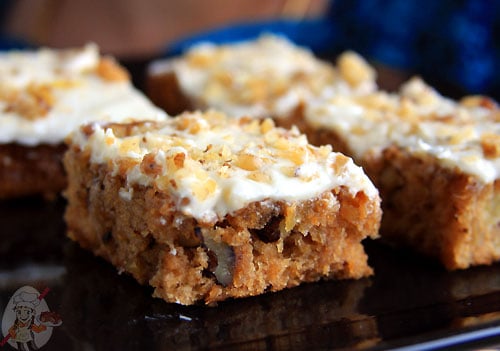 Looking for a simple yet flavorful and delicious cake recipe to feed a crowd? Then this eggless pineapple sheet cake is the recipe to try.

Ingredients:
2 cups

all-purpose flour

2 cups

white sugar

1/4 cup

yogurt, plain

1/4 cup

silken tofu (pureed)

2 teaspoons

baking soda

1 teaspoon

pineapple extract

1/2 teaspoon

baking powder

1/2 teaspoon

salt

1 can (20 ounces)

crushed pineapple

1 cups

walnuts, chopped
For the frosting:
1 pack (8 ounces)

cream cheese, softened

1/2 cup

butter, softened

3-3 and 3/4 cups

confectioner's sugar

1 teaspoon

pineapple extract

1/2 cup

walnuts, chopped
Procedure:
Preheat oven at 350F/180C for 15 minutes. Grease a jelly roll pan (15×10 inches) with non-stick cooking spray and set aside.
In a large bowl combine together all the cake ingredients, except the nuts and beat well. Stir in the nuts too.
Spread the batter into the prepared pan. Bake for about 30-35 minutes. I took out mine around the 32nd minute itself. I saw that the cake started pulling away from the sides of the pan.
Let the cake cool in the pan itself on a wire rack.
Meanwhile prepare the icing, by beating together the cream cheese, butter, sugar and pineapple extract; until nice and smooth. Spread over the cake and sprinkle with the chopped nuts.
My Notes:
I would suggest reducing the quantity of sugar by 1/4 cup because I personally felt that the cake was quite sweet.

Try this recipe, click a pic and hashtag it #egglesscooking - Proudly showcase your creations on Instagram, Facebook & Twitter!