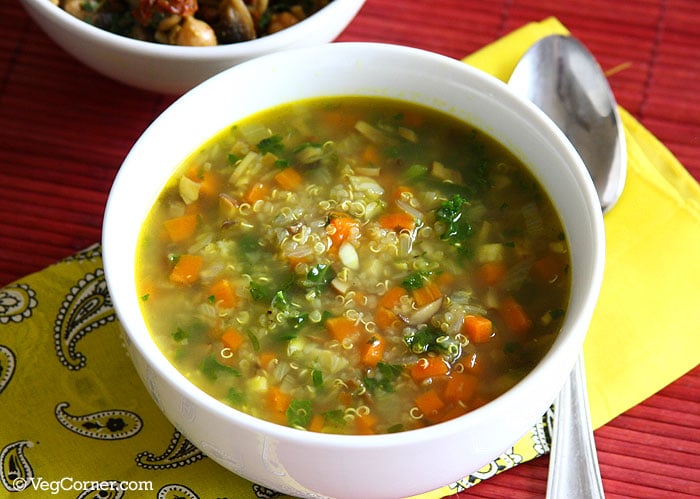 It's that time of the year where almost everybody is sniffling and can be seen with a tissue box. Meat eaters have their chicken soup as a magic potion to feel better and comfort themselves. So what's the option for us vegetarians in times like this?
The answer is "stinking rose" aka immune booster garlic. Include it in your diet as much as possible to not only fight this year's flu but also because, it is an antioxidant, keeps your blood pressure under check, lowers cholesterol, slows down the progress of cancerous cell growth to mention just a few.
I always make it a point to include a lot of garlic especially in my soup recipes, so I was thrilled to see a soup recipe which actually highlights its flavor and benefits.
I found this recipe in the Vitality magazine. People in Canada, don't forget to pick a copy of it whenever you are in the library or any natural health food store.
Because getting quality information about health and related issues for free should not be missed. I also learned from the article that it is best to consume garlic crushed and raw or when it's cooked minimally. That's the reason for adding crushed garlic just before serving in this soup recipe.
Because not everyone likes garlic flavor, I have mentioned that it's optional but I highly suggest including it as instructed in the recipe. Since I'm not the person who follows a recipe as it is, I used quinoa instead of lentils and also included a good bunch of kale to the recipe to boost up the nutrition even more.

| | | |
| --- | --- | --- |
| Flu-Fighter Garlic Soup Recipe | | |
| Prep Time | Cook Time | Makes |
| --- | --- | --- |
| 15 Mins | 25 Mins | 5 Servings |
| Author | Category | Method |
| Madhuram | Soups | Cooking |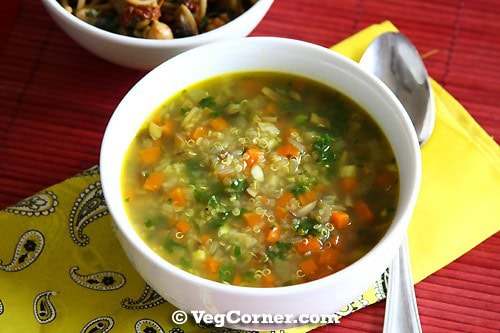 Prevent cold, flu and many other ailments by making this vegetarian garlic soup a regular at your house, even if you are an omnivore.

Ingredients:
3 tablespoons

extra-virgin olive oil

1 big

onion, chopped

5 cloves

garlic, minced

1 big

carrot, finely chopped

5

mushroom caps, finely chopped (I used cremini)

1/4 cup

coriander, finely chopped

1/2 cup

quinoa, rinsed

1/8 teaspoon

turmeric powder

6 cups

water or vegetable broth

salt, pepper and crushed red chili flakes

to taste
Optional Ingredients:
1 cup

kale, finely chopped

3 cloves

garlic, minced
Substitutions:
quinoa – lentils
kale – spinach, swiss chard
Procedure:
In a medium-sized pan heat oil and sauteed the onions, turmeric powder, red chili flakes and garlic. Add a little salt, so that the onions will cook faster.
Now add the carrots, mushrooms and coriander and fry for a couple of minutes.
Stir in the rinsed quinoa and vegetable broth/water. Add some more salt and pepper and cook for about 15-20 minutes until the quinoa is cooked. If you feel that the quinoa has absorbed a lot of water making a stew like consistency add some more broth/water. Switch off the stove.
Stir in the chopped kale and minced garlic if using. The heat will wilt the greens.
My Notes:
Lentils can be used instead of quinoa and in that case the cooking time would be about 35-40 minutes. Using a pressure cooker would reduce the cooking time.
I used no-salt added homemade vegetable broth. So used about 1.25 teaspoons of salt to the soup and that's what is reflected in the sodium content in the chart below. If you use store-bought vegetable broth the sodium content will vary.
Nutritional Information for 1 Serving
Calories:

196.6


Total Fat:

9.7 g


Saturated fat:

1.2 g


Unsaturated fat:

7.3 g


Cholesterol:

0.0 mg


Total Carbohydrate:

24.2 g

Sugars:

5.2 g


Dietary Fiber:

3.0 g


Protein:

4.2 g


Sodium:

650 mg


Potassium:

207.9 mg

Try this recipe, click a pic and hashtag it #egglesscooking - Proudly showcase your creations on Instagram, Facebook & Twitter!