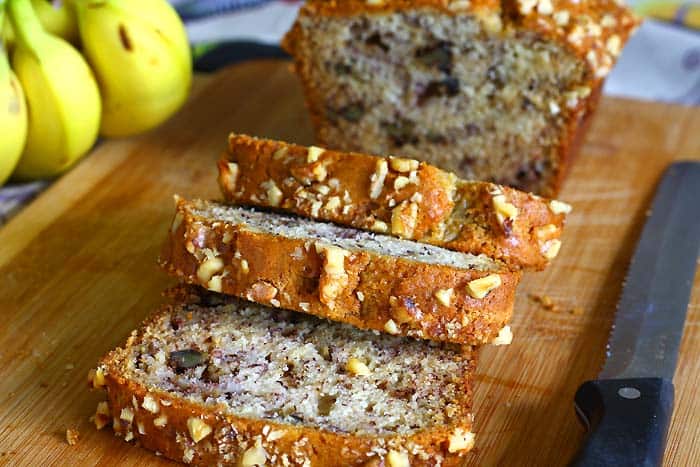 Starbucks Banana Bread: My mom has been here for the past 5 months and she left to India this evening. 3 months back I got a banana bread loaf from a bakery and she loved it. She mentioned that a few days back and was enquiring if it was available nearby. My immediate thought was that how dare she asks for a store bought banana bread, when I'm a baking fanatic, especially when it comes to baking with bananas 😉
There were three bananas in the fruit basket not so ripe, so was letting it to get there. I was saving it to bake a banana bread. I already have the best vegan banana bread recipe here, a banana zucchini bread and few other banana recipes.
Yet I wanted another new banana bread recipe and that's when I came across this copycat Starbucks banana bread.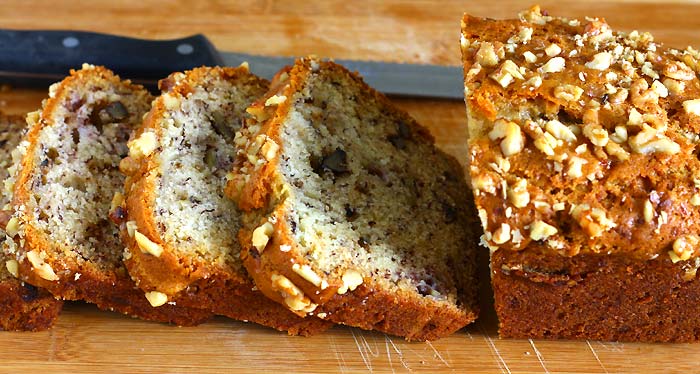 What I liked about this recipe was that it didn't use softened butter or margarine but oil instead, which means I don't have to put the butter out and wait for it to soften but just begin with baking at once. That banana bread recipe called for 3 ripe bananas but when I set out to bake the bread, day before yesterday I saw that only 2 bananas were left. But these were pretty big bananas, so was sure that it shouldn't be an issue.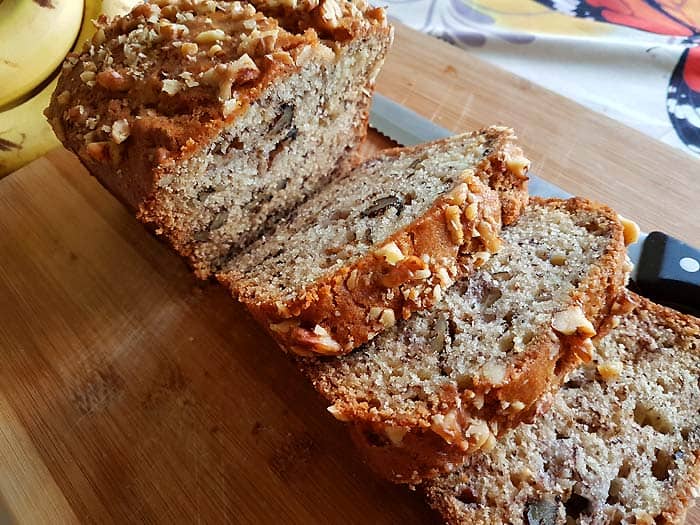 Instead of the 1 egg used in the original recipe, I have used buttermilk as an egg substitute. This Starbucks banana bread could have been made vegan easily by substituting the buttermilk with non-dairy milk and vinegar but I used just buttermilk and also increased the quantity of walnuts.
You can never go wrong with more walnuts in a banana bread recipe. It gives the bread an amazing texture and bite. Chocolate chips would be a great option as well.
How to make Starbucks like Banana Bread Without Eggs?
Here are the step-by-step pictures to make the perfect banana bread: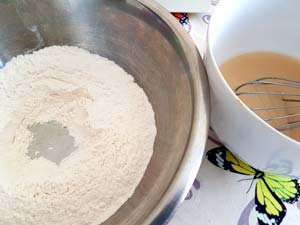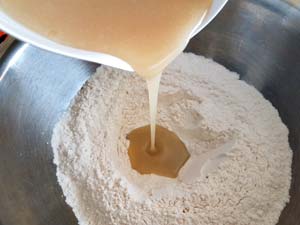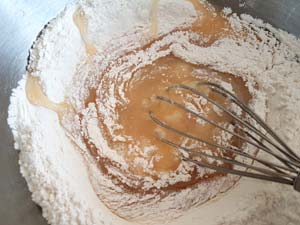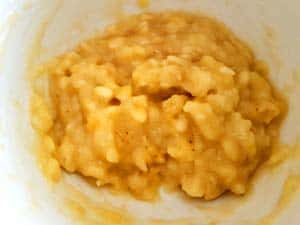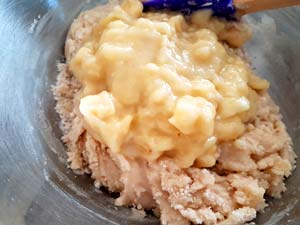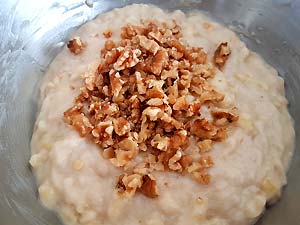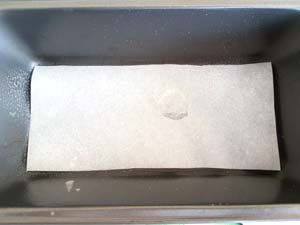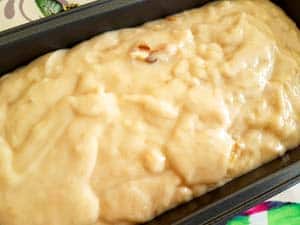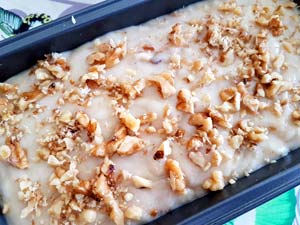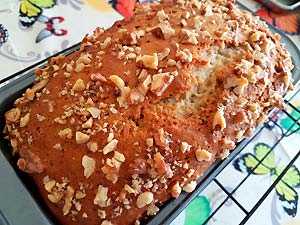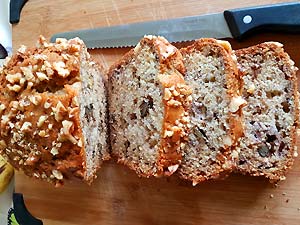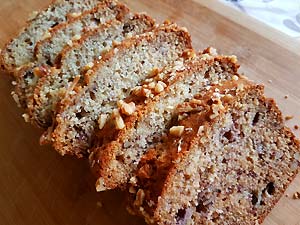 It's no surprise that this eggless banana bread turned out so beautiful and tasty.

| | | |
| --- | --- | --- |
| Just Like Starbucks Banana Bread Recipe | | |
| Prep Time | Cook Time | Makes |
| --- | --- | --- |
| 20 Mins | 1 Hr 05 Mins | 1 loaf / 12 slices |
| Author | Category | Method |
| Madhuram | Breads | Baking |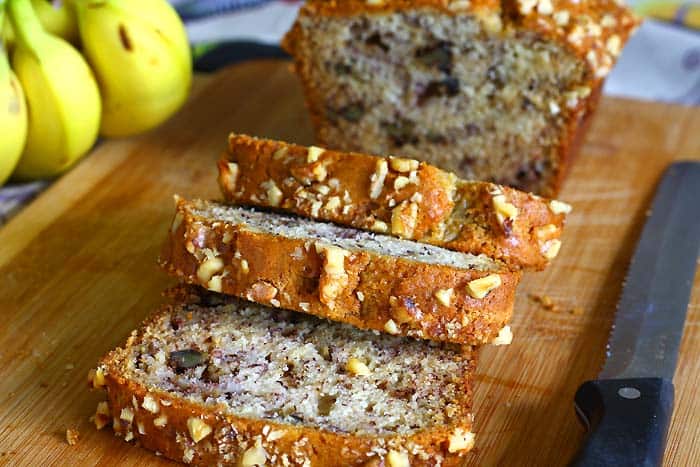 The next time you are in a hurry to bake a banana bread with eggs or not, this just like "starbucks" banana nut bread recipe is definitely worth the try.

Ingredients:
2 cups

all-purpose flour

1 teaspoon

baking soda

1/4 teaspoon

salt

1/3 cup

buttermilk

1 and 1/4 cups

sugar

1/2 cup

avocado oil

1 teaspoon

vanilla

2-3 bananas

mashed very well (1 to 1.5 cups)

1 cup

chopped walnuts (optional)
Procedure:
Preheat oven to 325 degrees. Line a 8×4 inch baking pan with parchment paper and lightly grease it with non-stick cooking spray.
Add flour, baking soda and salt to a big bowl and set aside.
In a medium size bowl stir together the buttermilk, sugar, oil and vanilla.
Add the wet ingredients to the dry and stir well. The mixture will be thick and dry.
Add the mashed bananas and stir until incorporated. Once you add the banana you will notice that the batter will become moistened and doesn't look very dry.
Mix in 3/4 cups of walnuts and pour into a loaf pan. Top it with the remaining 1/4 cup of walnuts and put it in the oven.
Bake for 60-70 minutes or until a toothpick inserted in the middle of the bread comes out clean.
Remove the pan from the oven and place it on a wire rack to cool completely. After about an hour or so remove the bread from the pan and leave it on the wire rack overnight, loosely covered. Slice the bread the next day. This ensures that the flavors settle in the bread and also enables easy and clean slicing. You should give at least 6-7 hours before slicing quick breads.
My Notes:
Usually I suggest using half whole wheat flour and half all-purpose flour in my baking recipes if a recipe calls for all-purpose flour, but I normally avoid that for anything that I bake with banana because I personally feel that it doesn't taste that great. It's a personal choice but you can always try it.
Make this no egg banana bread vegan by mixing 1/3 cup of non-dairy milk with 1 teaspoon of vinegar instead of the buttermilk I have used in the recipe.
Use nuts of your choice, dried fruits or chocolate chips instead of walnuts.
Using half brown sugar and half white sugar will also enhance the color and flavor of the bread.
Nutrition Facts
Just Like Starbucks Banana Bread
Amount Per Serving
% Daily Value*
Potassium 139mg3%
Total Carbohydrates
45.3g
16%
* Percent Daily Values are based on a 2000 calorie diet.

Try this recipe, click a pic and hashtag it #egglesscooking - Proudly showcase your creations on Instagram, Facebook & Twitter!