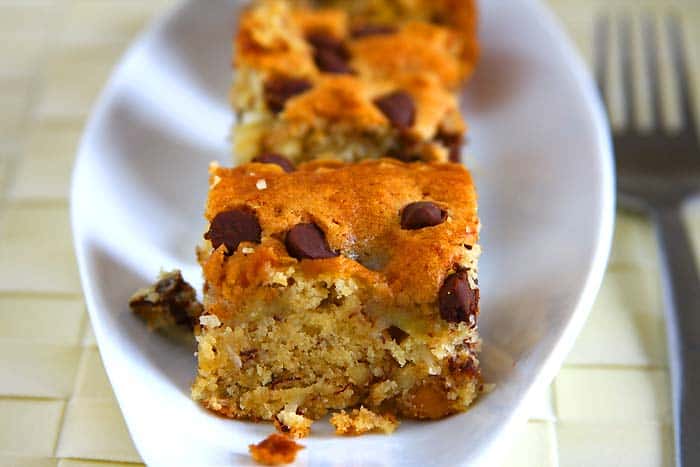 If I'm right, the one add on ingredient which I have used the most is in my baking recipes is banana. I have a huge collection of banana baking recipes in this blog. Each and every time it turns out absolutely great, especially when paired with chocolate, like this vegan banana chocolate cake, or the decadent banana Nutella muffins and many more.
Even though I have a gluten-free banana brownies recipe here, I was missing a regular banana brownie recipe and also a peanut butter chocolate brownie recipe.
While looking for brownie recipes using banana and peanut butter I came across a few "chunky monkey banana" recipes which sounded and looked interesting. One of it was a type of brownie recipe with lots and lots of chocolate and peanut butter chips. I changed the recipe quite a bit to incorporate the ingredients I had at hand and it turned out to be banana blondies instead of chunky monkey brownies.
Took this recipe as a base and made it eggless by using buttermilk as an egg substitute. I included unsweetened coconut flakes, walnuts too in the batter and these chunky monkey banana blondies turned out decadent and delicious.
The banana blondies had a soft, cake-like texture with the perfect sweetness from the semi-sweet chocolate chips and peanut butter chips. I actually wanted to make it a chunky monkey banana brownie recipe by incorporating more chocolate chips in the batter like this recipe, but completely blanked out about the measurement of chocolate chips that has to go in the batter and just added 1/4 cup as against the 12 oz mentioned in that recipe.
That's why it turned out to be a banana blondie recipe instead of a banana brownie recipe but let me tell you that this was the best banana blondie recipe ever. No regrets about the taste or texture whatsoever.
How To Make Banana Blondies?
Here are the step-by-step pictures for making banana blondies: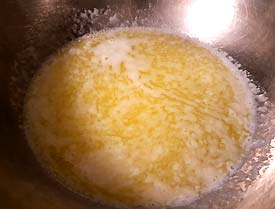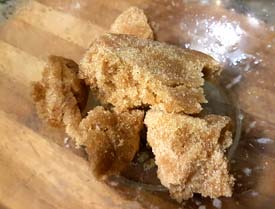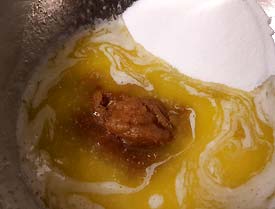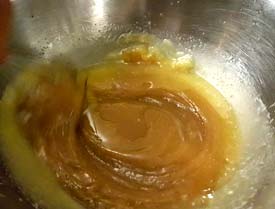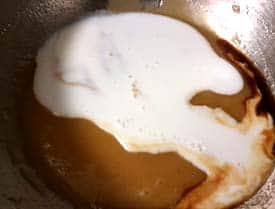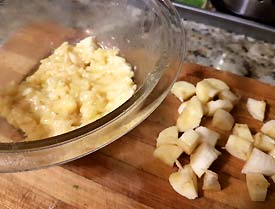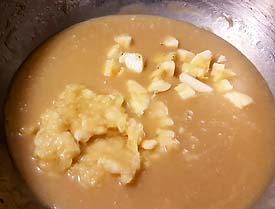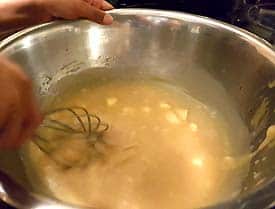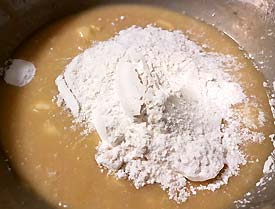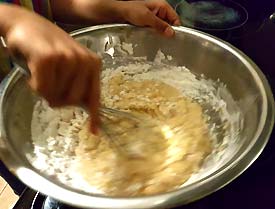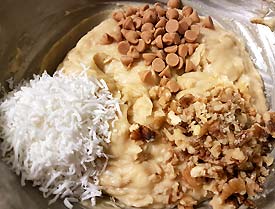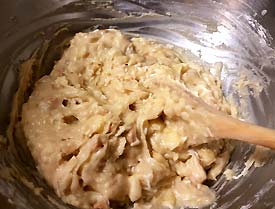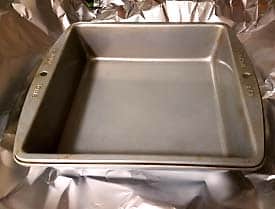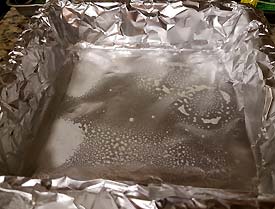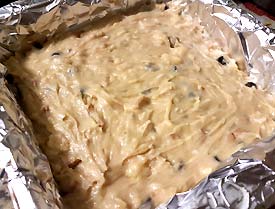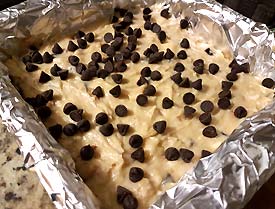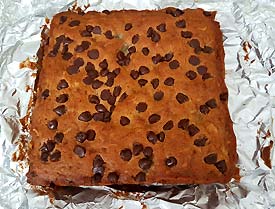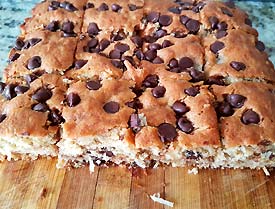 | | | |
| --- | --- | --- |
| Chunky Monkey Banana Blondies Recipe | | |
| Prep Time | Cook Time | Makes |
| --- | --- | --- |
| 20 Mins | 30 Mins | 16 Pieces |
| Author | Category | Method |
| Madhuram | Blondies | Baking |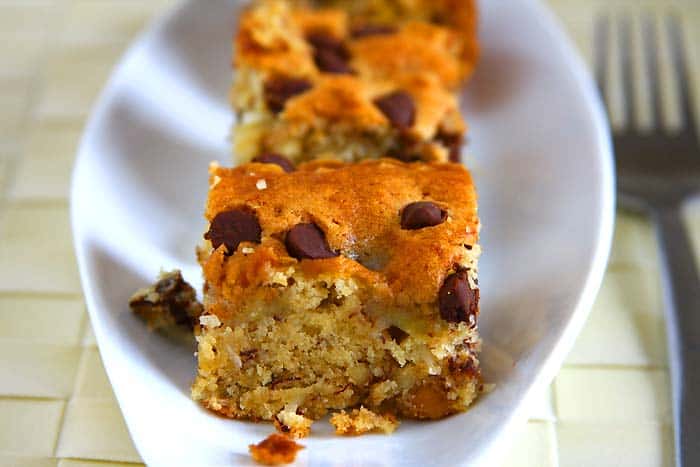 Have some overripe banana and chocolate chips? Not in the mood for the usual banana muffins? Try this decadent chunky monkey banana blondie recipe. Don't hesitate to stir in other ingredients like nuts and dried fruits if you have any.

Ingredients:
1/2 cup

butter, melted

1/2 cup

brown sugar

1/2 cup

white sugar

1 teaspoon

vanilla extract

1/4 cup

buttermilk

1 large

banana, half mashed and half cut up into pieces

1 cup

all-purpose flour

1/2 teaspoon

baking soda

1/4 teaspoon

salt

1/2 cup

semi-sweet chocolate chips

1/4 cup

peanut butter chips

1/4 cup

unsweetened coconut

1/4 cup

walnuts, chopped
Procedure:
Preheat oven to 350° F. Line an 8×8 baking dish with parchment paper or foil and spray with cooking spray. Set aside.
In a large bowl combine the melted butter and sugars. Mix until combined.
Add buttermilk and vanilla, mix until fully incorporated.
Next add the mashed banana and banana chunks. Mix it in until well combined.
Now add the flour, baking soda and salt.
Stir just until combined without over mixing.
Mix in the coconut, 1/4 cup of semi-sweet chocolate chips, peanut butter chips and walnuts. (See My Notes)
Pour the batter into greased pan. Top it with the remaining 1/4 cup of semi-sweet chocolate chips.
Bake for 28-32 minutes or until a toothpick inserted in the middle comes out clean.
Remove the pan from the oven and cool it on a wire rack for at least 10 minutes before cutting.
Lining the pan with aluminum foil makes it easier to lift it off the pan quickly and cutting easier.
Cut into 9 large bars or 16 small squares. Store covered in fridge for up to 1 week.
My Notes:
I forgot to add in the chocolate chips at first in the batter and that's why it's not shown in the picture. I realized it after I prepared the batter and so added it later.
This chunky monkey banana blondie recipe can be doubled to be baked in a 9×13 inch pan.

Nutrition Facts
Servings: 16
Per Serving
% Daily Value*
Calories

191

Total Fat

10g

15%
Saturated Fat

6g

30%
Trans Fat

0g

Cholesterol

17mg

6%
Sodium

127mg

5%
Potassium 83mg
2%
Total Carb

24.3g

8%
Dietary Fiber

0.8g

3%
Sugars

16.8g

Protein

2g

Vitamin A 4% – Vitamin C 1%
Calcium 2% – Iron 4%

Try this recipe, click a pic and hashtag it #egglesscooking - Proudly showcase your creations on Instagram, Facebook & Twitter!