Genesis – Mashed Bananas

During my initial egg free baking days I thought only mashed bananas worked as an egg substitute. I remember when I was mashing it up and using it in almost all of my muffin, cake and quick bread recipes to only find out that everything smelled and tasted the same because of the banana. Whether it was carrot cake, chocolate chip muffins or zucchini quick bread all had the strong flavor of bananas. It really didn't feel like I was trying new recipes. Then with further exploration I came to now about the magic ingredient, unsweetened applesauce, that is!

Magic Ingredient – Applesauce!

Yes it felt like magic for me because, it was readily available in the store, I didn't have to spend time preparing it. But note that it's not a big deal either. Those who cannot find it ready-made, it's as easy as or even easier than making mashed potatoes. It works as an excellent fat and/or egg substitute like flaxseed meal. Same with any other fruit puree too. But applesauce, mashed bananas are quite common and to some extent prune puree too, especially in chocolate based cakes/cupcakes or muffins.

Where to buy and how to preserve it?

Unsweetened applesauce is available in the grocery aisle where you can find canned fruits, puddings etc. Name brand or store brand doesn't really matter. But if buying it from the store I prefer buying organic because apples is one of the fruits listed in the "dirty dozen", the fruits/vegetables which is recommended to be consumed organic. Also avoid getting the bottled ones because it's really big and however careful you be to use dry spoon it tends to go bad with fungus growth. So I prefer getting the ones in plastic cups. Each cup has exactly 1/2 cup of applesauce which you would most probably use it all in the recipe.

Pureed Fruits As An Egg Substitute

Whatever pureed fruit you choose to use, the measurement is 1/4 cup of the mashed/pureed fruit for each egg to be replaced. I also slightly increase the quantity of baking powder, maybe up to 1/4th of a teaspoon while using pureed fruit because the baked treat tends to be dense otherwise. I would use this as an egg substitute it recipes which calls for 2-3 eggs at most.

Pureed Fruits As Fat Substitute

Do not use pureed fruit measure to measure while substituting for the fat in the recipe. The baked good will turn out to be very heavy. You can use it to replace 50% of the fat content if you are not big on the texture. Otherwise the safe bet would be using it to replace up to 1/3rds of the fat in the original recipe. Also remember that because of the moisture content of the fruit, this substitute is preferably good in cakes, muffins and quick breads and in cookies if you don't mind or want soft cookies.

How to use Pureed Fruits as replacement for eggs?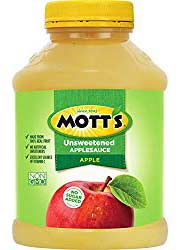 Mashed bananas, unsweetened applesauce, pureed prunes, plumped raisins, and softened dates are some of the ways how fruit purees can be used as an egg replacement.
1/4 cup applesauce (or pureed fruit) for each egg. Increase leavening by adding 1/4 teaspoon baking powder. Bake items slightly longer, if necessary. 1/4 cup of applesauce can also be used as a fat substitute in baking recipes.
Not just mashed fruits but vegetables like pumpkin puree, sweet potato, avocado can also be used as substitutes for eggs while baking.
With pureed fruits, baked goods won't brown as deeply, but they will be very moist and heavy. Pureed fruit works well for cakes, quick bread & brownies.

Pureed Fruits Recipes
Here is the full list of baking recipes that use Pureed Fruit such as applesauce, mashed banana, etc in place of an egg.