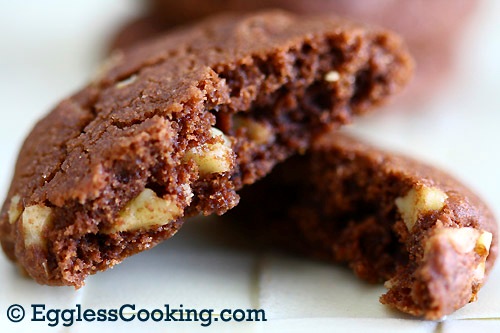 A couple of days back I stumbled upon Vegetarian Times and I have been bookmarking their recipes like crazy. They have so many interesting baking and cooking recipes. I baked these cookies following their recipe but making some slight changes. The cookies turned out very good and got me a lot of compliments from everybody who tasted it including my son's school principal and vice principal. For big-batch chocolate cookies, check-out the egg-free chocolate shortbread cookies.
This recipe is close to my heart for another reason too. My little one spoke a new word when he saw the cookies. He said he wanted it (kaavala in Telugu which means 'want'). It was so cute. He kept repeating it again and again. I don't know how he picked up that word and now he is telling the same whenever he sees us eating something or when he wants something.

| | | |
| --- | --- | --- |
| Vegan Chocolate Cookies Recipe & Video | | |
| Prep Time | Cook Time | Makes |
| --- | --- | --- |
| 20 Mins | 14 Mins | 36 Cookies |
| Author | Category | Method |
| Madhuram | Cookies | Baking |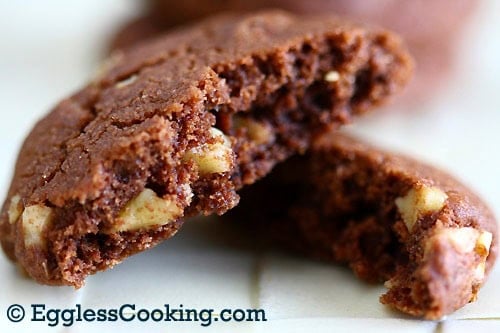 Vegan Chocolate Cookies & Video
4.7

from

9

reviews
This vegan chocolate cookie recipe is a nice beginner recipe for those who want to start vegan baking. It's pretty much simple, straight forward and has a very good taste and texture.

Ingredients:
1 Cup

Granulated Sugar

3/4 Cup

Vegan Margarine, Softened (I Used Earth Balance)

2 Teaspoons

Ener-g Egg Replacer

1/4 Cup

Lukewarm Water

1 Teaspoon

Vanilla Extract

1 And 1/4 Cups

All Purpose Flour

1/2 Cup

Unsweetened Cocoa Powder

1/2 Teaspoon

Baking Soda

1/2 Teaspoon

Baking Powder

1/4 Teaspoon

Salt

1 Cup

Chopped Walnuts

1/2 Cup

Raisins (Optional, See My Notes)
Procedure:
Preheat the oven at 350F/180C for 15 minutes. Line baking sheet(s) with parchment paper. Blend together the egg replacer powder and warm water until it's frothy; set aside.
In a large bowl, cream together the sugar and margarine until light and fluffy (See My Notes).
Add the blended egg replacer mixture and vanilla extract to the creamed sugar mixture; beat it well again.
Sift together the dry ingredients directly into the bowl with the creamed mixture. Combine it well. The cookie dough will be very thick. You can use an electric beater to do the mixing.
Fold in the walnuts and then the raisins, if using.
Drop tablespoonful of dough onto the prepared baking sheet and flatten it slightly. Bake for about 12-14 minutes. Test bake about 2 cookies to see how it bakes and then you can decide how to proceed with the rest of the dough.
Move the cookie sheet to wire cooling rack and leave it undisturbed for about 6-8 minutes. Then remove the cookies from the sheet and let it cool completely on the wire rack before storing it in an air tight container.
Taste:
These vegan chocolate cookies had a very interesting texture. It was very light and crumbly within the first few hours of baking and then became quite soft. The original recipe used a cup of vegan white chocolate chips which I have substituted with chopped walnuts and I think that's the reason we felt that the cookies needed some more sweetness after we tasted the test cookie and that's when my husband suggested to add some raisins. So if you use the chocolate chips you can omit the raisins.
My Notes:
The original recipe did not mention to blend together the egg replacer powder and water but I did it because I felt that the margarine and sugar did not cream as well as it should have. Maybe the margarine should have been even softer. When I creamed together the margarine and sugar it remained just like coarse crumbs, so that's when I decided to add 1/4 cup liquid to get it going. So when you try this recipe at home, if you think that the butter/margarine and sugar creamed together very well then go ahead and follow the original recipe by adding the egg replacer powder directly without any water.
1 teaspoon of egg replacer is used in the original recipe but I chose to use 2 teaspoons because the Ener-G packet I have is not new. It's almost a year and a half old which I store it in the freezer.
This cookie dough is quite thick. Actually pretty thicker than any cookie dough I have made so far with exception to the vegan crinkle cookies.
I have a super big cookie sheet so I was able to fit all the 34 cookies (36 minus 2 which I test baked first) in one single sheet. If you are using 2 sheets, you will have to rotate the pan and move the sheet in the top rack to the bottom and the vice-versa half way through baking to ensure even baking.
As mentioned in the Taste section, I chose to use raisins because we felt the cookies were not sweet enough without the chocolate chips mentioned in the original recipe. So if you use chocolate chips, I think you might not need the raisins.

Try this recipe, click a pic and hashtag it #egglesscooking - Proudly showcase your creations on Instagram, Facebook & Twitter!