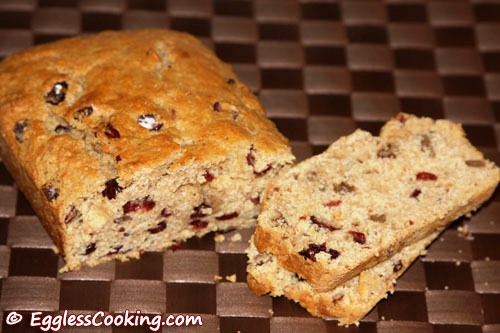 It's long time since I have baked a quick bread. The last time I baked this for my friends and it was a hit. I had used bananas instead of eggs, so the bread tasted more like bananas. That's the only reason I don't like using bananas as an egg substitute because it's flavor/smell will dominate the baked dish. Whether it's a carrot cake or chocolate cake, it's going to taste like a banana only. So this time I decided to use flax seed meal as the egg substitute.
What is a Quick Bread? As the name suggests, "Quick Breads" can be baked quickly, when compared to the traditional yeast breads. Quick breads are leavened with baking powder and/or baking soda, not yeast. So you can mix, bake and enjoy these baked goods in less time. Quick breads can be sweet or savory. One important thing to be noted while baking quick breads is, mixing the wet and dry ingredients only until moistened. Few lumps in the batter is fine, because over-mixing causes the gluten in the flour to develop and the result would be a coarse and tough bread.
Quick breads such as banana, zucchini and cranberry slice and taste best when served a day after baking. Wrap the cooled bread in foil or plastic wrap; leave at room temperature overnight. Use a serrated knife for breads that have fruits and/or nuts. Corn bread and coffee cakes are best served warm. (Source: The Taste of Home Baking Book)
I had some dried cranberries left after preparing these "no-bake" bars, so I wanted to use it before I could forget all about it and find it out after 3 months while cleaning the pantry. I also had 2 cranberry bread recipes in hand. One was the traditional yeast bread and another one a cranberry orange quick bread (from the book Baking for Dummies). Hands down my choice is the latter, because I'm not yet ready to bake with yeast. I have this preconceived notion that I cannot handle yeast, it's difficult. But the quick bread required fresh cranberries which I didn't have. So I came up with a recipe combining those 2 recipes, making few changes here and there. The bread came out quite decently.

| | | |
| --- | --- | --- |
| Vegan Cranberry Quick Bread Recipe | | |
| Prep Time | Cook Time | Makes |
| --- | --- | --- |
| 15 Mins | 50 Mins + Cooling Time | One 9×5 Inch Loaf |
| Author | Category | Method |
| Madhuram | Breads | Baking |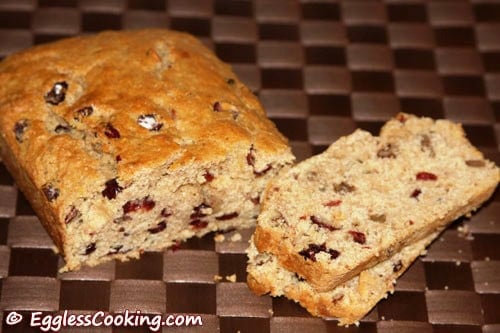 A very simple recipe to bake a quick bread using flax seed meal as an egg substitute.

Ingredients:
2 Cups

All Purpose Flour (I Used 1 Cup All Purpose Flour And 1 Cup Whole Wheat Pastry Flour)

1 Cup

Coarsely Chopped Fresh Cranberries (I Used Dried Cranberries)

3/4 Cup

Sugar

1/2 Cup

Coarsely Chopped Pecans Or Walnuts (I Used Pecans)

2 Teaspoons

Baking Powder

1/4 Teaspoon

Salt

1

flax egg (How to make flax egg?)

1 Teaspoon

Grated Orange Zest (I Omitted)

1/2 Cup

Orange Juice (I Used Freshly Squeezed Orange Juice)

1/2 Cup

Vegetable Oil (I Used 1/4 Cup Canola Oil And 1/4 Unsweetened Applesauce)
Procedure:
Preheat oven to 350F/180C for 15 minutes. Grease and flour a 9×5 inch loaf pan.
In a large bowl sift together the flour, baking powder and salt. Also add the cranberries, sugar and nuts and combine it thoroughly. If using dried cranberries, add a tablespoon of flour to the dried berries and stir it well before adding it to the flour mixture. Otherwise all the berries will stick to
each other and settle at the bottom of the bread.
Whisk/blend together the flax seed meal and water until white and foamy. I used Magic Bullet to blend it.
In a small bowl, mix together the flax seed mixture, orange zest, orange juice, oil and applesauce (if using).
Stir the wet ingredients into the dry ingredients and mix until just blended. I felt that the batter was thick, so I added another 2 tablespoons of orange juice. You can also dilute it with water or any type of milk. Do not over-mix. Few lumps should be fine, it would dissolve while baking.
Pour the batter into the prepared pan and bake for 60 minutes, or until a toothpick inserted into the center of the loaf comes out clean. I checked mine for doneness around 48 minutes and the toothpick came out clean. I removed the pan out of the oven after 50 minutes.
Cool the loaf for 15 minutes before removing it from the pan.
Finish cooling the loaf on a wire rack.
My Notes:
I'm not a patient person when it comes to tasting something I have baked. Also I did not notice the tip about slicing banana/zucchini and cranberry breads the day after baking it, so I sliced it anyway and it did crumble. So be patient because they slice and taste better the next day.
Everybody liked the taste of the bread, the sweetness was right but it did have a mild raw smell. I'm not sure whether the culprit was the whole wheat pastry flour or the baking time. Even though the time given in the original recipe was 60 minutes, the toothpick came out clean after 48 minutes itself. Maybe I should try using only all purpose flour the next time.

Try this recipe, click a pic and hashtag it #egglesscooking - Proudly showcase your creations on Instagram, Facebook & Twitter!

This is my entry to the following events:
1. Suganya's Vegan Ventures.
2. Mansi's Vegetarian Thanksgiving Recipe Carnival. What is Thanksgiving without cranberries!
3. Egg Replacement Event – Flax Seed Meal hosted by me.