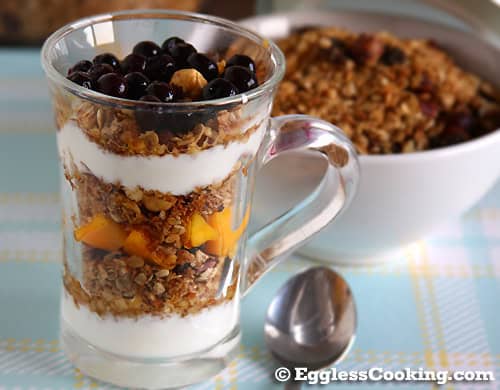 Granola recipe is another recipe that I have wanted to try forever and I finally did it yesterday. Over the years I have bookmarked a lot of granola recipes but haven't tried one because I would be missing one ingredient or the other. I borrowed Sweet Vegan by Emily Mainquist from the library and saw this vegan granola recipe. Luckily I had all the ingredients at home and decided to give it a shot.
I did quite a bit of ingredient substitution keeping the measurements same as in the original recipe. Three years ago my friend Dee had sent me her homemade granola which was so good. She had used hazelnuts in her recipe, so I too wanted to use it instead of the almonds mentioned in the original recipe. That switch definitely worked out great. I'm positive that this vegan granola recipe will become a huge hit with your family and friends.

| Prep Time | Cook Time | Makes |
| --- | --- | --- |
| 15 Mins | 40 Mins | 7 Cups |
| Author | Category | Method |
| Madhuram | Food | Cooking |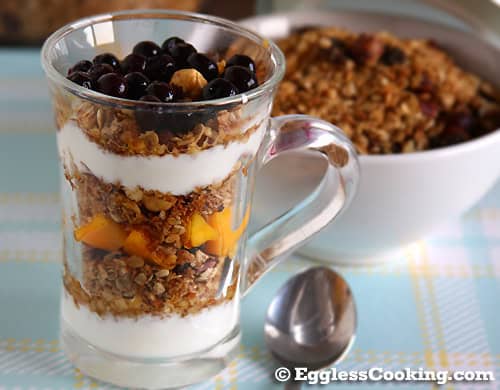 Have the measurements of this vegan granola recipe as the base to create a variety of flavor combinations to suit the season. Use tropical fruits like dried mango, papaya, coconut flakes and macadamia nuts for summer. For winter it could be pistachios and dried cranberries.

Ingredients:
4 cups

quick-cooking oats

1/2 cup

unsweetened coconut

1 and 1/2 cups

roughly chopped hazelnuts

1/2 cup

brown sugar

1/2 teaspoon

salt

1 teaspoon

cinnamon

1/4 cup

coconut oil

3 tablespoons

maple syrup

1 teaspoon

vanilla extract

3/4 cup

dried cranberries

3/4 cup

raisins
Substitutions:
oats = spelt/quinoa flakes
hazelnuts = almonds or a combination of nuts and seeds
coconut oil = any neutral flavor oil
maple syrup = agave/honey
cranberries/raisins = any other dried fruit
Procedure:
Preheat the oven to 300F/150C for 15 minutes.
In a large bowl, mix together the oats, coconut, hazelnuts, brown sugar, salt and cinnamon.
Heat the oil and maple syrup in the microwave oven for 20 seconds.
Pour it over the oat mixture. Add the vanilla extract and stir until all the ingredients are combined well.
Spread the granola onto a 9×13-inch baking pan. (See My Notes)
Bake for 40 minutes, stirring every 10 minutes.
Place the pan on a wire rack, stir in the dried fruits, and push the granola to one side of the pan while cooling. This ensures that the granola will cool in large clusters. Keeps well for a month if stored in an airtight container.
Taste:
Emily is 100% right that this vegan granola recipe is the best you will ever taste. The taste and texture is just perfect. My favorite part is the nicely toasted and crunchy hazelnuts. I'm actually picking the hazelnuts whenever I go past the jar. I would probably decrease the quantity of brown sugar a wee bit because I find the granola quite sweet.
My Notes:
I have an extra-large cookie sheet which I used to make this granola. I did try it in a 9×13 inch pan at first and saw that it was too crowded so transferred it to the large sheet. This cookie sheet was so big that I was able to spread the entire granola mixture without it clumping together. It later occurred to me that this could be the reason that my granola didn't form any clusters at all.

Try this recipe, click a pic and hashtag it #egglesscooking - Proudly showcase your creations on Instagram, Facebook & Twitter!