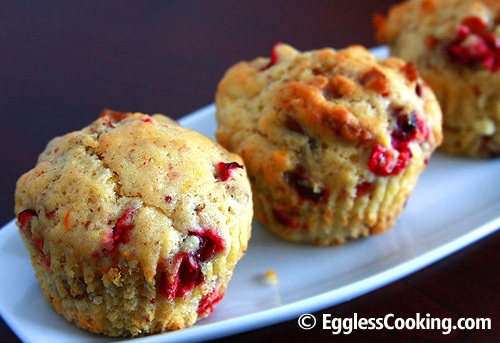 I have used a lot of dried cranberries while baking but am picky about the fresh ones. So far I have tried only one recipe using fresh cranberries. It is this cranberry bars recipe from the Joy of Baking website. Although it did come out well and tasted good, somehow I did not develop a liking for this beautiful red fruit. I think part of the reason is my quirky food likings. I usually don't like sweet and sour or sweet and spicy together. A dish has to be either fully sweet or fully spicy. So its obvious that I do not like the combination of tart cranberries and sweet in baked goods. Anyhow I decided to give it a shot once again this cranberry season.
Lately I have been seeing a lot of Indianized cranberry recipes. Cranberry rice, cranberry pickle, cranberry dal, etc. just to mention a few. So I decided to try at least that if at all not baking with cranberries. Recently I also got hooked to the Taste of Home website. I have got a baking book published by that magazine and am a fan for those recipes. I have had a 100% success rate with those recipes. I don't know what stopped me from visiting their website all these days. A couple of days back I borrowed a Taste of Home Cookies book from the library. It has 623 recipes and I was so tempted to get one for myself. That's when I decided to check out their website to see if they have free recipes online and I was overjoyed to find the same. I looked for some cranberry recipes in there and bookmarked this cranberry muffins recipe. It was a simple straight forward recipe and the egg substitution was easy too. I decided to use flax seed meal as the egg substitute like I used for the vegan cranberry quick bread recipe and it turned out great.
For the past couple of months I have been incorporating a lot of whole grains and whole grain flours while baking. So I decided to used plain all purpose flour this time. Partly the reason being, my phobia for cranberries. Since I was not sure if I would like cranberries I didn't want to use whole wheat flour and mess it up further. Surprisingly these cranberry muffins did not fail me. It tasted pretty good with mild sweetness, occasional tartness from the cranberries here and there and a nice crunch from the pecans. I would definitely try this recipe again but would increase the quantity of sugar a little bit.

| | | |
| --- | --- | --- |
| Vegan Orange Cranberry Muffins Recipe | | |
| Prep Time | Cook Time | Makes |
| --- | --- | --- |
| 15 Mins | 20 Mins | A dozen cranberry muffins. |
| Author | Category | Method |
| Madhuram | Muffins | Baking |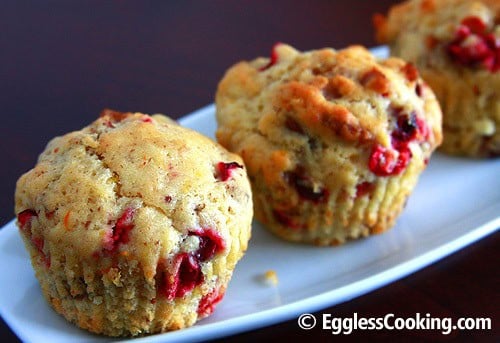 Flavorful orange and cranberry muffins studded with pieces of pecans. These muffins are vegan and low fat too but this does not affect the taste. Flax seed powder is used as an egg substitute in this recipe.

Dry Ingredients:
2 cups

All Purpose Flour

3/4th to 1 cup

Brown Sugar

2 teaspoons

Baking Powder

1 cup

Chopped Pecans
Wet Ingredients:
1/3 cup

Canola Oil

2/3 cup

Orange Juice (Freshly Squeezed)

1

flax egg (How to make flax egg?)

from 1 orange

Orange Zest

1 cup

Coarsely Chopped Fresh Cranberries
Procedure:
Preheat the oven at 375F/190C for 15 minutes. Grease or line a muffin tin with paper liners.
In a large bowl mix together the dry ingredients and keep it aside.
In a blender/food processor blend together the flax seed powder and water until its nice and frothy.
Measure orange juice in a liquid measuring mug, add water until you reach 1 cup measure in the mug. To this also add the oil, flax seed mixture, orange zest and stir together well.
Pour the liquid ingredients to the flour mixture and mix until just moistened. Fold in the cranberries too. Do not overmix.
Spoon in the batter in the greased muffin tins. Bake for about 20 minutes or until a toothpick inserted in the center comes out clean.
Move the muffin tin to a cooling rack and let it cool for just 5 minutes. Then remove the muffins from the pan and cool it completely on a wire rack.
My Notes:
The quantity of sugar mentioned in the original recipe was 3/4th cup and I used the same, but felt that the muffins could have been a little more sweet. So you can increase the quantity to 1 cup.
I always prefer freshly squeezed orange juice in baking recipes. I have found out in my experience that the store bought orange juice is slightly bitter and the bitterness reflects in the baked goods too.
If you wish to use frozen cranberries, do not thaw it. Use it directly from the freezer otherwise the berries will start bleeding turning the batter red.

Try this recipe, click a pic and hashtag it #egglesscooking - Proudly showcase your creations on Instagram, Facebook & Twitter!