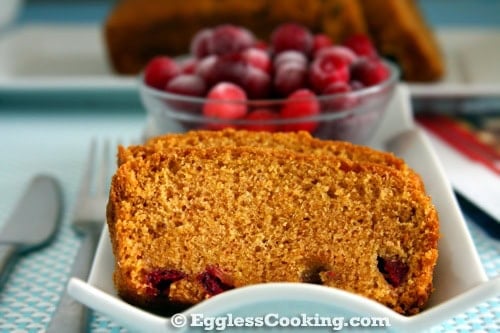 I had bought canned pumpkin to try a vegan pumpkin cake roll for my little one's birthday last week. I had a lot of pumpkin puree leftover after using it for the cake roll, which by the way turned out perfect. I will post that recipe shortly. While browsing for recipes using pumpkin puree I stumbled upon this Thanksgiving Bread recipe. Although it had eggs in it I felt that replacing it with some egg substitute would be quite simple. And I had another reason to try this pumpkin bread recipe because it is Canadian Thanksgiving next Monday. So I wanted to post something relevant for my Canadian readers.
So here comes a vegan pumpkin cranberry bread recipe. Pumpkin and cranberries the essential ingredients for any Thanksgiving feast. Double this recipe for 2 loaves of bread. The original recipe was for 2 loaves which I halved to bake 1 loaf.

| | | |
| --- | --- | --- |
| Vegan Pumpkin Cranberry Bread Recipe | | |
| Prep Time | Cook Time | Makes |
| --- | --- | --- |
| 20 Mins | 53 Mins | One 8×4 inch bread, 12 servings |
| Author | Category | Method |
| Madhuram | Breads | Baking |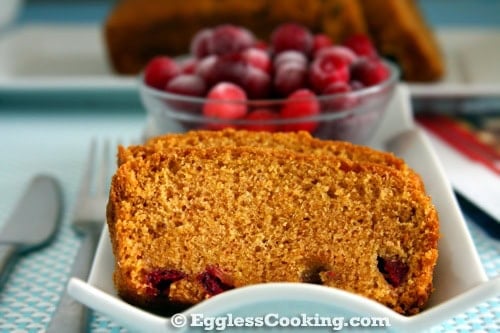 This bright orange hued bread studded with ruby red cranberries is sure to please both the eyes and taste buds of your guests this Thanksgiving.

Ingredients: Part 1:
1/4 cup

almond milk

1 teaspoon

apple cider vinegar

1 cup

white sugar

1/2 cup

pumpkin puree

1/4 cup

coconut oil (spectrum's organic and refined)

1 teaspoon

vanilla extract
Ingredients: Part 2:
1 cup + 2 tablespoons

all purpose flour

1 teaspoon

ground cinnamon

1/2 teaspoon

baking soda

1/2 teaspoon

salt

1/2 cup

chopped fresh or frozen cranberries
Substitutions:
almond milk – any other non-dairy milk for vegans or dairy milk for others
coconut oil – any oil with neutral flavor
pumpkin puree – sweet potato puree
all purpose flour – whole wheat pastry flour
fresh/frozen cranberries – dried cranberries
Procedure:
Preheat the oven to 350F/180C for 15 minutes. Line a 8×4 inch loaf pan with parchment paper and grease the sides with oil. Mix together the milk and vinegar and set aside for 5 minutes or until it curdles.
In a large bowl add the curdled milk mixture, sugar, pumpkin puree and vanilla extract. Blend it well preferably using an electric beater. Stir in the oil (See My Notes) and blend it once again.
Hold a sieve over the wet mix and sift in the flour, cinnamon, baking soda and salt. Stir until just combined.
Mix in the chopped cranberries too (See My Notes). Do not over mix.
Pour the batter in the prepared pan and bake it for 50-55 minutes or until a toothpick inserted in the center comes out clean. I took out mine from the oven after 53 minutes.
Place the pan on a cooling rack for about 15 minutes. Since we have lined the bottom of the pan with parchment paper you should be able to get the bread from the pan in such a short span of time. Otherwise you would have to wait for at least an hour or two to remove the bread from the pan. As I have mentioned already in all my quick bread recipes, let the bread cool down completely at least overnight before you can slice it. I can't stress this point enough.
Taste:
It was the first time I was baking bread using pumpkin puree and was wondering how it would taste. The bread turned out amazing both taste-wise and texture-wise. My friends and family loved this vegan pumpkin cranberry bread very much. Although I felt that it could have been a bit less sweeter. I think I would reduce the quantity of sugar by 2-3 tablespoons. Or maybe increase the quantity of cranberries to 3/4th cup so that the tartness of the berries would balance the sweetness of the bread.
My Notes:
I used canned pumpkin puree. You could use homemade puree too but make sure that it is quite solid because the store bought puree is thick.
In my experience, melted coconut oil when mixed with cold milk solidifies into slabs. So do not mix the oil with milk and just leave it unattended. You will have a hard time to dissolve it.
If using frozen cranberries, run it under cold water for a couple of seconds and the chop it. This would make the chopping easy otherwise the cranberries will be flying all over the kitchen.
I forgot the step of tossing the chopped cranberries with some flour. So you can see in the picture that the cranberries have settled down to the bottom of the bread.
Add a tablespoon of pumpkin pie spice if you have it instead of ground cinnamon.

Try this recipe, click a pic and hashtag it #egglesscooking - Proudly showcase your creations on Instagram, Facebook & Twitter!