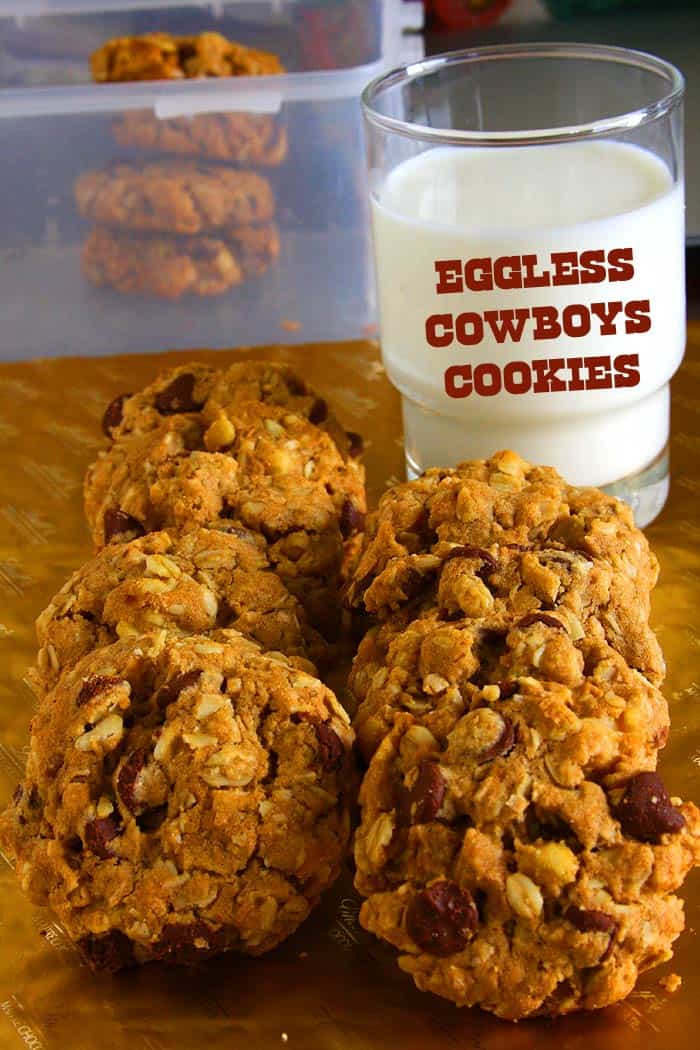 I have a huge collection of a variety of eggless chocolate chips cookie recipes and eggless oatmeal cookie recipes in the blog already and it only gets even bigger by the day.
I had some leftover rolled oats from the huge batch of peanut butter chocolate granola I had made earlier and was looking for recipes to use it up.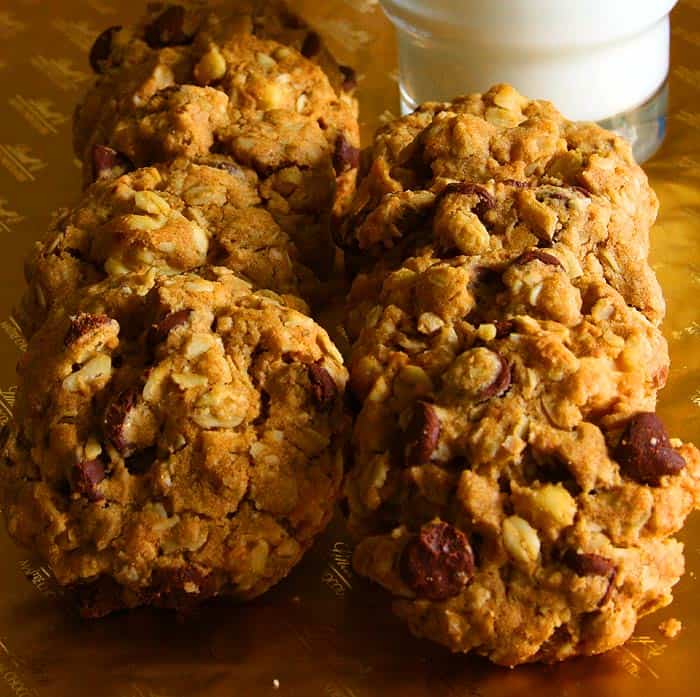 That's when I came across these Cowboy Cookies recipe and was very much keen on baking it because it had all our favorite ingredients in it like toasted coconut, nuts, oats and of course a lot of chocolate chips! Now, who can resist that heavenly combination!
I was contemplating between using flax egg and Ener-G egg replacer as the substitution for 2 eggs used in the original recipe and finally decided to use the latter and I'm sure it worked for the best because these Cowboy cookies had the perfect texture. Crisp around the edges and a bit chewy in the middle.
How To Bake Cowboy Cookies?
Here are the step-by-step instructions on how to make delicious cowboy cookies from scratch: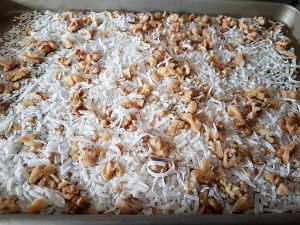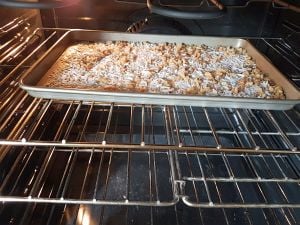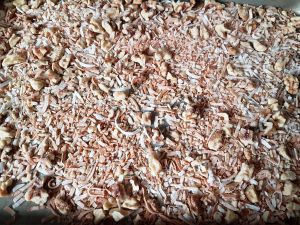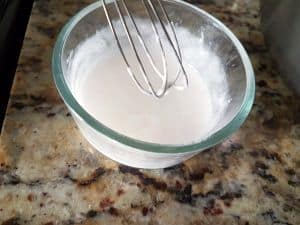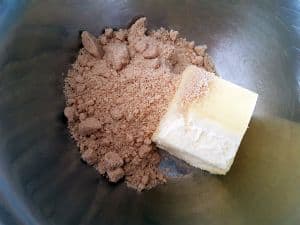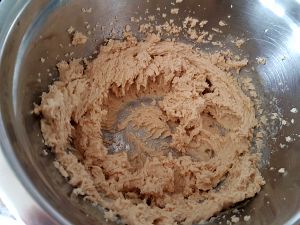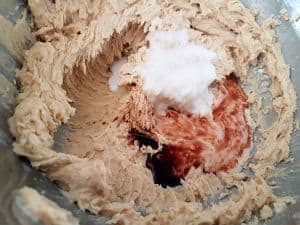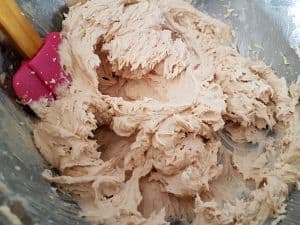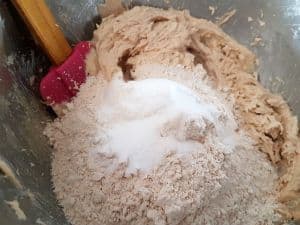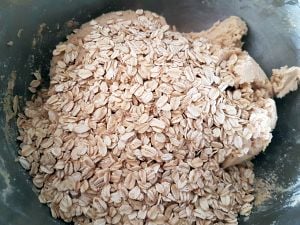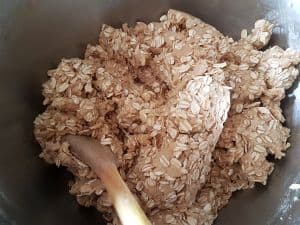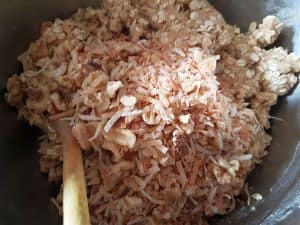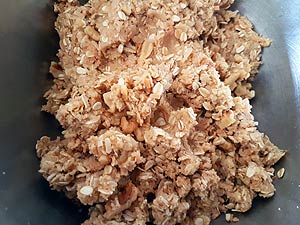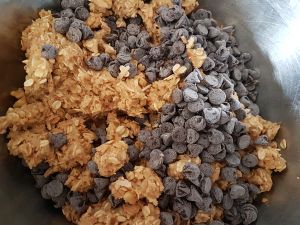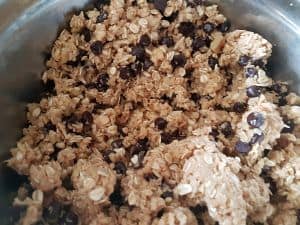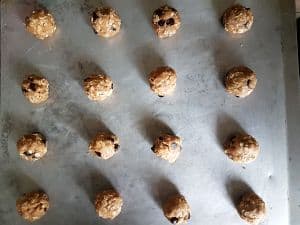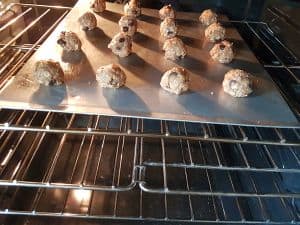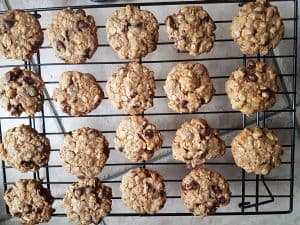 | | | |
| --- | --- | --- |
| Eggless Cowboy Cookies Recipe | | |
| Prep Time | Cook Time | Makes |
| --- | --- | --- |
| 25 Mins | 12 to 14 Mins/batch | 60 Cookies |
| Author | Category | Method |
| Madhuram | Cookies | Baking |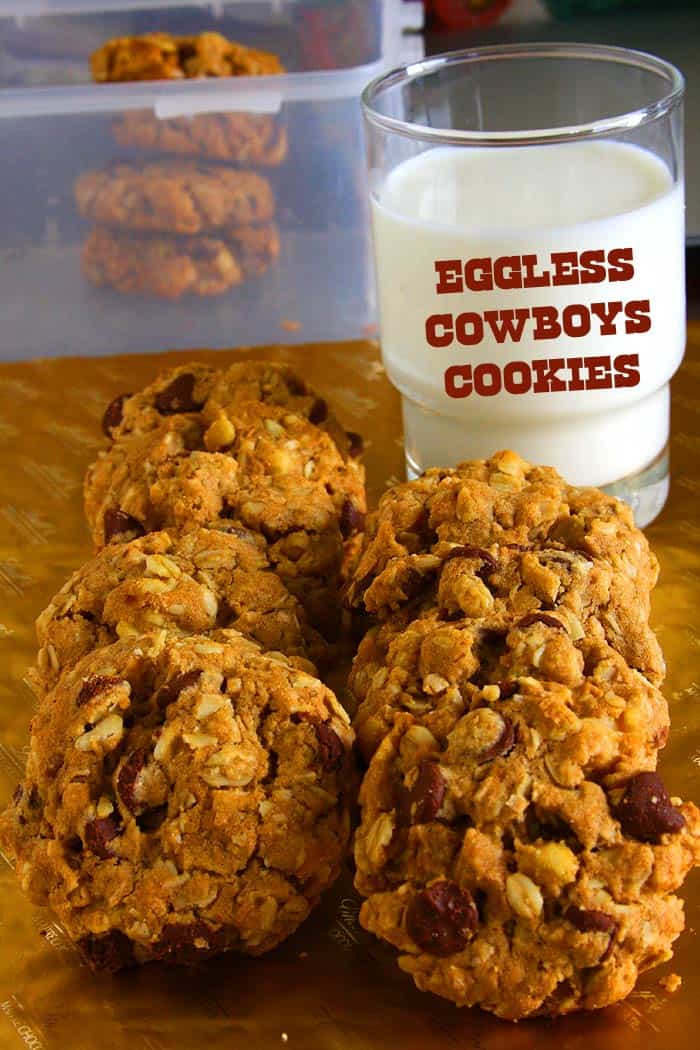 Looking for an easy and delicious cookie recipe to put together in a jiffy? Then these Cowboy cookies recipe is your answer! Loaded with coconut, nuts, rolled oats and chocolate chips, you can't go wrong with these cookies!

Ingredients:
Part 1:
1 cup

sweetened shredded coconut

3/4 cup

chopped pecans
Part 2:
1 cup

unsalted butter, softened

1-1/2 cups

packed brown sugar

1/2 cup

granulated sugar

2 teaspoons

Ener-G egg replacer

6 tablespoons

water

1-1/2

teaspoons vanilla extract
Part 3:
2 cups

whole wheat pastry flour

1 teaspoon

baking soda

1/2 teaspoon

salt

2 cups

old-fashioned oats

2 cups

chocolate chips
Procedure:
Preheat oven to 350F/180C for about 15 minutes.
Place coconut and pecans on a 15x10x1-in. baking pan. Bake for 6 to 8 minutes or until toasted, stirring every 2 minutes. Set aside to cool.
While the coconut and pecans are toasting, whisk the Ener-G egg replacer with water in a small bowl and keep it aside.
In a large bowl, cream butter and sugars until light and fluffy.
Add the whisked Ener-G egg replacer mixture and vanilla; beat well.
To the creamed butter mixture add the flour, baking soda, and salt; beat well.
Stir in the oats, chocolate chips, and toasted coconut and pecans.
Use a tablespoon to scoop the dough and place it onto greased baking sheets.
Bake at 350° for about 12 minutes or until browned.
Remove the baking sheets from the oven and place them on a wire rack to cool. After about 10 minutes remove the cookies from the pan and cool them completely before storing them in an air-tight container.
Taste:
The original recipe had used all-purpose flour which I substituted with whole wheat pastry flour and don't regret it at all. I'm absolutely positive that the switch didn't affect the taste in any way because the kids loved these whole-grain Cowboy cookies like they would have enjoyed any store-bought chocolate chip cookies.
The cookies were a lot crisper immediately out of the oven but did lose that texture and became chewy as time went by. Again this wasn't an issue either.
My Notes:
Some cookies spread more and some do not. You will have to test bake a few cookies at first to see how a particular cookie recipe behaves so that you don't end up messing a huge batch. So like I always mention in my cookie recipes test bake a few; roll the dough and bake some without flattening the dough and a few slightly flattening.
See how it bakes and then decide what to do with the rest of the dough. If the cookies spread too much then it's a good idea to chill the dough in the refrigerator for at least 30 minutes and then bake.
The number of cookies you end up with depends on the size of dough you scoop for each cookie. The original recipe suggests using a teaspoonful of dough for each cookie and you can see that the yield is 6 dozen cookies which is 72 in total. I have used a tablespoon of dough for each cookie and got close to 60 cookies.
Nutrition Facts
Eggless Cowboy Cookies Recipe
Amount Per Serving
% Daily Value*
Potassium 6mg0%
Total Carbohydrates
9.3g
3%
* Percent Daily Values are based on a 2000 calorie diet.


Try this recipe, click a pic and hashtag it #egglesscooking - Proudly showcase your creations on Instagram, Facebook & Twitter!