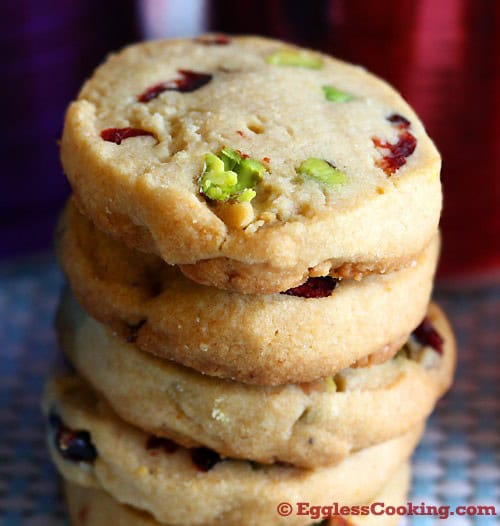 Tomorrow is the big day and I hope you are done with all your chores. I'm assuming that the list of Christmas baking recipes I posted last week should have been of some help for all the beginners and bakers on a time crunch. I couldn't resist from trying another eggless pistachio cranberry shortbread cookie recipe over the weekend that I had bookmarked from here. Even though I have tried cranberry shortbread cookies and chocolate shortbread cookies before, I couldn't ignore this one.
Pistachio and cranberries is quite a combo, not only look wise but also taste-wise. The chewiness of the dried cranberries goes well with the crunchiness of the pistachios. The vegan cranberry pistachio biscotti recipe is yet another proof. That's why I chose to use pistachios instead of pecans that was mentioned in the original recipe and baked these pistachio and cranberry shortbread cookies.
I'm so glad that I tried it because these pistachio cranberry shortbread cookies turned out awesome. They were light, tender and crispy. We couldn't taste the whole wheat flour at all. Even though whole wheat pastry flour is not as robust as regular whole wheat flour, you would still feel a mild nutty flavor when used in muffins, cakes and sometimes in cookies too. But this recipe is an exception I guess, because we didn't feel it even a bit.
You may add some white chocolate chips too to the dough and make it as white chocolate and cranberry shortbread cookies. With the pistachios, the red, white and green color will make it a perfect Christmas treat. Pistachios are quite expensive than the other nuts but the season is definitely worth the extra splurge because these cranberry pistachio shortbread cookies are to die for! The taste and texture is unbeatable!

| | | |
| --- | --- | --- |
| Cranberry Pistachio Shortbread Cookies Recipe | | |
| Prep Time | Cook Time | Makes |
| --- | --- | --- |
| 2 Hr 30 Mins | 16 Mins | 60 Cookies |
| Author | Category | Method |
| Madhuram | Cookies | Baking |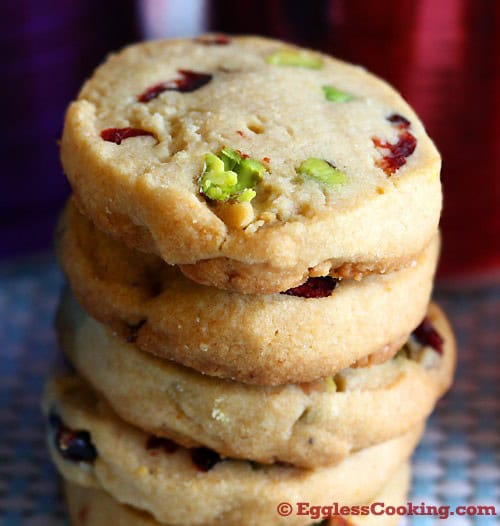 Cranberry Pistachio Shortbread Cookies
5.0

from

10

reviews
Tender, light and crispy these cranberry pistachio shortbread cookies will be a sure hit with your family and friends.

Ingredients:
1 and 1/2 cups

butter, softened

1/2 cup

white sugar

1/4 cup

maple syrup

1 teaspoon

vanilla extract

3 cups

whole wheat pastry flour

1/2 teaspoon

salt

1 cup

dried cranberries

1 cup

pistachios, toasted
Substitutes:
butter - solidified coconut oil or vegan butter substitute for vegans
maple syrup - honey
vanilla extract - maple extract
whole wheat pastry flour - white whole wheat flour or all-purpose flour
dried cranberries - any other dried fruit of your choice
pistachio - any nuts of your choice
Procedure:
Cream together the butter, sugar, maple syrup and vanilla extract using an electric beater.
Add flour one cup at a time and the salt, mixing well after each cup is added. Do not use the beater for this, just mix it with a wooden spoon or spatula. Beating it with a hand held mixer might result it tough cookies.
Stir in the cranberries and pistachios.
Shape dough into two logs, each log about 10 inches long. Wrap it tightly with parchment paper or plastic wrap and chill it in the refrigerator for at least 2 hours. I chilled mine overnight.
Preheat oven to 350F/180C for 15 minutes. Line baking sheet(s) with parchment paper. Cut each log into 1/4-1/2 inch slices and arrange on the baking sheet(s).
Bake for about 18-20 minutes, or until lightly browned. I took out mine just after 18 minutes.
Cool the sheets on a wire rack and let it be for 5 minutes. After that remove the cookies off the pan and let it cool completely on the wire rack before storing it in an air-tight container.
My Notes:
Toast the pistachios on stove top in a pan for about 5-7 minutes or in the oven, stirring once or twice in the middle so that it doesn't burn.
You need to use either whole wheat pastry flour or white whole wheat flour in this recipe to get tender and crispy cookies. I'm pretty sure that the regular(hard) whole wheat flour will not be suitable for these cookies.
Proceed with caution while slicing the dough. Do not use a "see-saw" motion while cutting it because the dough would start crumbling. Instead just run through the dough once with a serrated knife. Even if the dough cracks, you can still patch it up together.
These shortbread cookies does not have the maple flavor. If you don't like maple flavor then don't worry about using maple syrup in the cookies. But if you are a fan you might want to use maple extract instead of vanilla extract.
The number of cookies you will get depends upon how thin or thick you slice the dough. I was able to get 60 cookies when the original recipe states the yield is 30-40 cookies. So if you cut the dough as thin as mine you would have to bake it for a minute or two less than the original time 18 minutes, otherwise the bottoms might get too brown. I baked the first batch for 18 minutes but removed the second from the oven after 16 minutes itself.
Nutritional Information For 1 Cookie (Approximate):
Calories:

84.5


Total Fat:

4.8 g


Saturated fat:

2.9 g


Unsaturated fat:

1.5 g


Cholesterol:

12.4 mg


Sodium:

20.2 mg

Total Carbohydrate:

8.8 g


Potassium:

5.1 mg


Dietary Fiber:

0.9 g


Sugars:

3.8 g


Protein:

0.8 g

Try this recipe, click a pic and hashtag it #egglesscooking - Proudly showcase your creations on Instagram, Facebook & Twitter!