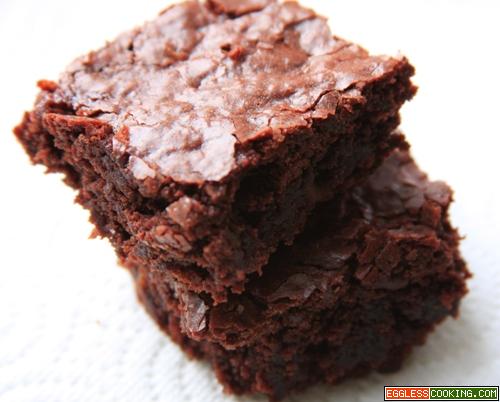 Ever since I started baking, I have used only bananas as a substitute for eggs. Bananas definitely give the moist texture for cakes and breads, but the drawback is the flavor of bananas is dominant in those baked goods. So whatever changes you make otherwise in the recipe, the end product tastes the same. For example my carrot cake and zucchini bread tasted similar. It was definitely very good, but we need some change right!
So I was searching in the net for egg substitutes and found this site very informative. I decided to start experimenting with the various egg replacements and this is my first one using flax seed meal. I add flax seed meal in my cereal (both cold and hot), salads and even in the chapathi flour. Being vegetarians walnuts and ground flax seed are the only sources of Omega 3 fatty acids.

| | | |
| --- | --- | --- |
| Easy Eggless Brownies Recipe | | |
| Prep Time | Cook Time | Makes |
| --- | --- | --- |
| 15 Mins | 38 Mins | 16 Pieces |
| Author | Category | Method |
| Madhuram | Brownies | Baking |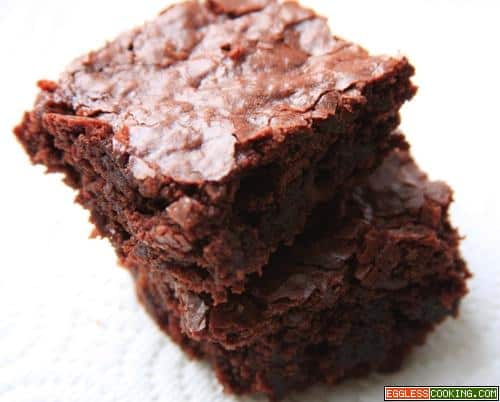 A simple recipe to make eggless chocolate brownies using an egg substitute and walnuts.

Ingredients:
1 Packet

Brownie Mix Of Your Choice (I Used Duncan Hines Chocolate Lover's Brownies Double Fudge. See My Notes For The Reason)

1/3 Cup

Cold Water

3 Tablespoons

Vegetable Oil

1 Teaspoon

Flax Seed Meal (Ground Flax Seed)

1/4 Cup

Water

1 Teaspoon

Vanilla Extract (Not Mentioned In The Packet)

1/2 Cup

Walnuts (Optional)
Procedure:
Preheat oven to 350F (325F for glass pans) for 15 minutes.
Empty brownie mix into bowl.
Add 1/3 cup cold water.
Add 3 tablespoons oil. (Actually 1/3 cup of oil was mentioned in the packet)
In a small cup add the flax seed meal and slowly add the water and whisk it with a fork and add it to the brownie mix.
I chose to add vanilla extract also.
Stir everything until well blended (about 40-50 strokes)
Now add the nuts and combine it once again.
Generously grease the brownie pan. I used a non stick 8″x8″ pan.
Spread the mixture in the pan.
Bake it anywhere between 30-38 minutes. (Check the instructions in the package for detailed baking time). I baked mine for 40 minutes. But I think I should have taken it around 38 minutes itself, because I had little cracks on the top. That was the only negative thing with these brownies, otherwise they were unbelievably moist and gooey. We did not taste the flax seed at all. Just be sure that the brownie cools out completely before you can cut into squares.
My Notes:
Buying the brownie mix – If you are a vegetarian, be sure to check the ingredients, because some brands contain lard, tallow (animal fat). The brand I chose did not have animal fat.
I bought the double fudge brownies, which had a chocolate syrup pack, which had to be added to the brownie batter. But I omitted it because this was the first time I was going to bake brownies and that too without eggs. So I did not want to experiment too much.
Egg substitute: I came across in many books and websites that ground flax seed is a good substitute for eggs while baking. But the ratio of flax seed meal to water was different in each and every place. I recently bought a vegan cook book and there were a lot of baking recipes using flax seed meal. So I decided to used the proportion given in that book. For every egg in a recipe, use 1 teaspoon of flax seed meal mixed with 1/4 cup of water.
Checking the doneness of brownies: I read in the same book that inserting a toothpick to check the doneness does not work for brownies. Instead "the touch test" was recommended. When you touch the top of the brownies, it should not leave an indentation. If it does, the batter is still soft, so you need to bake it for another couple of minutes.

Try this recipe, click a pic and hashtag it #egglesscooking - Proudly showcase your creations on Instagram, Facebook & Twitter!

This my entry for Egg Replacement Event – Flax Seed Meal, hosted by me.