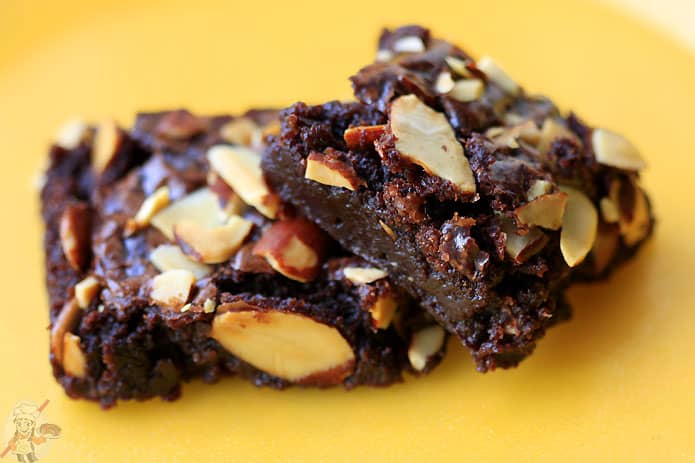 I'm a "brownie-holic"! I guess we all are. Who doesn't like brownies! No wonder I have a lot of eggless brownie recipes here in the blog.
I have all types of brownies, vegan brownies, gluten-free brownies, whole grain brownies, fat free brownies, no-bake brownies , etc. You name it and I have it. Fudge brownies was the one which was missing and not anymore!
If you are wondering how to make chocolate fudge brownies at home, I have the easiest recipe for you. The magic begins with store bought fudge brownie mix. Just follow the instructions in the pack, use yogurt instead of eggs keeping the rest of the ingredients the same and you've got the best fudge brownies.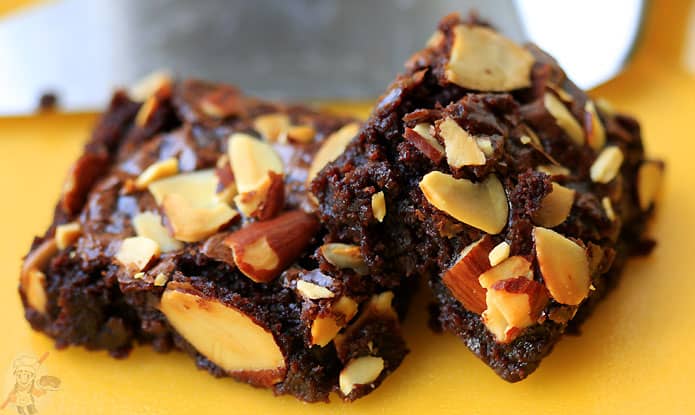 These chocolate fudge brownies are also chewy and gooey. It makes you wonder if such an easy fudge brownie recipe will yield such amazing brownies that taste like it was made from scratch instead of a brownie mix. You may also try adding peanut butter instead of the oil in the recipe and voila you have got your self decadent peanut butter fudge brownies! How easy can it get?

| | | |
| --- | --- | --- |
| Eggless Fudge Brownies Recipe | | |
| Prep Time | Cook Time | Makes |
| --- | --- | --- |
| 15 Mins | 38 Mins | 16 Brownies |
| Author | Category | Method |
| Madhuram | Brownies | Baking |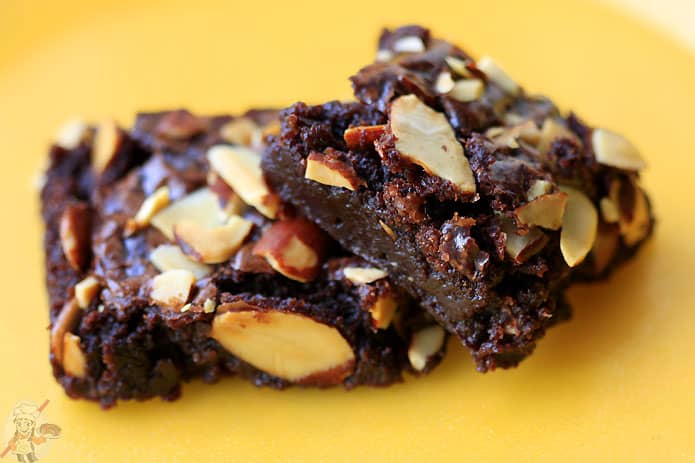 Looking for an easy fudge brownie recipe? It can't get any easier than this eggless brownie recipe made from a fudge brownie mix. Yogurt is used as an egg substitute in this recipe.

Ingredients:
One 18.25oz pack

Brownie Mix of your choice (I used Duncan Hines Double Fudge Mix with Fudge Syrup)

1/3 cup

Cold Water

3 tablespoons

Vegetable Oil (I used Canola oil)

1/4 cup

Plain Non Fat Yogurt (I used dry measuring cup)

1 teaspoon each (not mentioned in the packet)

Vanilla & Almond Extract (Optional)

1/2 cup

Slivered Almonds (Optional)
Procedure:
Preheat oven to 350F (325F for dark color pans) for 15 minutes. While the oven is preheating toast the almonds (if using). It may take about 3-5 minutes to turn golden brown.
Empty brownie mix into bowl.
Measure 1/3 cup cold water in a liquid measuring mug. To the water add the yogurt and extracts and whisk it well with a fork.
Add the yogurt mix, oil and the fudge syrup (it comes with the mix) to the brownie mix.
Stir everything until well blended (about 40-50 strokes).
Generously grease the brownie pan. I used a non stick 8″x8″ pan. You could also line the pan with aluminum foil with enough sheet hanging around the edges so that the brownies can be lifted with the foil after baking. I did it like this and it was a no mess job and easy to cut also. Spray the foil with some non stick oil spray.
Spread the mixture in the pan and smooth it with a spatula and top with the toasted almonds.
Bake it anywhere between 30-38 minutes. (Check the instructions in the package for detailed baking time). I baked mine for 40 minutes. Just be sure that the brownie cools out completely before you can cut into squares.
My Notes:
Buying the brownie mix – If you are a vegetarian, be sure to check the ingredients, because some brands contain lard, tallow (animal fat). The brand I chose did not have animal fat.
The instructions in the pack mentions to add 1/3 cup of oil and I did the same and felt that it was way too much. So I have changed it to 3 tablespoons in the ingredients list (which I actually tested in these eggless brownies).
Take a big piece of aluminum foil and line the whole sheet, on the bottom and along the edges to the top. That way, you can easily lift the brownies off from the sheet using the bottom foil. This will leave no sticking, no mess, and less grease. I also topped it with toasted almonds for extra crunchiness.

Try this recipe, click a pic and hashtag it #egglesscooking - Proudly showcase your creations on Instagram, Facebook & Twitter!