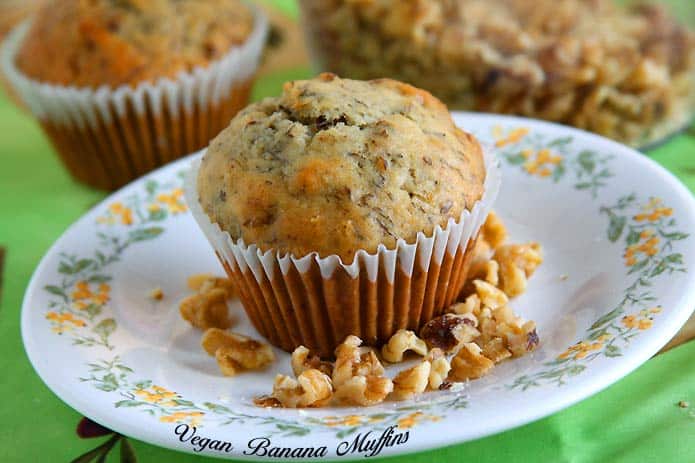 The one thing which I bake quite often is either banana bread or banana muffins because we keep buying a lot of bananas and I intentionally let a few of them to overripe to use it for baking later. After baking the best vegan banana bread ever I did try a couple of other similar recipes but till date that recipe is the clear winner. So I stopped trying new banana bread recipes.
Banana is our all time favorite fruit. Who doesn't like it! I especially am very fond of it because I love to bake with it and use it in smoothies too. It's not a surprise that I have a huge collection of banana recipes in the blog here.
I have so many good baking recipes with bananas that it is becoming difficult to find other interesting recipes. I have banana bread recipe, banana muffin recipes, banana cupcake recipes. The one thing missing is banana cake recipe. Have to try it soon.
Recently I borrowed Sweet Vegan by Emily Mainquist from the library and found a recipe for vegan banana muffins. I already have a couple of banana muffins without eggs recipes. Banana bran muffins, Nutella banana muffins, strawberry banana muffin recipe, vegan chocolate banana muffins, just to mention a few.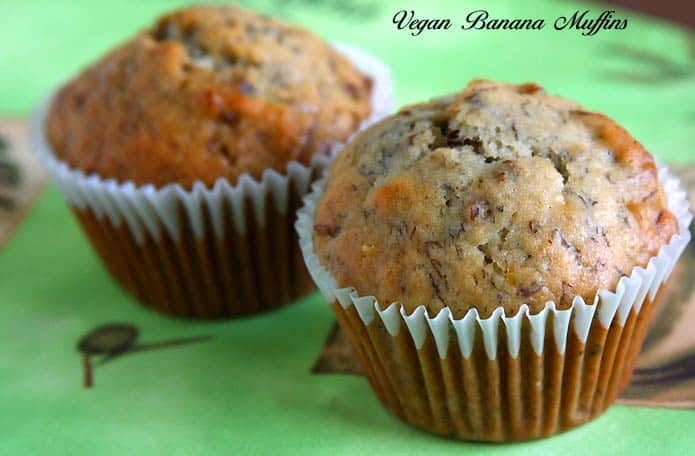 I was missing a vegan banana muffin recipe in the collection and was very happy to see a recipe for the same! It was a pretty simply recipe too! It is originally a vegan banana nut muffins recipe, but if you want to send it to school with kids, omit the walnuts and add chocolate chips instead.
Emily has used vegan butter substitute which I have substituted with organic, refined coconut oil. Other than that I have not made any major changes to the recipe. The only downside for me is it that it makes quite a small batch. I was able to get only 9 vegan banana muffins out of it.
The book has a lot of other vegan baking recipes and quite a collection of gluten-free and vegan recipes too with amazing pictures.

| | | |
| --- | --- | --- |
| Vegan Banana Walnut Muffins Recipe | | |
| Prep Time | Cook Time | Makes |
| --- | --- | --- |
| 20 Mins | 17 Mins | 9 Muffins |
| Author | Category | Method |
| Madhuram | Muffins | Baking |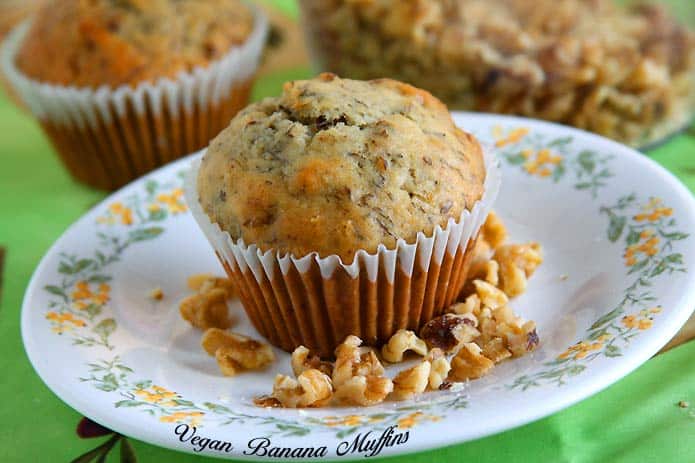 Are you looking for a recipe to bake the best vegan banana muffins? Here it is! These are so light and moist that it's difficult to believe that it's a vegan banana muffin recipe. Ener-G egg replacer is used as the egg substitute and it has worked perfectly.

Dry Ingredients:
2 cups

all-purpose flour

3/4 cup

white sugar

1 teaspoon

baking soda

1/2 teaspoon

salt
Wet Ingredients:
1/2 cup

coconut oil

1 cup

mashed bananas

3 teaspoons

ener-g egg replacer

4 tablespoons

warm water

1 teaspoon

vanilla extract

2-4 tablespoons

water or non-dairy milk (optional)
Add-ons:
Substitutes:
all-purpose flour – whole wheat pastry flour (See My Notes)
white sugar – evaporated cane juice
coconut oil – any other oil or melted butter substitute or butter for non-vegans
walnuts – any nuts of your choice
Procedure:
Preheat oven to 350F/180C for 15 minutes. Line 8 or 9 muffin cavities with paper liners. Grease the paper liner with non-stick cooking spray if you want to peel the muffins off the liner immediately after baking. Whisk/blend until frothy the egg replacer with the water and set aside.
In a large bowl mix together the dry ingredients.
To the flour mix add the oil, mashed bananas, egg replacer liquid and vanilla extract. Stir in the walnuts too. The batter will be quite thick.
Scoop about 1/4-1/3 cup of batter for each muffin and bake for about 18-20 minutes or until a toothpick inserted in the center of the muffin comes out clean. Mine was done in 17 minutes itself.
Cool the pan on a cooling rack for about 5 minutes. Then remove the muffins out of the pan and serve immediately or cool completely to store it.
Taste:
These vegan banana muffins tasted great, had the right texture and the shape was perfect too. Depending upon the sweetness of the bananas you would have to slightly increase the quantity of sugar. The first time I tried this recipe with very ripe bananas the 3/4th cup sugar mentioned in the recipe was perfect. But the second time I baked these muffins with not so ripe bananas, I felt that the muffins could have been sweeter.
My Notes:
I avoid using whole wheat flour in banana bread/muffin recipes because I personally don't like the taste of that combo. But you could use it if you like it.
Once I prepared the batter I felt that the batter was too thick (this was actually mentioned in the recipe itself) so I added about 3 tablespoons of rice milk to it.
The original recipe was to yield 8 muffins and I got 9 out of the batter.

Try this recipe, click a pic and hashtag it #egglesscooking - Proudly showcase your creations on Instagram, Facebook & Twitter!