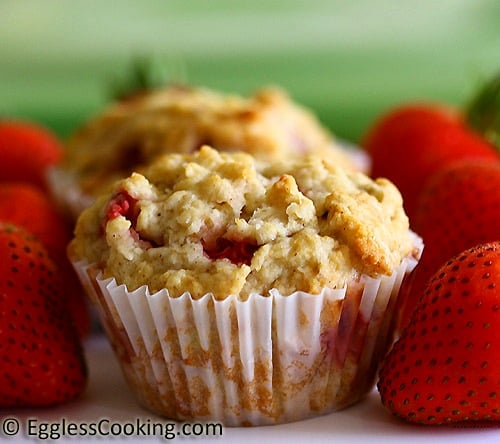 Strawberries and bananas are favorites with my kids, which made me think that maybe I should bake something using that combo. I was thinking maybe strawberry banana muffins or bread might work.
Overripe bananas is not at all a problem in our house. In fact I deliberately leave some bananas to become mushy to bake my family's favorite vegan banana bread and chocolate banana cake. This time I wanted to try something little different as I had some leftover strawberries too. The strawberries were not enough to make something just out of it.
I have a couple of banana muffins recipe which all are perfect. My most favorite being the vegan banana walnut muffins and vegan double chocolate banana muffins.
I also have blogged about vegan strawberry cupcakes recipe here earlier. I guess it's coincidental that both are vegan. Initially I was thinking that maybe I will put together all these recipes and come with a strawberry and banana muffins recipe like I always do.
Later I was browsing my favorite website and found this strawberry banana muffin recipe. I didn't think twice before deciding to bake it because I knew that it will definitely be good and sure it was. The original recipe was not egg free and I used yogurt as egg substitute to bake these banana strawberry muffins. With some more sugar, the muffins would have been just perfect.
Also check out how to hull a strawberry post as well.

| | | |
| --- | --- | --- |
| Strawberry Banana Muffins Recipe | | |
| Prep Time | Cook Time | Makes |
| --- | --- | --- |
| 20 Mins | 23 Mins | 11 Muffins |
| Author | Category | Method |
| Madhuram | Muffins | Baking |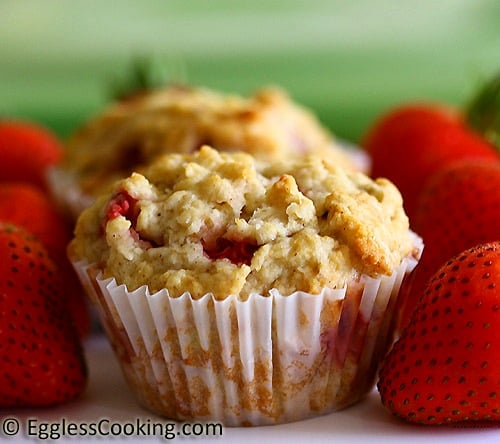 This strawberry banana muffins with yogurt recipe is a perfect and easy recipe to try if you want to make something simple yet delicious with strawberry and banana. You can also use blueberries instead of strawberries in this recipe.

Ingredients:
1/2 cup

Melted Butter

1/2 cup

Yogurt (Instead of 2 Eggs)

1 teaspoon

Vanilla Extract

1 cup

Mashed Bananas (About 2 Large Size)

1 cup

Chopped Strawberries

2 and 1/4 cups

All Purpose Flour

3/4 cup

Light Brown Sugar

1 and 1/2 teaspoon

Baking Powder

1/4 teaspoon

Baking Soda

1/2 teaspoon

Cinnamon

1/2 teaspoon

Salt
Procedure:
Here is the step by step recipe for Strawberry Banana Muffins:
Preheat the oven to 350F/180C for 15 minutes. Line a muffin tin with paper liners and spray it lightly with non stick cooking spray.
In a small saucepan melt the butter and set it aside until it cools down to room temperature.
In the meantime stir together the yogurt, mashed bananas and vanilla extract. To this mixture add the butter when it is completely cool.
In another large bowl mix together the rest of the dry ingredients from flour to salt. Toss in the berries too. Make sure that all the berry pieces are coated with the flour mixture so that the fruit does not sink to the bottom of the muffins.
Add the wet ingredients to the dry ingredients and stir until just combined. Do not overwork the batter or else the muffins would become dense.
Fill each muffin cup with the batter using an ice cream scoop. Even though the original recipe is for 12 muffins I was able to get only 11 muffins.
Bake it for about 20-25 minutes or until a toothpick inserted in the center of the muffin comes out clean. Mine was done in about 23 minutes.
Remove the pan from the oven and place it on a wire rack for the muffins to cool before you could remove it from the pan. If using paper liners you should be able to take out the muffins within 10 minutes.
Taste:
I would not prefer these muffins warm because it was sort of dense and sticky. Once cooled down completely these strawberry banana muffins had a very good texture. I would also definitely increase the quantity of sugar by another 1/4 cup. The muffins were not sweet even for us who prefer mildly sweet treats.
My Notes:
Melted butter can be substituted with oil but those muffins will not have the amazing flavor as the ones with butter.
I would definitely recommend increasing the quantity of sugar to 1 cup as against 3/4th cup mentioned in the recipe.
I think sprinkling a mixture of turbinado sugar and cinnamon would make these muffins extra special and will also give it a "Starbucks" look.
Sometime back I did the mistake of freezing mashed bananas in a zip-lock bag to only find a frightening black lump later. Only after reading the original recipe for this strawberry banana muffins I came to know that lemon juice has to be added while storing mashed bananas. So do try that and see if it works. Sliced bananas do not turn black in the freezer. I do it all the time and use it as ice cubes while making fruit smoothies.

Try this recipe, click a pic and hashtag it #egglesscooking - Proudly showcase your creations on Instagram, Facebook & Twitter!

The recipe has been updated and republished from 2011 archives.