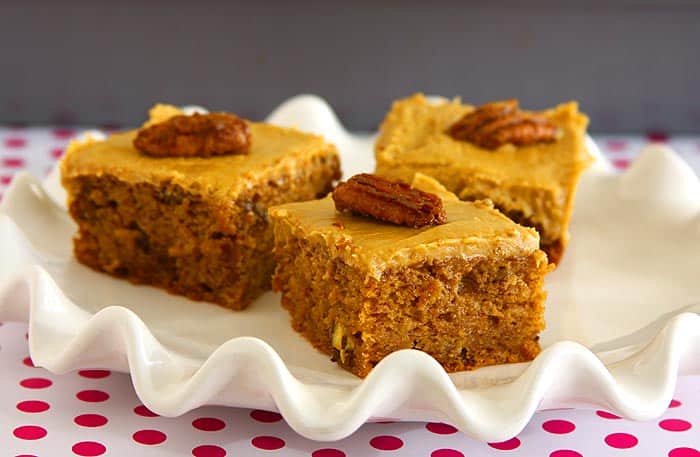 I made a rich and fancy eggless banana cake for my eldest son's birthday this year and it turned out to be the best banana cake recipe ever! Even though it is not a layer cake with beautiful decorations and stuff, I call it fancy because of some of the ingredients used and procedure followed.
So it is not your ordinary banana cake which you make just to use those over ripe bananas sitting on the kitchen counter. This is an extra special, moist banana cake without eggs.
The birthday fell on the same day as one of our religious holidays and I wasn't sure if I was going to bake a cake. I was most probably planning to buy one. So in the morning for breakfast I made his favorite eggless pancakes, stacked one on top of the other with some Nutella and store bought frosting in between each pancake and made it as a pancake-cake and put some candles and asked him to cut it.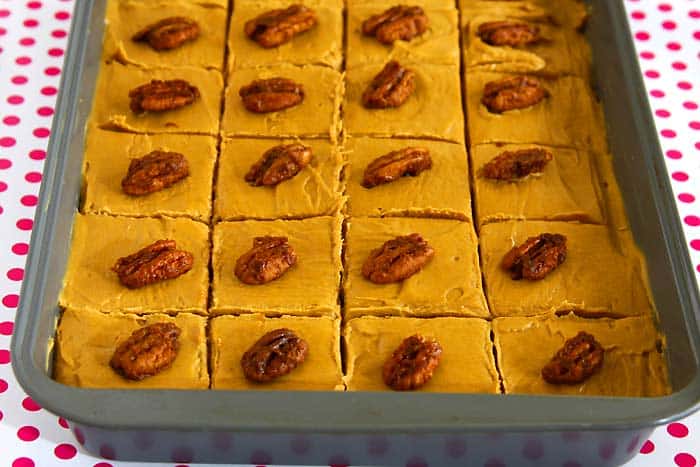 Later in the afternoon saw this recipe for a decadent banana cake with maple frosting and it looked very tempting. So I decided to give it a try because I had all the ingredients too! Although it looked all simple, I realized that it involved a lot of steps and it did take more time than I had anticipated.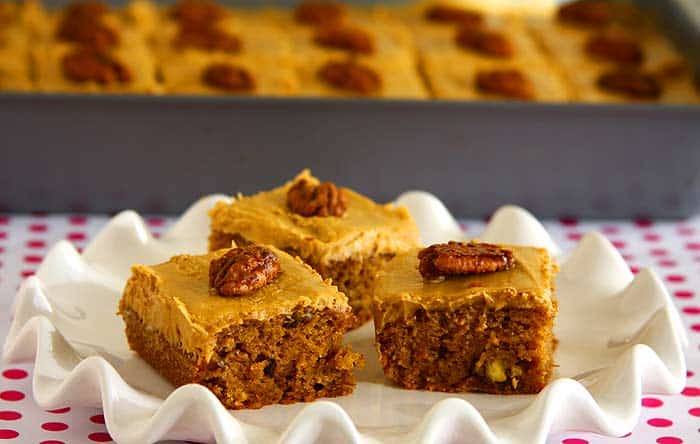 But the result was all worth it because this no eggs moist banana sheet cake was out of the world! Until now when it came to banana recipes in the blog my vote was for these eggless hummingbird cupcakes and vegan banana cupcakes but now this banana sheet cake with maple frosting also joins the list.

| | | |
| --- | --- | --- |
| The Moist Banana Cake Recipe | | |
| Prep Time | Cook Time | Makes |
| --- | --- | --- |
| 45 Mins | 32 Mins | 20 Slices |
| Author | Category | Method |
| Madhuram | Cakes | Baking |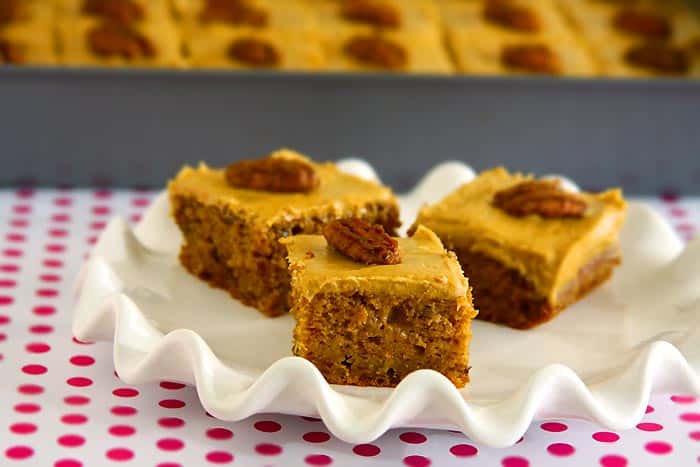 Make this decadent, moist banana cake to make your next special occasion even more special. Even though it is not a layered cake the ingredients, procedure and presentation makes it really a fancy cake and the best banana cake ever!

For Brown Sugar Glazed Pecans:
2 tablespoons

dark brown sugar

2 tablespoons

unsalted butter

1/2 cup

pecan halves
For Cake:
1 and 1/2 cup

all-purpose flour

1 teaspoon

baking powder

1 teaspoon

baking soda

1/4 teaspoon

salt

1 teaspoon

cinnamon

1/2 teaspoon

nutmeg

2/3 cup

granulated sugar

1/2 cup

avocado oil (any oil of your choice)

1 and 1/2 cups

mashed banana

3/4 cup

yogurt

1 teaspoon

vanilla extract

1/2 cup

chopped pecans
For Frosting:
1/2 cup

unsalted butter

1 cup

dark brown sugar

1/3 cup

heavy cream

1/4 teaspoon

salt

1 and 1/2 teaspoons

maple extract

2-3 cups

confectioner's sugar
How to make brown sugar glazed pecans?:
Preheat oven to 250C.
Melt together the butter and brown sugar in a small pan.
Add the pecan halves to the melted butter and mix thoroughly to coat well enough. Stir it for a couple of times, for about 5 minutes in total.
Now transfer the pecans to a baking sheet. Spread it evenly. Toast it in the oven for 15-20 minutes. Remove from oven and let cool completely.
Procedure for the cake:
Preheat oven to 350F/180C. Lightly grease a 9×13 inch pan with non-stick cooking spray. Set aside.
In a medium bowl, sift together the flour, baking powder, baking soda, salt, cinnamon and nutmeg. Whisk together to combine. Set aside.
In a large bowl, mix together the sugar, oil, bananas, yogurt and vanilla. Stir well.
Stir in the dry flour mix into the wet mix. Mixture will look slightly lumpy. You can add a tablespoon or two of water if it is very thick.
Add the chopped pecans, and stir to combine. Pour batter into the prepared 9×13″ pan, and bake at 350 degrees for 32-35 minutes or until toothpick inserted in the center comes out clean. Remove cake from the oven and let cool completely.
Procedure for Maple Frosting:
Melt the butter in a saucepan. Make sure that you do not burn it.
Add the brown sugar, salt and cream. Bring to a low boil. Let it simmer for another 3 minutes.
Remove from heat and let cool for 15 minutes. Once cooled, stir in maple extract.
Transfer mixture to a mixing bowl. Gradually beat in the powdered sugar one cup at a time using a hand held beater or in a stand mixer. Add extra cream if necessary to make the frosting a creamy consistency.
Evenly spread the frosting over the cooled cake. Top with the cooled brown sugar glazed pecans.
My Notes:
To remove the cake slices easily out of the oven you can line the pan with parchment paper.
I used coconut palm sugar instead of brown sugar in the frosting recipe and that's why the dark brown shade.
cup of sugar was used in the original banana cake recipe which I decreased to 2/3rds of a cup. I usually do that in most of the recipes I try. I cut back on the quantity of sugar a little bit.
Nutritional Information for Approximately 1 Slice
Calories:

208


Total Fat:

7.5g


Saturated fat:

4.4g


Unsaturated fat:

3.1g


Cholesterol:

10mg


Total Carbohydrate:

34.0g

Sugars:

24.8g


Dietary Fiber:

0.9g


Protein:

1.8g


Sodium:

176mg


Potassium:

131mg

Try this recipe, click a pic and hashtag it #egglesscooking - Proudly showcase your creations on Instagram, Facebook & Twitter!